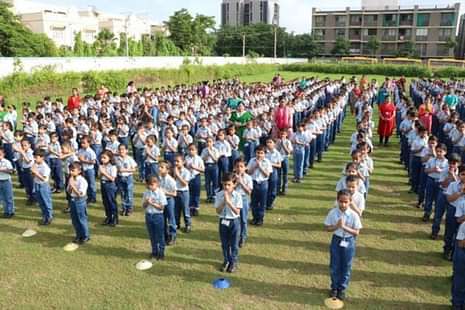 School Assembly News Headlines for 27 September 2023
School Assembly News Headlines for 27 September 2023 are listed here. Find all the recent and major happenings from the national, international, and sports sectors here and prepare well for the news reading. 
School Assembly News Headlines for 27 September 2023
Students will find the latest news updates for 27 September 2023 for the school assembly for various sectors: 
National News Headlines for School Assembly 27 September 2023
After the pictures of two Manipur students who were reported missing on July 7 surfaced online, CM N Biren Singh assured the people that swift and decisive action would be taken against all those involved in the kidnapping and killing of the students.
A 12-year-old boy, Mursaleen Sheikh, in Malda, West Bengal helped prevent a major train accident by waving his red t-shirt as a warning signal to a train driver who was speeding towards a section of damaged railway tracks.
"A certain investor service has, without citing any evidence or basis, made sweeping assertions against Aadhaar, the most trusted digital ID in the world," read the statement by the Government of India after Moody's Investors Service questioned its credibility. 
Waheeda Rehman to be honoured with the Dadasaheb Phalke Award for her contributions to the Indian cinema.
PM Modi highlighted the transformative role technology has played in easing bureaucratic processes, increasing administrative credibility, and reducing corruption over the past nine years. He distributed nearly 51,000 appointment letters to the newly inducted government recruits during the event of Rozgar Mela.
Congress is run by 'Urban Naxals': PM Modi
All routes of Bengaluru Metropolitan Transport Corporation (BMTC) and Taxi services were operational as usual despite the Bengaluru Bandh over the Cauvery water dispute with the neighbouring state, Tamil Nadu.
On his upcoming movie, The Vaccine War, Vivek Agnihotri said that Prabhas fans trolled him for a potential clash with Salaar but it was the latter that got postponed.
Pakistan-born Hindu, Rajkumar Malhotra, who took refuge in India in 1992 amid persecution in Pakistan gets relief from ED.
Also Read |
International News Headlines for School Assembly 27 September 2023
Khalistani terrorists in Ottawa, Toronto and Vancouver burned the Indian flag over Nijjar's murder and hit PM Modi's cutout with shoes.
"Got to know about Trudeau's allegations an hour before the public did," said David Eby, the Premier of Canada's British Colombia province.
AutoNav navigates on Mars without human help from Earth.
The Foreign Minister of Sri Lanka in an interview said, "Terrorists have found safe haven in Canada."
Sri Lanka has denied the Chinese 'Spy' research vessel to dock at Lankan ports, which was due in October. Sri Lanka's Foreign Minister, Ali Sabry, said that Indian security concerns are 'important' for Sri Lanka. 
Canadian Prime Minister, Justin Trudeau, while expressing regret for honouring a Nazi veteran, blamed "Russian propaganda" for the blunder but ended up facing fire from its opposition who said "Canadians are 'sick and tired' of their prime minister".
Sports News Headlines for School Assembly 27 September 2023
Asian Games 2023: The trio of Aishwary Pratap Singh Tomar, Rudrankksh Patil, and Divyansh Singh Panwar secured Gold Medal for India in the 10 m air rifle men's team event.
Asian Games 2023: Neha Thakur and Eabad Ali secured the Silver Medal and Bronze Medal respectively for the country in Sailing.
Luka Modric may join Inter Miami to play along with Lionel Messi: Report
"Happy with their India experience" is the collective sentiment of the MotoGP riders after the first-ever MotoGP Bharat 2023 was conducted in India at Buddh International Circuit (BIC), Uttar Pradesh. "It's a track that I liked the first time I rode on it," said VR46 Racing Team's Marco Bezzecchi, winner of the Indian Grand Prix.
Also read |
TS TET Results 2023 Live Updates
For the latest Education News, keep visiting CollegeDekho. You can also 'follow' our WhatsApp Channel to stay updated with the latest happenings. You can also write to us at our E-Mail ID news@collegedekho.com.