Siddhartha Law College organized National Agmark Exhibition in association with Ministry of Agriculture, Andhra Pradesh. The expo was inaugurated on 16-March-2016 and will continue till 18-March-2016.
It's a three day expo where the students from various colleges would learn how food adulteration test in conducted. The expo was inaugurated by Director of Agriculture Marketing, Shri. Mallikarjuna Rao.
Speaking on the occasion, Mallikarjuna Rao regarding the 'Agmark' which is very essential for any product. He said "more than half of the commercial markets are flooded by the low quality products ranging from spies to edibles and preparatory. I want the everyone to look out for a certification mark before purchasing necessary ingredients".
Various competitions were conducted by the management of college as a part of expo and National Consumer rights day. The major competitions were;
Food Testing
Quiz competition
Cultural and
Technical competitions
A few stalls displayed certified products in spies, honey, ghee, dairy products, and tribal made natural products were set up at the college compound.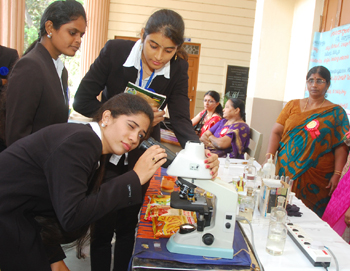 Source; Sakunth Kumar, City Journalist, College Dekho, Vijayawada