Amity Motorsports Team of 30 bright and creative Engineers from Amity School of Engineering and Technology (ASET) have designed and developed Formula Styled Racing Car to participate in Formula Design Challenge (FDC) to be held from 23rd - 28th Jan 2016 in Buddh International Circuit (BIC), Greater Noida
26 prodigies from B. Tech -Mechanical and Automation Engineering and 4 from B. Tech- Electrical & Electronics Engineering have so far cleared preliminary round of online quiz, taken by over 250 teams from all over the country and Amity Motorsports Team secured 12th position.
The Formula Styled Racing Car which is an outcome of twelve months of hard work, perseverance, dedication, sincerity, weighs 300 kgs (excluding Driver) and has an aluminum Engine weighing 320 kgs with 4.5 litres of fuel capacity, imported brakes, wet tyres and imported Wilwood brakes (used in Racing Cars). Building the formula type competition vehicle from ground up, the students have spent more than 5000+ working hours from initial designing of each subsystem, analysing each component on dynamic loading through simulation software like Ansys and Hyperworks and then final assembly of designed systems.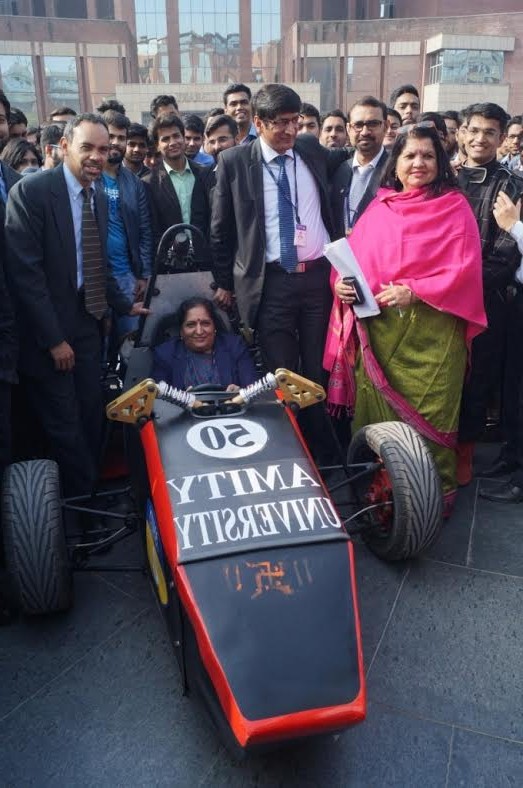 Formula SAE (FSAE) is an International competition in which university students from hundreds of Institutions worldwide work in teams to design, build and compete with a formula style race car. This requires the brightest collegiate engineers to collaborate and construct an innovative, cutting-edge car that pushes the limits of racing technology further each year.
The Car was unveiled amidst huge gathering of students, faculty members, HoDs, and HoIs including Dr. Ajit K. Nagpal- Chairman Amity PACIFIC Forum, Dr. Ravi Prakash, Professor and Advisor (Engineering Design & Research), Dr. M K Dutta, Joint Acting Head, ASET and others who eagerly awaited for a glimpse of the car.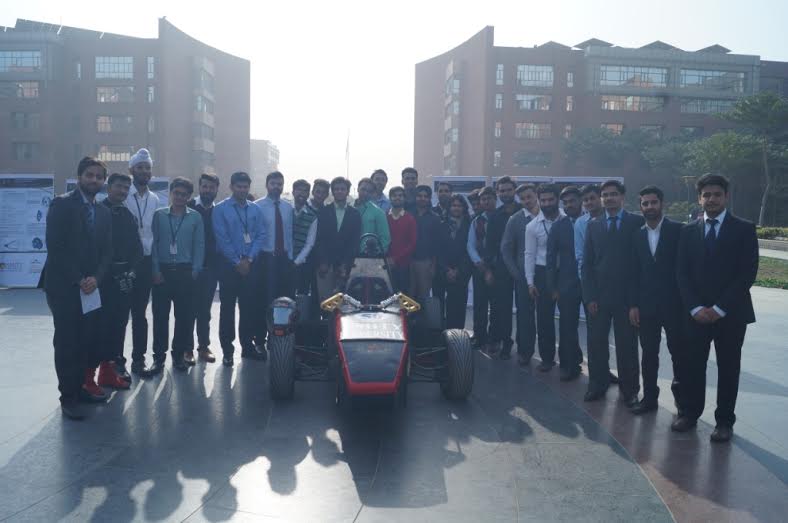 Dr. (Mrs.) Balvinder Shukla- Vice Chancellor, Amity University unveiled the car and congratulated the students for their masterpiece.
Dr. Michael A. Smith, Visual Computing Architect and Academic Program Director, Intel Corporation, USA congratulated the students for the wonderful feat accomplished by them and motivated them to take pride in each and every achievement which will, later on, contribute to their career immensely.
The engineers shared their varied experiences in the fabrication and designing of the Car.
Beaming with joy and exultation, Vikrant Sharma - the team leader thanked his faculty guide and the Institution which not only reposed trust in their talent and capabilities but also motivated them throughout.
Talking about the specifications of Car, he further said that they have used the highest grade of aluminum for subsystem fabrication, Rammed Air intake in Engine for allowing maximum air intake, the dual stage cooling system for more effective cooling, Push Road activated Suspension System to ensure best performance by the Car in the Competition.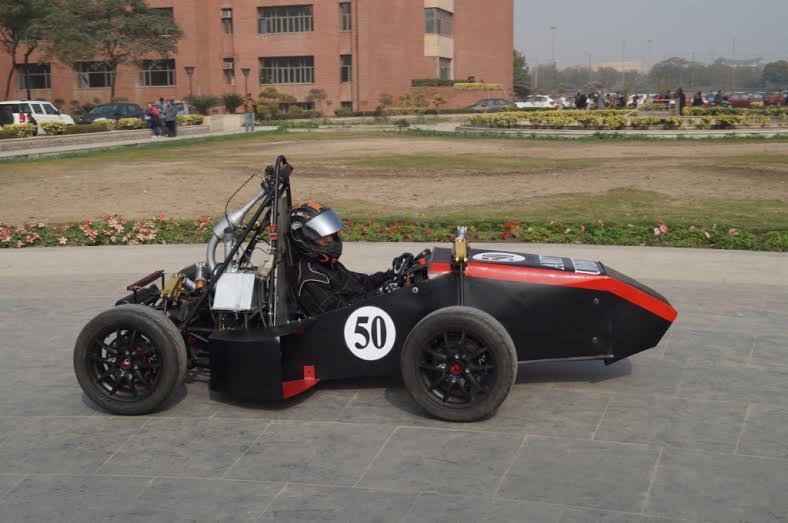 Talking about the final event at BIC, he said that during first and second day there will be Static Competitions which include Technical Inspection, Marketing Presentation, Design Round, Cost Presentation and Sales Presentation and on the third and fourth day, there will be dynamic rounds which will include Endurance Test, Autocross Test, Skid Pad, Brake Test, Acceleration Test and a race of 24 km. He asserted that the entire team is really excited to show their prowess during Formula Design Challenge (FDC).
Prof. (Dr.) Abhay Bansal- Head, Department of Computer Science & Engineering, Amity School of Engineering & Technology congratulated the team members and motivated them to continue innovations and product development which are the real essence of any profession. He stressed that Amitians are groomed to create wonders and Formula Car designed by them is an example of it. He expressed his hope that they will win the Competition and bring laurels to their Institution.