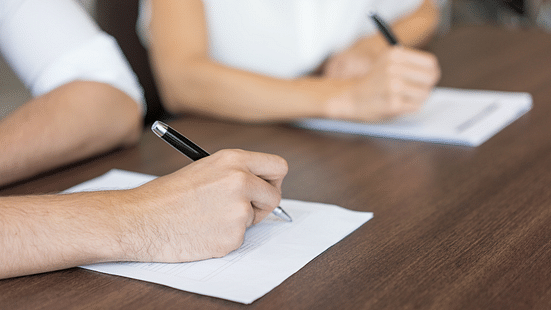 NEET 2024 Daily Practice Questions for 12 September 2023
Daily Practice Questions for NEET 2024: In order to get admission into MBBS and BDS courses, it is crucial to crack the National Eligibility cum Entrance Test (NEET). Every year, lakhs of students sit for the test, but only a few fortunate ones crack the test with good scores. NEET has a vast syllabus, and to cover that, early preparation is important. Apart from going through the textbooks, students should also implement new ways of studying to beat the other competitors in the race. Having said that, we have provided NEET 2024 daily practice questions for 12 September 2023 below to help students in everyday preparation for the curriculum. The questions have been derived from the previous years' papers on Chemistry, Physics, and Biology.
Also Read | 
NEET 2024 Daily Practice Questions for 12 September 2023
Below are three daily practice questions from NEET 2024 Physics, NEET 2024 Biology, and NEET 2024 Chemistry syllabus:-
Physics
Question 1: Which of the following systems of units is not based on units of mass, length, and time alone?
(a) FPS
(b) SI
(c) MKS
(d) CGS

Question 2: Which of the following pairs is wrong?
(a) Temperature-Thermometer
(b) Pressure-Barometer
(c) Relative Density-Pyrometer
(d) Earthquake-Seismograph

Question 3: Select the pairs whose dimensions are same:
(a) Stress and Strain
(b) Pressure and Stress
(c) Pressure and Force
(d) Power and Force

Biology 
Question 1: Which one feature is common to cockroaches, leeches, and scorpions?
(a) Antenna
(b) Nephridia
(c) Cephalisation
(d) Ventral Nerve Cord

Question 2: Which one of the following groups of structures/organs have similar function?
(a) Incisors of rat, gizzard (proventriculus) of cockroach and tube feet of starfish.
(b) Typhlosole in earthworm, intestinal villi in rats and contractile vacuole in Amoeba.
(c) Nephridia in earthworm, Malpighian tubules in cockroaches and urinary tubules in rats.
(d) Antennae of cockroach, tympanum of frog, and clitellum of earthworm.

Question 3: Which one of the following features is common in silverfish, scorpion, dragonfly, and prawn?
(a) Closed blood circulatory system
(b) Two pairs of legs and segmented body
(c) Jointed appendages and chitinous exoskeleton
(d) Living chitinous cuticle and two pairs of antennae

Chemistry
Question 1: The conversion of oxygen to ozone occurs to the extent of 15% only. The mass of ozone that can be prepared from 67.2 L oxygen at 1 atm and 273 K will be:
(a) 640 gm
(b) 64 gm
(c) 96 gm
(d) 14.4 gm

Question 2: 100 ml to 10% NaOH (w/V) is added to 100 ml of 10% HCI (w/V). The resultant solution becomes:
(a) Acidic
(b) Alkaline
(c) Strongly Alkaline
(d) Neutral

Question 3: The impure 6 gm of NaCl is dissolved in water and then treated with excess silver nitrate solution. The weight of precipitate of silver chloride is found to be 14 g. The % purity of NaCl solution would be:
(a) 85%
(b) 95%
(c) 75%
(d) 65%
Stay tuned to CollegeDekho for more Education News pertaining to entrance exams, boards, and admission. You can also write to us at our E-Mail ID news@collegedekho.com.