KCET Option Entry 2022: Given that the options or college-course preferences can be entered only once for all rounds of counselling (except the mock round), it is necessary to not make any mistakes. Detailed instructions regarding KCET 2022 option entry form are hence listed here. The candidates who have successfully completed their document verification and got their verification code are eligible to fill out the option entry form. Such candidates will first have to register at the official web portal of KEA at kea.kar.ac.in before proceeding with the option entry.
Also Read: KCET Option Entry 2022 (Live Updates)
KCET Option Entry 2022 Important Instructions
Note the instructions given below before proceeding to fill out the KCET option entry form:
During registration, candidates shall note down the password and security question entered as these details will later be required for login to access the option entry form. The security question will be required for recovering their password if forgotten.
Once logged in, the options can be filled in through the 'Candidates Option Entry' link given on the login homepage. From there, candidates can download the college-wise and course-wise lists, along with their codes (available in the header tab).
The options must be entered in decreasing order of preferences, i.e., your most preferred college for the respective course must be given Option No. 1, and similarly followed for decreasing preferences, 2, 3, 4, etc.
While entering the options, it is important to remember that the priority of options is overall, not stream-wise i.e., the option priority for stream-course combination is unique. For example, if a candidate opts for Engineering CS and Agriculture FR, he/she must select their preference between the two. Both cannot have the same preference option even though the stream differs.
As there is no upper limit to the number of options that can be entered, candidates are advised to exercise as many options as they wish to avoid not getting a seat. The preference number, however, must be unique for all.
The options can be saved and modified any number of times before the last date. New preferences can be added, deleted, and reordered. Thus, it is not necessary to complete the option entry within one sitting, though it can be done as well. However, once the deadline is over, the options will automatically be locked and no further edits to them will be allowed.
The option entry form can be edited only once after the mock allotment round during the given dates only.
It is advised to fill out the optional form on a computer, using the updated versions of Google Chrome or Microsoft Edge.
The option entry window will appear as follows: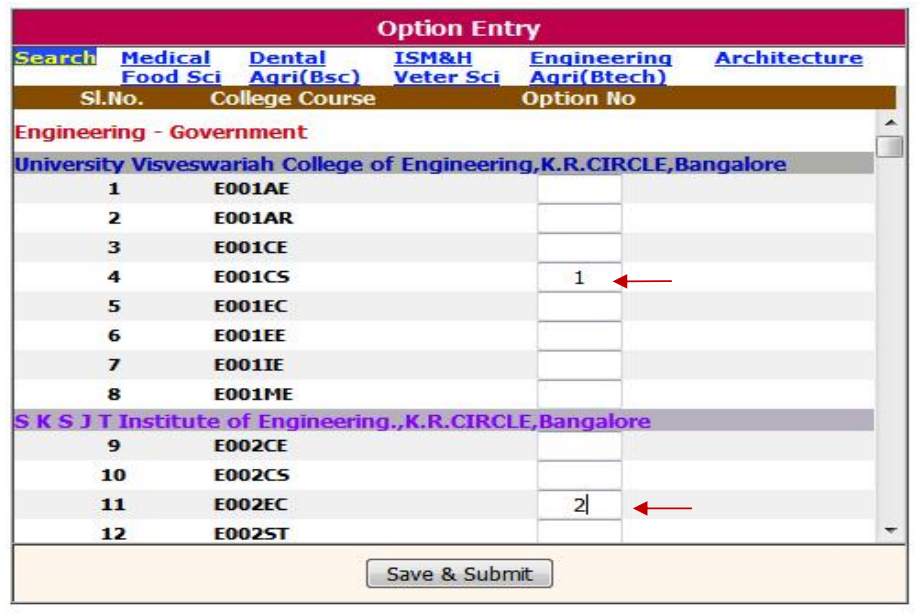 Related Reads:
For all the latest Education News updates regarding KCET Counselling 2022, stay tuned to CollegeDekho!