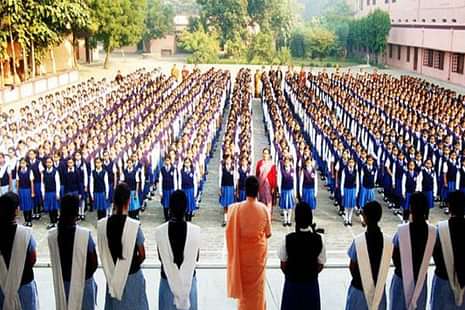 School Assembly News Headlines for 22 September 2023
School Assembly News Headlines for 22 September 2023 are listed here. Find all the recent and major happenings from the national, international, and sports sectors here and prepare well for the news reading. 
School Assembly News Headlines for 22 September 2023
Students will find the latest news updates for 22 September 2023 for the school assembly for various sectors: 
National News Headlines for School Assembly 22 September 2023
Lok Sabha passed the Nari Shakti Vandan Adhiniyam Women's Quota Bill with a historic vote share. A total of 454 MPs voted in favour of the bill while only 2 MPs, Asaduddin Owaisi and Imtiaz Jaleel, voted against it.
Prime Minister Narendra Modi described the passage of Women's Quota Bill as a "golden moment" in India's parliamentary history and credited the leaders of all political parties.
Kauvery River Dispute: The Supreme Court refused to interfere with CWRC's order directing Karnataka to release 5000 cusecs to Tamil Nadu.
FIR filed against Assam CM Himanta Biswa Sarma for alleged 'hate' speech. The FIR was filed by Assam Congress MLA Debabrata Saikia.
'3 Idiots' actor Akhil Mishra who played the role of librarian Dubey died at 67 while shooting for a project in Hyderabad.
Madhya Pradesh CM Shivraj Singh Chouhan on September unveiled a 108-foot statue of Adi Shankaracharya in Omkareshwar. Adi Shankaracharya is a revered 8th-century Vedic scholar and teacher. The statue has been named "Ekatmata Ki Pratima" or the Statue of Oneness.
"Ready to discuss India-China border standoff in Lok Sabha," said Rajnath Singh.
Karnataka plans to ban hookah bars and to raise the minimum age for tobacco products to 21 years.
PM Modi invited Joe Biden as the Chief Guest for the 2024 Republic Day Parade.
Also Read |
International News Headlines for School Assembly 22 September 2023
India suspends visas for Canadians as India-Canada diplomatic row escalates.
Lawrence Bishnoi claimed responsibility for the killing of another Khalistani terrorist, Sukhdool Singh, Canada.
Canadian PM Justin Trudeau avoided questions by Indian media about the allegations he made on India regarding the killing of Khalistani terrorist Hardeep Singh Nijjar and India rejecting these allegations.
Nvidia CEO, Jensen Huang, praised India's AI Talent amid the crackdown on the Chinese market.
Canada rejected India's travel advisory about security risks, claiming Canada as one of the safest countries in the world amid the rise in Khalistani extremists terrorism in the country.
Justin Trudeau refused 'Presidential Suite' at a hotel during G20: Report.
Vivek Ramaswamy is now the second in the race for the US Presidential Candidate, Donald Trump at first position.
Sports News Headlines for School Assembly 22 September 2023
Vince McMahon seen with a cane at WWE staff meeting: Report
Asian Games India vs Bangladesh: India defeats Bangladesh at 1-0.
Messi's injury more serious than assumed, 'no chance' to play Inter Miami's next match, says his coach.
Asian Games: India men's volleyball team defeats South Korea to enter knock-outs.
Stay tuned to CollegeDekho for more Education News pertaining to entrance exams and admission. You can also write to us at our E-Mail ID news@collegedekho.com.