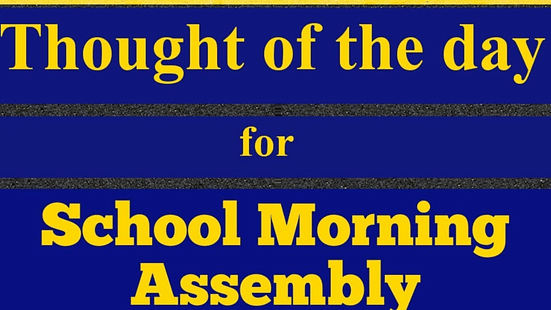 Thought of the Day for School Assembly 22 September 2023
Thought of the Day: The inspirational quote of the day is by Nora Ephron, a writer, journalist, and filmmaker. She is widely popular as the patron saint of romantic comedy. Her classic 'When Harry Met Sally' is considered to be the best romantic comedy-drama film of all time. The thought of the day is provided here along with its meaning. Read this motivating quote for the school assembly to convey that education prepares a student for their future.
Also Read | 
Thought of the Day for School Assembly 22 September 2023
The below table displays the thought of the day 22 September 2023 for the school assembly:
"Your education is like a rehearsal for the life you'll lead later on." - Nora Ephron
Meaning of Thought of the Day 22 September August 2023
Through this quote, Nora conveys the importance of education in our lives. She says that education prepares us for our future. The more we gain knowledge from life, the more it helps us deal with challenges and struggles in our future. We must know how to deal with every problem that life throws at us. Education teaches us this tactic. 
It creates a rehearsal stage for us where we enhance our abilities and develop problem-solving skills. Nora emphasizes that education is not limited to just textual learning. Instead, everything that we adapt and learn from our surroundings is education. It is a lifelong process, and the more we gather knowledge; the more we can deal with uncertainties and complexities of our lives. 
Also Read | 
Stay tuned to CollegeDekho for more Education News pertaining to entrance exams, boards, and admission. You can also write to us at our E-Mail ID news@collegedekho.com.