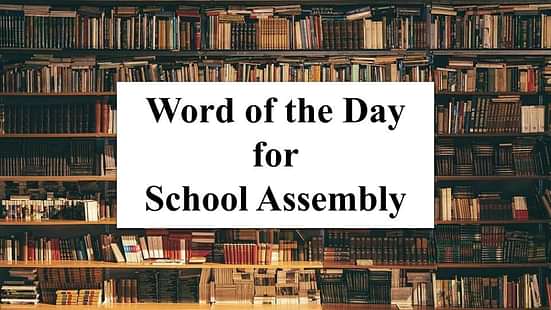 Word of the Day for School Assembly 22 September 2023
Word of the Day for School Assembly 22 September 2023: In simple words, the meaning of today's word of the day "Assert" means asserting means clearly and confidently conveying the intended message of something. It is about putting forward your thoughts and views boldly and strongly and leaving no room for any debates, misinterpretation, or confusion. Learning unique words daily and understanding their meaning on a regular basis and usage will help students enhance their communication skills and vocabulary. 
Also Read |
Word of the Day for School Assembly 22 September 2023: Assert
Here is the word of the day today for 22 September 2023 along with its meaning, example, synonym, and antonyms.
Meaning, Example, Antonyms, and Synonyms for Word of the Day Today

Meaning

The word "Assert" means confidently expressing the importance or intention behind something. It is an act of clearly conveying the purpose or message without any confusion and doubts. 

Synonyms

Affirm, Allege, Argue, Claim, Contend, Defend, Proclaim, Cite, Profess, Say, Stress, Uphold

Antonyms

Deny, Question, Refute, Repudiate, Disavow, Disclaim, Negate

Example

Imagine a student confidently standing up in class and clearly expressing his/her opinions or views on a particular topic without hesitation or doubt. That student is asserting their meaning by expressing their thoughts convincingly ensuring, their message is heard and understood by their fellow mates and teachers.
Also Read | 
Stay tuned to CollegeDekho for more Education News pertaining to entrance exams, boards, and admission. You can also write to us at our E-Mail ID news@collegedekho.com.