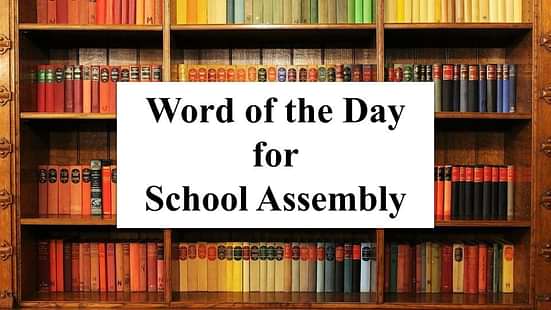 Word of the Day for School Assembly 26 September 2023
Word of the Day for School Assembly 26 September 2023: To enhance communication skills and fluency in speaking English, it is essential that candidates explore new words every day and discover their usage in daily life. In layman's words, today's word of the day which is "Disciple" means a person who follows and lanterns from a teacher or mentor. A disciple seeks guidance, knowledge, and wisdom from their chosen mentor and strives to apply those teachings in their own life.
Also Read |
Word of the Day for School Assembly 26 September 2023: Disciple
Here is the word of the day today for 26 September 2023 along with its meaning, example, synonym, and antonyms.
Meaning, Example, Antonyms, and Synonyms for Word of the Day Today

Meaning

The word "Disciple" refers to a person who follows and adheres to the guidance or teachings of a mentor or master. It signifies a learner or a student who is dedicated to acquiring skills and knowledge from a specific philosophy.

Synonyms

Adherent, Cohort, Devotee, Enthusiast, Fanatic, Learner, Pupil, Attendant, Student, Supporter

Antonyms

Detractor, Enemy, Guru, Leader, Opponent

Example

A disciple is someone who idolizes a famous person for their teachings and ideologies and shows their willingness to learn everything from such people. They may explore their creative process and study techniques to incorporate into their own work. Such dedicated learners/students are eager to follow in the footsteps of their idols, absorbing all the skills and knowledge they possess so that they also become successful artists themselves.
Important Links |
For the latest Education News, keep visiting CollegeDekho. You can also 'follow' our WhatsApp Channel to stay updated with the latest happenings. You can also write to us at our E-Mail ID news@collegedekho.com.