Career as a Global Manager
About Global Manager
A Global Manager is defined by a scope of work he/she is doing. Two different Global Managers may be placed in different departments and have entirely difference KRAs. However, if a person is managing cross-border operations for an organization, he/she comes under the umbrella of a Global Manager. These operations can be related to a wide range of activities, including team management, business expansion, marketing, sourcing etc.
The job of a Global Manager might seem the same as any other profession in the same field. However, there are very different metrics involved in how those activities are carried out. A Global Manager has to face an entirely different set of complexities in carrying out his/her responsibilities. He/she is required to operate across different languages and cultures, and has to be mindful of keeping interactions professional and respectful.
Job Responsibilities of a Global Manager
The detailed job responsibilities of a Global Manager have been provided below.
Coordinate with various stakeholders to ensure smooth business operations across countries.

Form strategies for expanding operations of the organisation across different marks.

Maximize the profits of the company and increase demand in the international market.

Provide demand estimates through the study of international trends.

Sit for business deals and negotiate contracts with vendors as well as clients. etc.
Eligibility to become Global Manager
The requirements to become a Global Manager have been provided in the table below.
Educational Qualification

A bachelor's degree in Finance, Marketing, Business Administration, Economics etc. is the minimum qualification that Global Managers usually need.
Candidates having postgraduate education in management or international business may also be given preference during the selection process.

Work Experience

At least 5 years of experience is required for this role.

Skills Required

Following are the main skills required to become a successful Global Manager.

Verbal and Written Communication
Negatiation Skills
Presentation Skills
Charming Personality
Interpersonal Skills
Ability to Coordinate Across Large Teams
Leadership Qualities
Critical Thinking Ability
Ability to Work Under Pressure.
Courses to Become a Global Manager
Students interested in becoming a Global Manager can consider the following courses that provide the best preparation for this field.
Course

Average Fee

International Business Colleges for Global Managers in India

Rs. 5 to 6 lakhs

Rs. 2.5 to 5 lakhs

Rs. 10 to 12 lakhs
Rs. 6 to 7 lakhs
Rs 3.5 to 4.5 lakhs
Rs. 10 - 11 lakkhs

Rs. 4 to 7 lakhs
Get help with admissions to your chosen MBA college. Apply through the Common Application Form (CAF) or call our helpline number 18005729877.
Types of Job Roles Global Manager
Global Manager is a broad profile that can encompass individuals working in different capacities in the same organisation. They can assume different job profiles based on which department they are working in, what kind of work is assigned to them and their seniority level in the organisation. Given below are career options for Global Managers.
Global Account Manager

Global Mobility Manager

Global Sourcing Manager

Global Product Manager

Global Marketing Manager

International Sales Manager

Global Supply Manager etc.
Employment Sector/Industry for Global Manager
Global Managers can find employment opportunities internationally and the career has great prospects for growth. Businesses are exploring new avenues for growth and developing markets such as India stand to benefit from this expansion. With this increase in the number of companies working to target the international market, the demand for professionals who have good knowledge of the field will also rise. Global Manager might not be a mainstream career at this point but the trends show that the future will require every individual to develop an intellect for cross-border management.
Job opportunities for Global Managers are found in companies that have an international presence or are planning to expand to an international market. Global Managers can look for jobs in MNCs as well as various other organisations with frequent international dealings. Given below are the common areas of employment for Global Managers.
Planning to choose Global Manager as your career?
Pay Scale/Salary of Global Manager
Global Manager is a job that requires good critical thinking ability and negotiating skills. Hence, the salary for Global Managers falls on the higher end of the spectrum. Companies working in the international market also want to ensure that they have a competent person handling any off-shore dealings and hence are easily willing to high salary packages to Global Managers. Details can be checked in the table below.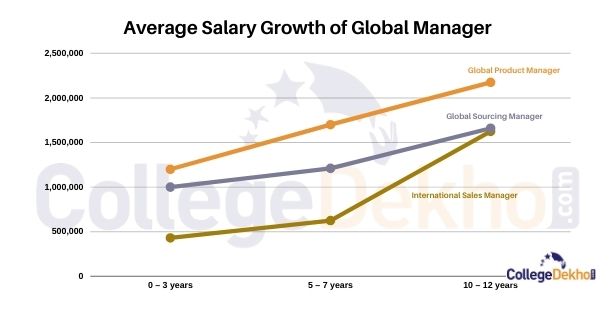 Job Profile
Average Salary
(per annum)
Entry-Level Salary
(per annum)
Mid-Level Salary
(per annum)

Senior-Level Salary
(per annum)

Global Product Manager

Rs. 26,90,000

Rs. 12,00,000

Rs. 17,00,000

Rs. 21,75,000

Global Marketing Manager

Rs. 14,50,000

--

--

--

Global Account Manager

Rs. 18,50,000

--

--

--

International Sales Manager

Rs. 10,20,000

Rs. 4,30,000

Rs. 6,25,000

Rs. 16,25,000

Global Sourcing Manager

Rs. 15,90,000

Rs. 10,00,000

Rs. 12,10,000

Rs. 16,60,000
Books & Study Material to Become Global Manager
Global Managers have to ensure that they build a repository of knowledge and stay updated with the current trends. Given below are some of the best books that will help you succeed in a Global Manager career.
The New Global Manager: Learning to Manage Well in a Complex Business Environment by Melissa Lamson
Success for the New Global Manager: How to Work Across Distances, Countries and Cultures by Maxine A. Dalton, Chris Ernst, Jennifer J. Deal, Jean Brittain Leslie
International Business: Competing in the Global Marketplace by Charles W. L. Hill, K Arun
International Business by Charles W. L. Hill, G. Tomas M. Hult, Rohit Mehtani
Pros of becoming a Global Manager
High salaries from the beginning with exceptional senior-level earnings.
Great networking opportunities with people across the globe.
Professionals gain international experience and can explore career opportunities in different countries.
Exciting career option that provides new and interesting challenges.
Cons of becoming a Global Manager
Coordinating with various departments can make life hectic.
Volatile work environment that is subject to frequent changes.
Professionals often have to put in long working hours.
The field can be highly competitive and may cause stress build-up.
Top Colleges to pursue career as Global Manager
Paths for Being Global Manager