In a Media Release for CAT 2020, IIM Indore has announced a revised time duration for CAT 2020. It has also extended the registration deadline for CAT 2020 to 23 September 5:00 PM. Earlier candidates had until 16 September to complete the registration process of CAT. The notification for this announcement was released on the official website of CAT 2020 (iimcat.ac.in) on 15 September.
Changes in CAT 2020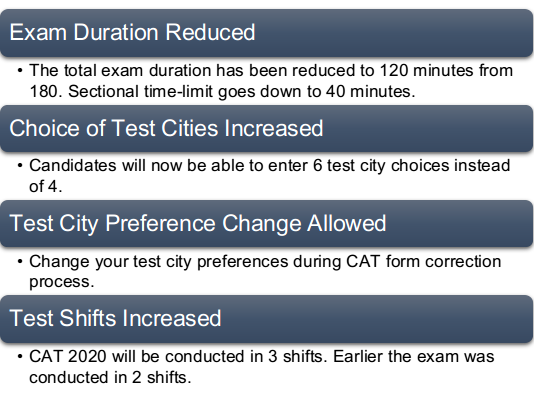 IIM has made many changes to this year's exam pattern of CAT to ensure social distancing and help students avoid any problems during COVID-19. However, with the reduced exam duration, candidates can also expected the number of questions in CAT 2020 to be reduced. IIM is expected to announce more changes to the CAT 2020 exam pattern soon.
CAT 2020 Exam Duration Revised
The notification states that the total time duration of CAT 2020 has now been revised to 120 minutes (2 hours). Candidates usually get 180 minutes to solve the CAT question paper but it has been reduced for this year.
Due to this change in the CAT 2020 exam pattern, candidates will now be provided 40 minutes per section to solve the CAT 2020 question paper. There will be no option to switch between sections, as usual.
Also Read: Will CAT 2020 Exam Pattern Change?
CAT 2020 Number of Questions: CAT 2020 duration cut by 33%
Since the cat duration has been shorted to 2 hours, candidates might see a cut in the number of questions. Candidates are advised to solve the mock test papers that will be released on the official website of CAT in order to get familiar with the changed exam pattern of CAT. 
CAT 2020 Registration Deadline Extended Due to COVID-19
As per the information shared in the media release, it has been confirmed that the disruptions caused due to COVID-19 have been the reason behind this decision. Candidates have been facing difficulty in procuring the documents required for CAT registration. Hence, it was decided to extend the registration process till 5:00 PM on 23 September.
The document also states that no further extensions will be provided to the applicants. Candidates have been urged to complete their registration process well ahead of the deadline to avoid any issues with last-minute submissions.
Also Read:CAT 2020 Undertaking for Category Certificates
Candidates can check the complete text of the media release given below.
CAT 2020 Form Correction
Starting September 27 10:00 AM till September 29 5:00 PM, candidates will be allowed to edit the following details in the application form.
Photograph

Signature

CAT Exam Centre Preference
Here is our detailed article on the CAT 2020 Application Form Correction Process if you need more information.
Stay tuned to CollegeDekho for the latest news and updates!