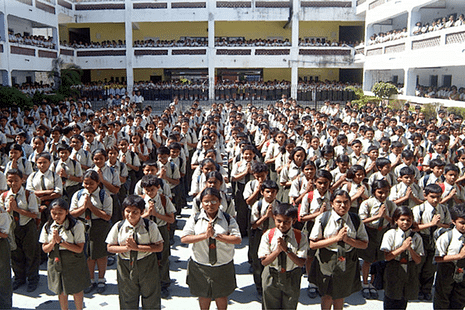 School Assembly News Headlines for 18 September 2023
School Assembly News Headlines for 18 September 2023 are listed here. Find all the recent and major happenings from the national, international, and sports sectors here and prepare well for the news reading. 
School Assembly News Headlines for 18 September 2023
Students will find the latest news updates for 18 September 2023 for the school assembly for various sectors: 
National News Headlines for School Assembly 18 September 2023
Dhankhar, the chairman of the Rajya Sabha, raises the American flag in front of the new Capitol.
President Trump and others send birthday greetings to PM Modi, who turns 73.
According to the Assam CM, the response would have been different if the remarks had been made in reference to another religion.
'PM Vishwakarma', a $13,000 billion programme, is introduced by PM Modi for traditional workers.
Concerning happiness The Vishwakarma scheme was introduced on Prime Minister Modi's birthday: Ashley Vaishnaw.
To defend democracy, Congress leaders must band together and defeat the 'dictatorial' Modi government, says Kharge.
Nirmala Sitharaman, India's finance minister, honours the economic contribution of craftsmen.
By 2026, the Army will probably have installed all 114 Dhanush weapons.
People desire change, ready for polls: Congress Working Committee.
T.S. Singh Deo's 'support' for Modi is downplayed by Congressman Chidambaram as 'protocol'.
Also read |
International News Headlines for School Assembly 18 September 2023
India and Brazil start negotiations to settle a trade dispute over sugar at the WTO.
Vivek Ramaswamy deems the H-1B visa scheme "indentured servitude" and wants to stop it.
According to the North Korean state media, Kim Jong Un and the Russian Defence Minister discussed arms cooperation.
A plane crash in Brazil's Amazon rainforest claimed the lives of 14.
A special U.N. meeting, demonstrations, and a week of discussions intensify the debate over fossil fuels and global warming.
Another increase breaks Pakistan's record for fuel costs, sparking outrage.
After a flood that claimed over 11,000 lives, Libya investigates the collapse of dams.
The father of Mahsa Amini is temporarily detained by Iranian security agents a year after her passing.
Russia contests that Ukraine has retaken the settlement of Andriivka, which is close to Bakhmut.
Gen. Li, the Chinese defence minister, was absent from a major military gathering, which fuels rumours that he would be dismissed.
Sports News Headlines for School Assembly 18 September 2023
Davis Cup 2023: India defeats Morocco 3-1 to cap a successful Davis Cup career for Bopanna.
Premier League | Brighton defeats Man United 3-1 at home.
As three other wrestlers lose in the World Wrestling Championship, Abhimanyu advances to the quarterfinals.
Asia Cup 2023: India dismisses Sri Lanka for 50 runs thanks to Mohammed Siraj's six wickets.
India will play Sri Lanka in the Asia Cup final in 2023 in an effort to end a five-year trophy-less streak.
Neeraj Chopra places second in the Diamond League championship.
Stay tuned to CollegeDekho for more Education News pertaining to entrance exams and admission. You can also write to us at our E-Mail ID news@collegedekho.com.