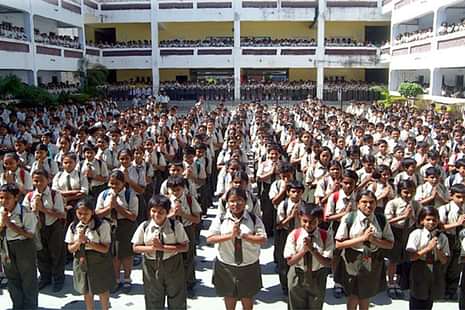 School Assembly News Headlines for 21 September 2023
School Assembly News Headlines for 21 September 2023 are listed here. Find all the recent and major happenings from the national, international, and sports sectors here and prepare well for the news reading. 
School Assembly News Headlines for 21 September 2023
Students will find the latest news updates for 21 September 2023 for the school assembly for various sectors: 
National News Headlines for School Assembly 21 September 2023
The Supreme Court on September 20 said that the final hearings of the petitions challenging the constitutionality of Section 6A of the Citizenship Act will be held on on October 17, 2023.
Lok Sabha leader of Opposition, Adhir Ranjan Chowdhury, claimed that the new copies of India's Constitution omit the words 'socialist and secular' from the preamble.
Reliance Jio has launched its new broadband service, AirFiber.
The Manipur police arrested five men for looting weapons from a police armoury while wearing army uniforms on Saturday, September 16.
President Draupadi Murmu hails the Women's Reservation Bill, saying "It will be the most transformative revolution for gender justice."
Andhra Pradesh school driver dies as he suffers cardiac arrest while driving a bus but he stopped the vehicle seconds before, thus saving 40 students.
"For civilian awards, the Government of India will now recognise scientists with Rashtriya Vigyan Puruskar under four categories: 1. Vigyan Ratna, 2. Vigyan Shri, 3. Vigyan Yuva-Shanti Swarup Bhatnagar, and 4. Vigyan Team," Union Minister for Science and Technology, Dr Jitendra Singh, said.
In his first speech in the new parliament House, PM Modi told all MPs to "forget past bitterness".
Also Read |
International News Headlines for School Assembly 21 September 2023
Nijjar killing row: Canadian opposition leader, Pierre Poilievre, tells Canadian PM Trudeau to "Come with clean facts" regarding Trudeau's allegations against India in the case of the killing of the Khalistani terrorist, Hardeep Singh Nijjar.
'Exercise utmost caution': India issues advisory for its nationals in Canada due to growing anti-India activities and hate crimes.
Iranian lawmakers passed a bill on September 20 to toughen penalties for women who flout the Islamic dress code. It introduces jail terms of up to 10 years if the woman does not wear the hijab/burqa.
Rapper Shubh's India tour has been cancelled after he allegedly supported the demands for Khalistan.
Turkish President, Recep Tayyip Erdogan, has yet again raised India's internal issue of Kashmir during his address to world leaders at the high-level 78th session of the UN General Assembly session.
G7 joint statement skips any reference to Khalistani terrorist Nijjar killing, despite requests from Canadian PM Trudeau for a joint statement: Report
Sports News Headlines for School Assembly 21 September 2023
There is no substitute for hard work, says Mary Kom.
Mohammed Siraj Reclaims No. 1 Spot In ICC ODI Rankings after Asia Cup 2023 final heroics.
India will host its first-ever MotoGP Grand Prix from September 22-24, 2023 at the Buddh International Circuit in Greater Noida, Uttar Pradesh.
Lionel Messi, Kylian Mbappe and Erling Haaland are among the FIFA Best award nominees while Aitana Bonmati is on the women's list.
Stay tuned to CollegeDekho for more Education News pertaining to entrance exams and admission. You can also write to us at our E-Mail ID news@collegedekho.com.