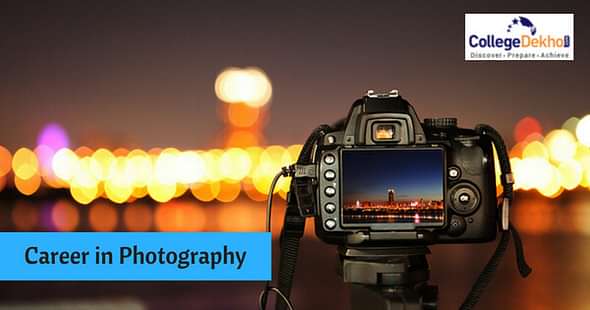 Photography is an artistic means of expression in which the camera replaces the pen or the paintbrush. It is a combination of both science and art. Gone are those days when photography was considered a hobby. With the rapid development of the media, advertising, and fashion industry, a career in photography has emerged as one of the best options for many in India. Today, photography colleges in India are much sought-after, thanks to the lucrative employment and salaries on offer. The best photography colleges in India are concentrated in the capital region or in Maharashtra.
Here is the list of top photography colleges in India, photography course fee structure, eligibility, and career scope in photography for you to have a better understanding of the field.
Top Photography Colleges in India: Location and Fee Structure
| | |
| --- | --- |
| Name of the College | Approximate Course Fee |
| Institute of Mass Communication, Manipal | Rs. 4,95,000 (three years fees) |
| | Rs. 1,70,000 |
| | Rs. 2,69,000 |
| Asian Academy of Film and Television, Noida | Rs. 2,00,000 |
| | Rs. 35,000 |
| | Rs. 32,500 |
| YMCA Centre of Mass Media | Rs. 36,500 |
All the colleges mentioned above offer Diploma and Certificate courses in Photography. For the list of more colleges that offer photography courses in India, please click on the link below: -
Eligibility Criteria for Photography Courses:
You should start right from Class 12 for a bright career in Photography. Passing Class 12 is the minimum qualification for getting admission to photography courses. It does not matter whether you are from Commerce Stream, Arts Stream, or Science Stream in Class 12. You can go for photography courses irrespective of your stream. If you have a knowledge of computer skills it will be an added advantage to understand the technical part of photography education. Further,there are entrance exams conducted every year for students who wish to seek admission in a Diploma or Degree course for Photography. 
Admission to Photography Courses
All institutes and colleges have separate admission processes. Some conduct entrance exams, whereas some conduct admissions based on assignments. However, all the institutes and colleges that offer Photography courses offer limited seats only. And so, it is quite difficult to get through. For assignments, based on the course applied for, candidates will be given assignments to be submitted with the application form. Based on the performance of the candidates on the given assignment, the admissions will be finalized. 
However, there are few entrance exams that candidates may prepare for to seek admissions for photography courses. These are:
| | | |
| --- | --- | --- |
| Name of the Entrance Exam | Application Date | Level of the Examination |
| AAFT GEE by Asian Academy of Film and Television | To be Announced | Global-Based |
| Creative Hut Institute of Photography and Film Entrance Exam | To be Announced | Institutional-Based |
Best Photography Courses:
In India, most of the colleges offer diploma and certificate courses in photography. On the other hand, only a few colleges offer Bachelor's degree courses in Fine Arts and Photography. Photography courses are designed in such a way that they inculcate the knowledge of photographs, lighting, angle, technical knowledge, understanding of fine arts, and ways to handle the camera.
Various institutes in India also offer traditional photography courses, while some institutes impart photography as a secondary subject.
The photography courses are available in different domains such as digital photography, basic photography, photojournalism, motion picture photography, professional photography, and fashion photography. The duration of certificate courses ranges from three to six months, while the duration of diploma courses will be one or two years. All the Bachelor's degree courses offered in the field of photography are of three-year duration.
Certificate, Diploma, Bachelor Courses in Photography:
Level

Name of the Course

Certificate Courses

Photography
Wedding Photography

Diploma Courses

Journalism Photography
Fashion Photography
Wildlife Photography
Photography
Wedding Photography

Under Graduate (UG) courses

B.A. Photography
B.A. Fine Arts
Skills Required to Become a Photographer:
To become a good photographer, one must have both creative and technical knowledge. A photographer must keep himself updated with the improvements in technology. The following are some of the key skills required to become a successful photographer: -
Visual skills
Originality
Creative
An Artistic bend of mind
Independent
Some of the popular photographers in India who are role models to budding photographers are: -
Iqbal Ahmed
Bandi Rajan Babu
Kulwant Roy
Raghu Rai
Raghubir Singh Khatu
Career Prospects in Photography:
Photography is regarded as a glamorous job. A modern-day photographer can work in many professions. Different careers in photography are elaborated on below.
| | | |
| --- | --- | --- |
| Designation | Description | Average Salary (Per Year)(Approx.) |
| Freelance Photographer | Among photographers, freelancing is one of the most popular career choices. After acquiring the necessary skills, photographers can start their own business in the field. They can also gain nationwide popularity if their photographs have more depth and internal message. | INR 3-8 Lakhs |
| Advertising Photographer | Usually, these photographers work with advertising agencies and photographic studios. It is the best paid, most challenging & competitive field. Success in this field completely depends on the ability of the candidate. | INR 3.5-4.5 Lakhs |
| Photojournalists/ Press Photographers | Usually, photojournalists supply pictures to the national press as well as the global press. Photojournalists must be capable of snapping a good news picture. They can also get employment in popular newspapers. | INR 5-6 Lakhs |
| Feature Photography | Feature photography involves describing a story through pictures. Many photographers specialize in the photography of wildlife, environment, travel, sports, etc. | INR 4-5 Lakhs |
| Fashion Photographers | In the 21st century, Fashion Photography has emerged as one of the dominant fields. Usually, these photographers are utilized by apparel manufacturers for branding their products in the market. They also capture the beauty of a man or woman for magazines, model shoots, etc. | INR 3-5 Lakhs |
| Portrait or Wedding Photographers | These photographers snap pictures of individuals or small groups, children, families, weddings, functions, etc. | INR 2-4 Lakhs |
| Travel Photographers | Photography has expanded widely even in the travel world. Travel photographer has emerged as a career option where photographers need to travel from city to city or across countries to capture the scenic beauty and landscapes.  | INR 3-5 Lakhs  |
Apart from the above, many photographers are also self-employed. They start their own photo studio and provide basic services like passport photographs, personal photographs, coverage of events, etc.
Photography is a non-formal professional field that enables one to work with flexibility. You can have your own rules, creativity, and vision. Photographers often travel to places like forests, valleys, waterfalls, and mountain ranges to catch the scenic beauty of nature. On the other hand, some photographers depict the existing situations in society through their photographs.
A photographer plays a premier role in creating a good composition of any subject such as scenery, a child's smile, the beauty of the human body, a piece of machinery, etc. The skill of a photographer lies in his vision rather than the camera lens. A person can be regarded as a great photographer when a single picture taken by he/ she becomes much more eloquent than a thousand words.
We hope that the above-mentioned information is useful. We wish you a bright career in photography. If you are interested in taking admission to any one of the photography colleges in India, then you can fill out the Common Application Form available on our website. All the Best!
Related Articles