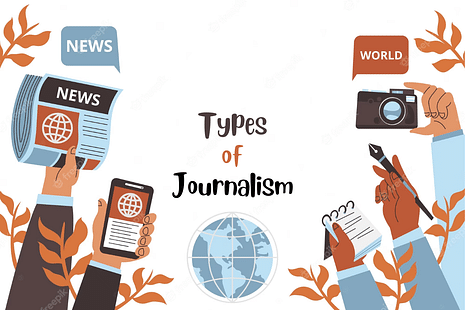 Types of Journalism: For aspirants who wish to pursue journalism courses, Journalism is the gathering, organizing, and distribution of information through a wide variety of outlets. Considered an integral part of the media industry, journalism can be traced back to Rome circa 59 B.C. With the passing of time, the field of journalism has evolved tremendously. From the news coverage of a variety of areas and fields to delivery through different mediums, journalism has come a long way.
Journalism in India took its first steps in public under colonization. The first newspaper in India - The Bengal Gazette was published on 29th January 1780 marking the official beginning of journalism in India. In that era, print journalism was the only predominant form of journalism but today, one can explore numerous types of journalism in India. Journalism courses can be tricky to choose if you are not familiar with the industry, find out all you need to know about the types of journalism right here!

Also Read: Mass Communication Vs Journalism
Types of Journalism in India
Various types of journalism can be put under certain categories to understand them better. However, it should be noted that all types of Journalism come under the bigger umbrella of Mass Communication and so do a majority of journalism courses. Let us understand various journalism categories.
Types of Journalism Regarding Hard News
Hard news and soft news are broadly classified based on the kind of information they provide. Hard news mostly includes serious factual stories like politics, current affairs, government, crime, business, etc.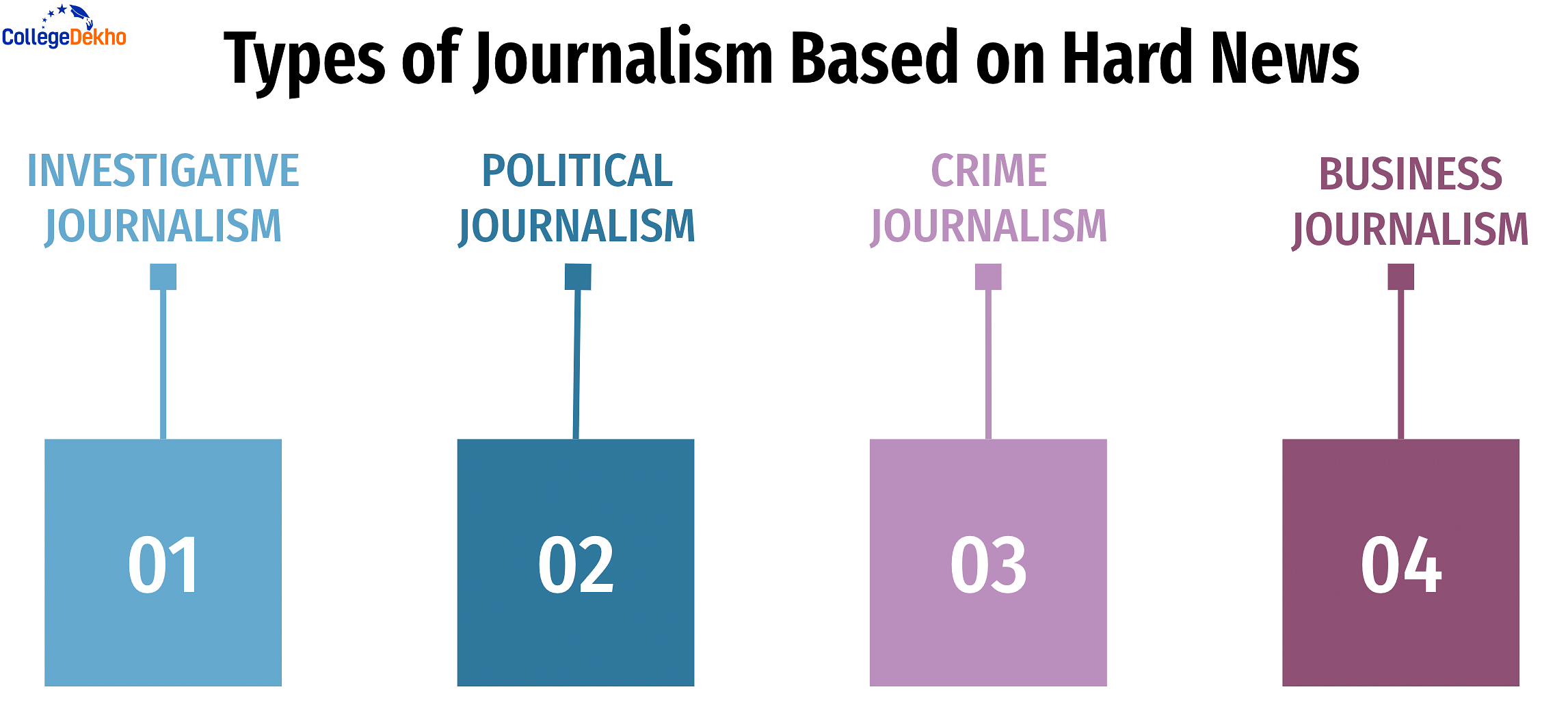 1. Investigative Journalism
Investigative journalism deals with objectively working towards uncovering the hidden truth or facts on a given matter, person, topic of interest, or event. An investigative journalist finds the facts by studying cases that require a lot of effort. They expose scandals for propaganda by making headlines. Due to the complex procedure, a single case can sometimes take months to years to finish. So, to become a successful investigative journalist, one is required to possess knowledge, patience, and persistence. There are several colleges offering journalism courses in Investigative Journalism.
2. Political Journalism
This is considered one of the serious types of journalism. The field of political journalism can be broken down into three categories: international political news, national political news, and local political news.
A journalist whose niche is political news has to have an in-depth knowledge of political events, political figures, bodies, election campaigns, policies, their impact, and the aftermath and then report the news in an unbiased manner. A political journalist needs to deliver a piece of information to the audience without impacting it due to a personal opinion on it. So, it would not be too much to say that being a political journalist is a tough and risky job because if your news is hindered by your personal opinions, it can make you look bad in common people's eyes.
3. Crime Journalism
A crime journalist writes and researches criminal events for media outlets like newspapers, television, magazines, or other platforms. The journalists conduct interviews and also attend court hearings. From murder to some manipulation in the stock market, anything that is against the code of law is a criminal offense. So, a crime journalist covers all kinds of crimes be it a mysterious homicide or money embezzlement at an MNC.
4. Business Journalism
Free flow of communication between two businesses or companies is healthy for a country's economy. Because of this communication, the economy remains highly interlinked. For instance, a finished product of one company could be used as a raw material at some other company. Policies adopted by a major organization can affect a huge part of the economy. A merger of two giants can impact the turnover of many small organizations.
So, to promote all of this, a business journalist delivers information on business news. These journalists talk about the stock market, big mergers, stakeholders, etc.

Also Read: Why Skills Matter as Much As a Degree in Journalism
Types of Journalism Regarding Soft News
Soft news covers less serious issues like celebrities, arts, sports, and culture. Check out the types of journalism based on soft news below.

1. Arts Journalism
This type of journalism is for people who love art. Arts journalism covers various forms of art like music, dance, films, literature, painting, drama, poetry, etc. An arts journalist analyses trends in the art world and shares the information with the related audience. Since art journalism is quite popular amongst the audience, many news agencies hire art journalists to gather news in the field.
2. Celebrity Journalism
One of those types of journalism that has been very popular. In the past few years, the word 'paparazzi' has become very well-known. This term is designated to celebrity journalists. A journalist in this field works to gather information on celebrities be it about their personal lives or their movies or shows or public appearances.
A celebrity journalist also interviews celebrities and reports gossip as fans always want to know what is happening in the lives of the people they admire. A large number of the audience enjoys watching and reading about their favorite celebrities.
3. Education Journalism
Education journalism deals with reporting different development and events happening in the field of education. These education journalism reports help a policymaker to implement new education policies, when in need. The main focus of an education journalist is to increase awareness about the education system and to promote students to opt for higher education. Usually, the target group for education journalism is students, researchers, and teachers.
4. Sports Journalism
As the name suggests, a sports journalist covers news related to a sports series, event, or a sportsperson. This type of journalism comes with additional perks like watching live sports events and traveling to different places and it even provides you with the opportunity to meet sportspeople and interview them. To work in this field, one requires to know about sports, must be omnipresent, and should have good communication skills.
5. Lifestyle Journalism
Another well-known form among the types of journalism. In recent times, people's interest in knowing about different lifestyles has increased. Lifestyle journalism serves this purpose by delivering news related to leisure, music, cooking, gardening, entertainment, home decor, fashion, shopping, exercise, yoga, and healthy eating habits. This type of journalism helps readers know the tips to lead a healthy and better lifestyle.
Also Read: BJMC vs BA Journalism: What's Better?
Types of Journalism Based on the Medium of Delivery
Based on the medium of news delivery, there are three journalism categories: TV and Radio Journalism/ Broadcast Journalism, Print Journalism, and Online Journalism.
1. Cyber/ Online/ Digital Journalism
Cyber journalism or online journalism or digital journalism is the latest type of journalism. As the name suggests, this deals with delivering the on different internet platforms. The whole world has become a virtual global village after the introduction of the world wide web (WWW) and the Internet.
With several easily accessible platforms, cyber or online journalism has risen in popularity. Several channels dedicated to journalism are followed on Youtube. Even various TV and Print media houses have started going digital through blogs, websites, youtube, and different social media applications.
2. Print Journalism
The most common among the types of journalism, this type of journalism deals with delivering news through newspapers, magazines, etc. Since these mediums can hold the same news or information as other mediums, a journalist can work for both prints as well as some other media at the same time. Print Journalism is the most popular of all journalism courses.
Now, whether print journalism is dying or not, that only time will tell. But this topic has been in conflict for a long time now. The higher costs of material, lower subscription numbers, and the increment in other easily accessible media platforms have had a huge impact on print journalism.
3. Broadcast/ TV/ Radio Journalism
It is one of those journalism categories that deal with broadcasting news through television or radio. Both of these mediums are widely used and possess unique characteristics. A reason why TV journalism is more popular than print journalism is that it does not only deliver news for the eyes but the ears as well. Audio-visual experience provided to the audience through TV journalism engages them. This journalism has large budgets and resources that help journalists create high-quality content.
Unlike TV, radio includes a large amount of interaction with the target audience. But, it usually gathers a limited number of participants as the broadcasting is done live. Radio channels usually have smaller budgets than TV channels causing limitations to covering fewer stories.

All types of journalism have their way of functioning and challenges. For some, one needs to be extremely focused and conscious whereas, some types are more relaxed. If you are preparing to choose Journalism as your future, you might start preparing for some entrance exams to pursue Journalism from reputed colleges. So, which type of journalism suits you the best is up to your preferences.

Also Read:
If you want to apply for admission to the college of your choice fill out our Common Application Form or dial the student helpline number 1800-572-9877 (toll-free ) and get the best advice on your career choices. If have any doubts regarding journalism courses, you can ask questions on the CollegeDekho QnA zone.