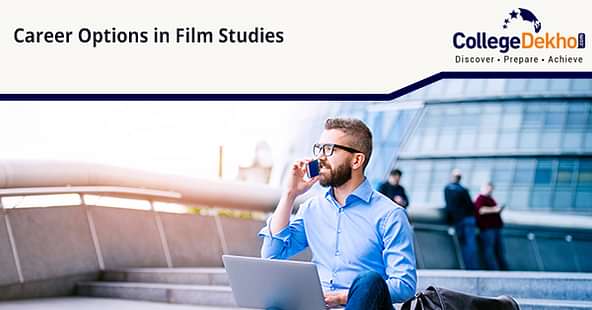 Graduation in Film Studies may be a specialization that is not explored much but the people who want to venture into the creative field of Filmmaking choose various courses for their bachelor's degree in filmmaking. While there are all-technical degrees available in Filmmaking such as Media Science, Media Production, TV Production, etc, there are other courses that focus mainly on the subjective and aesthetic matter of films. Studying films is similar to studying other fields of fine and visual arts like Literature, Painting, Music, Dance, Sculpture, etc. There are various Film Making Institutes in India from where one can pursue a course in Film Studies.
Films have become a popular field of study where people without any film degree also do well in the industry. Bachelors in Film Studies gives students a greater outlook on the panorama of world cinema and films as a medium of modern art in today's world. A career after graduating from a Film School can be very rewarding and given below are some of the career options one can pursue after studying film studies.
Film Director
A film director has to be a person with a strong analytic vision who visualizes the concept and makes the audience see with his/her eyes. A director is the most prominent storyteller in a film. A director's course of work is not limited to full-length films as TV series, music videos, advertisements, films, and multi-camera productions. With the inception of stream-based entertainment platforms, the demand for efficient directors who have an eye for storytelling has increased. Directors from a film studies background can make it big with perseverance.
Broadcast Presenter
A broadcast presenter is a person who is the face of a television program or radio. A broadcast presenter is also known as Achor in TV and Radio Jockey in Radio. A broadcast presenter has the opportunity to work on a range of platforms from TV, radio to the Internet. The film. The work of a Broadcast Presenter is versatile as well as challenging and there is very little scope of mistakes for a Broadcast Presenter, especially on live programs. A media house depends on the broadcast presenter as he/she is the face of the channel on TV, the internet, or radio.
Location Manager
The location manager is one of the most sought-after professions for beginners in the film industry. A location manager is responsible for designing the place and the location arrangements for a film. The role of a Location Manager is also to manage the location under the budget sanctioned. This is one of the most challenging roles in a film.
Camera Operator
One of the most challenging yet important roles for a film is of the Camera Person or Camera Operator. A Camera Operator is an inseparable part of a film. A camera person needs to have a lot of technical knowledge on imaging technology and as well as creativity to shoot a frame. Good camera operators are some of the highest-paid technicians in the film industry.
Program Researcher
A media researcher is a person who is highly valued in news media and radio. A program researcher gives information inputs, creative inputs and helps to plan a TV or radio program by helping with thorough research on the program content, market research, etc.
Art Director
An art director in the film industry has the responsibility to make a finished product look good and polished. An art director is valued immensely in the advertising agencies as he/she works with the copywriters and is the one to chalk out the draft campaign. An Art Director manages the creative work from the beginning to the end of an ad campaign.
Video Editor
There is a good saying that good films are made and destroyed on the editing tables. A judicial video editor is a person who has enough knowledge of film aesthetics and is also a master of technology he deals with. An editor puts the footage in a sequence thus creating a story according to the script and the need of a director. The editor is one of the most sought-after jobs after graduating with a film studies degree. An editor can work under an organization or can also freelance. In the current scenario, most of the eminent editors of the Indian film industry are freelancers. Good editors mostly make good directors in the future as they develop the eye of storytelling over time.' There are also many other related career options for a film school graduate which include Actor, Photographer, Graphic Designers, Visual Effect Artists, Set Designers, Light Artists, etc.
Best Film Study Colleges in India
Following is the list of the best film study colleges in India. You can apply to these colleges by simply filling in the Common Application Form and with our experts' guidance, you will not even have to step out of your house for admission.
| | |
| --- | --- |
| NRAI School of Mass Communication (NRAISMC), New Delhi | Whistling Woods International, Mumbai |
| CREO Valley (CREO), Bangalore | MIT ADTU - MIT Art Design and Technology University, Pune |
| MET, Mumbai | IIFA Lancaster Degree College, Bangalore |
| Karnavati University (KU ), Gandhinagar | Mahatma Jyoti Rao Phoole University - (MJRP), Jaipur |
| Film and Television Institute of India - FTI, Pune | Jagran Lakecity University (JLU), Bhopal |
Here are some other top film-making colleges that you can explore.
Satyajit Ray Film and Television Institute of India - SRFTI, Kolkata
Center for Research in Art of Film and Television, Delhi
Asian Academy of Film and Television, Noida
National Institute of Film And Fine Arts, Kolkata
LV Prasad Film And TV Academy, Chennai
National Institute of Design, Ahmedabad
Digital Academy-The Film School, Mumbai
Jadavpur University, Kolkata
The film industries of Tamil, Telugu, Bengali, Marathi and Punjabi language films have also seen a huge growth in the past 10 years, Also the unheard film industry of Assam's film 'Village Rockstars was the official entry of India for the Oscar Nomination. These indicate that the regional & multilingual film industries in India are in dire need of creative film persons for which, the Industry prefers film school graduates.
Also Read:More than Degree, Skills matter in the Mass Communication Industry
Similar Articles
CollegeDekho wishes you a successful career in Films