The PG counselling of Acharya Nagarjuna University commenced on 23-May-2016 and will be continued till 26-May-2016. The counselling was inaugurated by Vice Chancellor of University, Acharya Rajendra Prasad. He logged in on to the University website and inaugurated web based counselling. On this occasion he addressed the students.
He said, "This year more number of students registered for science group. Compared to the last year, this year more candidates appeared for the PGCET. The counselling will be conducted according to the rank base and will be conducted separately for special category and open category. All the necessary arrangements have been for the smooth conduct of counselling. Drinking water facility has been set up at the counselling center".
On the first day a total number of 66 candidates registered for special category i.e NCC, CAP, PH and sports. The certificates have been verified thoroughly and 14 seats were allotted on the first day. 4 seats have been allotted in Mathematics, 3 seats in Social Sciences, 2 seats in Commerce, One seat in English, Education, Life Sciences and Telugu. The admission letetrs for these candidates were given by Vice Chancellor of the University. Padipaogu Kotaiah a PH candidate has been allotted seat in Telugu (in pic) and received admission letter from Vice Chancellor.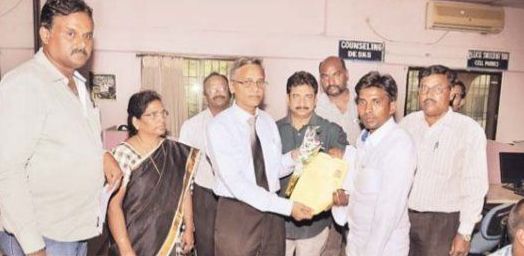 Source: - Sakunth Kumar, City Journalist, CollegeDekho, Vijayawada