CAT 2022 will be conducted on November 27, 2022, in three slots. Earlier, IIM Bangalore had released the important guidelines for the exam including the dress code. Candidates appearing for the Common Admission Test (CAT) 2022 have to follow all of the instructions specified for the examination. You must adhere to the instructions regarding the timings, what and what not to carry at the exam centre, how to behave at the exam centre etc. One of the very important points to be followed is the dress code to be followed at the CAT exam centre.
Now, let us stop you before you phone your friend about borrowing a cool pair of jeans or t-shirt to appear for CAT 2022. The CAT 2022 dress code is not about how fashionably you are dressed for the exam. Instead, it is about the proper attire specified by the IIMs for the CAT exam. Here are the details you need to know about the CAT 2022 Dress Code.
CAT 2022 Dress Code: What to Wear to the CAT Exam Centre
Choosing what to wear to the CAT exam centre should not be a tough task for you. The exam authorities expect candidates to dress in simple and plain clothes. Some of the important guidelines related to the CAT 2022 Dress Code are as follows: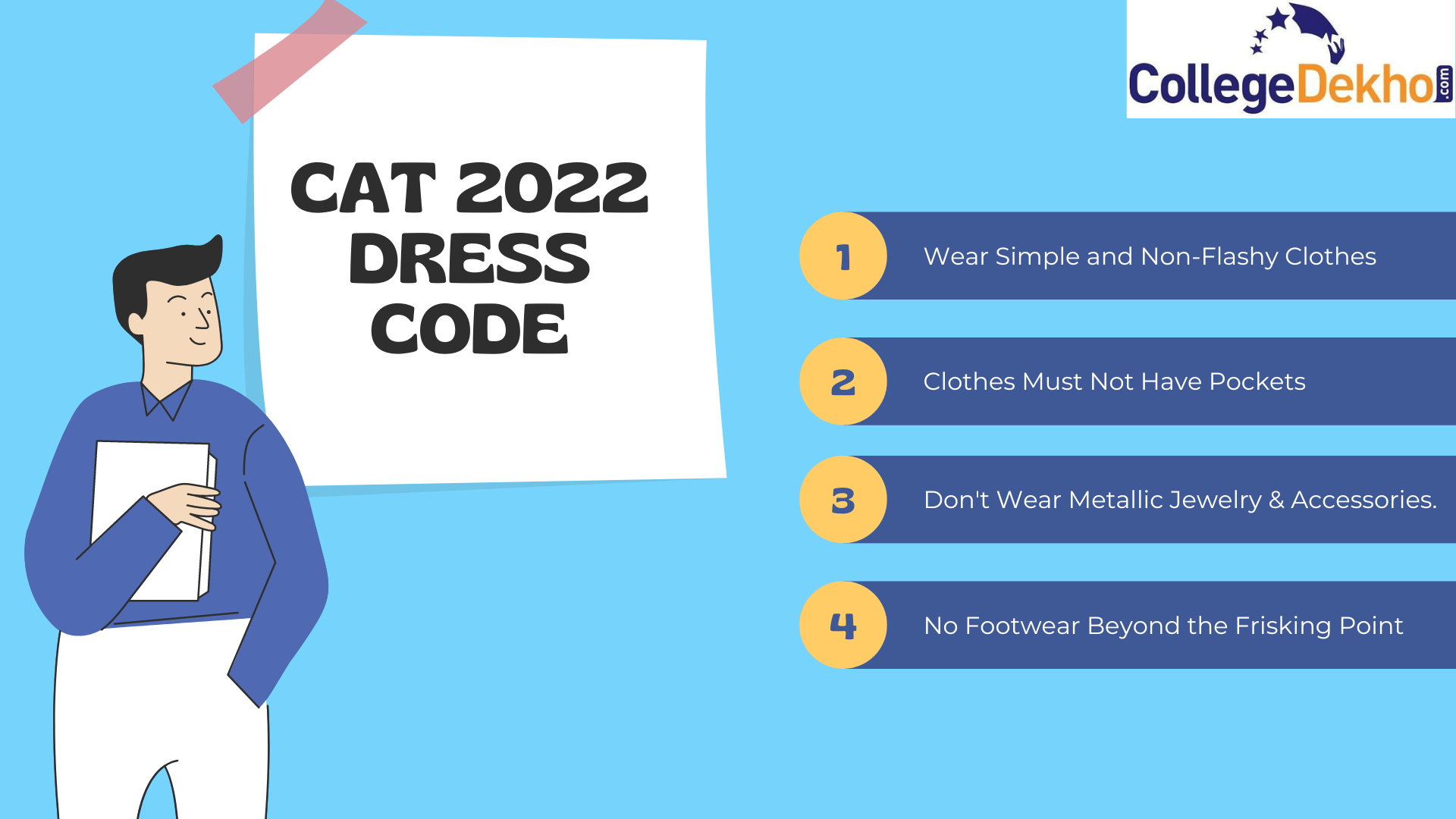 Wear Simple and Non-Flashy Clothes
You must feel comfortable in what you are wearing on the exam day so that you can focus entirely on solving the CAT 2022 question paper. Just pick a simple dress or a plain pair of trousers and shirts. Avoid wearing too flashy or fashionable clothes. The time you spend choosing what to wear to the CAT 2022 exam centre can be investing in going through
CAT 2022 last-minute tips
.
Clothes Must Not Have Pockets
Candidates have been asked to wear clothes that do not have pockets. Those wearing any type of clothes including shorts/t-shirts/jeans/trousers etc. with pockets will be denied entry inside the exam centre. They are allowed to wear plain pullovers, socks or sweaters or cardigans but without any pockets. 
Leave Metal Objects, Ornaments and Jewellery At Home
Candidates will not be allowed to carry any type of metal object including keys, water bottles etc. inside the examination centre. Additionally, any type of ornaments, headpins, clips, and jewellery that contain metal will not be allowed inside. It is better to leave any valuables at home.
No Footwear in Exam Hall
Candidates will be required to take their footwear outside of the examination hall. Whether a candidate is wearing shoes, sandals or slippers, they will be required to leave them outside the exam hall.
No Heavy Make-Up or Unnatural Marks on the Body
Candidates have been asked not to wear heavy make-up to the examination centre. Girls have been advised to stick to a natural look and simple hairstyle while boys must appear in the same look as in their photos. Candidates having unnatural body marks may also be disqualified from taking the exam. Girls should avoid putting Henna on their hands as it may cause issues during the biometric registration.
Wear Face Masks
Although IIM Bangalore has not released any COVID-19 guidelines, candidates should wear a proper face mask at all times before, during, and after the CAT exam to ensure their safety and the safety of their fellow students. You may also be asked to sanitize your hands at the entry points and the exam.
Keep Bags and Mobile Phones Out
Candidates will not be permitted to carry any type of bag or mobile phone inside the centre. These items will have to be submitted to the test centre staff outside. Electronic equipment such as calculators, smartwatches etc. will also not be permitted. The exam authority will not be responsible for your belongings; thus, avoid bringing anything unimportant to the CAT exam centre.

Also Read: CAT 2022 Exam Day Mistakes You Must Avoid
CAT 2022 Exam Day Guidelines
It is necessary for every candidate to follow
CAT 2022 Exam Day Guidelines
to ensure they have a smooth exam experience.
Carry a hard copy of the CAT 2022 admit card. Entry to the exam hall will not be allowed if you don't have a printout of the admit card. No digital copies are allowed.

Make sure you have two passport-size photographs to affix to your admit card.

Carry a valid photo ID proof issued by the Government of India (original and photocopy), such as an Aadhaar Card, Voter ID, Passport, PAN Card, E-Aadhaar, Ration Card, College/University ID, or Driver's License.

Candidates belonging to the PwD category must bring their Medical Certificate and Scribe Affidavit.

If your name has been changed due to marriage, divorce, or any other legal reason, then carry name change degree documents issued by the concerned authority.

Candidates with special medical conditions or any implants such as a pacemaker should provide valid Medical Certificates.

Bring an authorization form issued by IIM  if carrying any prohibited or exceptional items.

Reach the exam centre at the reporting time mentioned on your CAT 2022 admit card. No entry will be allowed once the gate of the exam hall has been closed.

You will have to go through various security checks, so ensure that you follow everything you are asked to do and do not engage in any unnecessary conversations.

If you face trouble finding your allocated seat in the CAT examination hall, ask the invigilator for help.

Read all the instructions regarding the CAT 2022 exam given on your computer screen. Pay attention to every detail so that you have a clear understanding of what you need to do.

You will be provided rough sheets for calculations. Make sure you use them and do not scribble anything on your admit card. You will be required to return them after the exam.

Avoid carrying any electronic gadgets like mobile phones, beepers, wristwatches, calculators, cameras, wireless/Bluetooth devices, etc. as they are prohibited inside the exam hall.
It is firmly advised to aspirants to follow all the instructions mentioned above because if an individual fails in doing so, he/she will be considered invalid to sit for the exam. CAT is one of the most popular management exams that offers admission to top colleges in the nation. Go through the links below to understand your chances of getting admission to the desired college.
List of MBA Colleges Accepting CAT Scores

To take admission-related assistance or to explore more options, candidates can also dial the toll-free number 18005729877 or fill up the Common Application Form. Our admission experts will be glad to help you out. In case of any queries, write to us in the QnA zone.
Stay tuned with us for the latest news and updates!

Related Links: