Colleges Accepting 80-90 Percentile in CAT 2022- One of the reasons why the CAT exam is considered to be one of the toughest MBA entrance exams in India is the sheer amount of competition that is witnessed between CAT aspirants. Every CAT applicant prepares for the exam with the target of falling in the 100 percentile. This is because admissions to premier management institutes like the Indian Institutes of Management, FMS Delhi, Indian Institute of Foreign Trade, etc. are only possible for the crème de la crème of CAT candidates.

That being said, it is no surprise that only a handful of individuals are able to achieve the top benchmarks of CAT percentile scores. Nevertheless, candidates who achieve percentile scores within the range of 80-90 can also seek admission to several well-established and reputed MBA colleges and universities.

CAT 2022 Result has been announced on the official website by IIM Bangalore. CAT 2022 test-takers can check out the CAT 2022 score vs percentile analysis, CAT cutoff 2022 for IIMs, and other related information in the links below.

Candidates who appeared for the CAT 2022 exam should be aware of all the top MBA colleges and universities where they can apply for admission with a percentile score of 80-90. Such information will help them make an informed decision without wasting any time before or after the CAT 2022 exam. This article provides all the necessary details about colleges that are 80-90 percentile in CAT 2022, read further to know more!
List of MBA Colleges Accepting 80-90 Percentile in CAT 2022
The table below has a list of colleges that accept CAT scores ranging from the 80-90 percentile.
College Name

Location

Courses Offered

Total Fees
(Approx)

Other Entrance Exams Accepted

Chennai

Post Graduate Diploma in Management (PGDM), Post Graduate Program in Management (PGPM)

Rs. 15,86,000

Graduate Management Admission Test (GMAT),Xavier Aptitude Test (XAT),Common Management Admission Test (CMAT)

Trichy

Master of Business Administration (MBA)

Rs. 15,50,000

CAT

Vinod Gupta School of Management, IIT Kgp
Kharagpur
MBA

Rs. 10,31,000

CAT

Chandigarh

MBA, MBA HR, MBA International Business, Executive MBA

Rs. 35,000

CAT

Manipal

PGDM, PGDM Healthcare, PGDM HR, PGDM Banking, and Finance

Rs. 15,10,000

XAT and GMAT

Ahmedabad

PGDM (Communications)

Rs. 21,00,000

XAT and GMAT

Delhi

MBA, Executive MBA

Rs. 3,80,000 - Rs 4,70,000

CAT

Anand, Gujarat

PGDM Rural Management, Executive PGDM in Rural Management

Rs. 15,17,000

XAT, and IRMA Social Awareness Test (IRMASAT)

Mumbai

PGDM

Rs. 11,04,000

XAT, Management Aptitude Test (MAT), AIMS Test for Management Admissions (ATMA), CMAT, The Maharashtra Common Entrance Test (MHCET), GMAT

Chennai

MBA

Rs 14,56,000

XAT, CMAT

Ahmedabad

MBA

Rs. 10,92,000

CAT

Bangalore

MBA, PGDM, Executive PGDM

Rs. 8,14,000- 17,95,000

GMAT, XAT, MAT, ATMA, CMAT/NMAC by GMAC

Bangalore

PGDM

Rs. 11,00,000

XAT, CMAT, MAT, ATMA, GMAT

Noida

MBA

Rs. 14,12,000

GMAT, CMAT

Mumbai

PGDM, PGDM for Women

Rs. 19,00,000

XAT, GMAT

FORE School of Management
Delhi
PGDM
Rs. 16,98,000
XAT, GMAT
Institute of Management Studies, Banaras Hindu University
Varanasi
MBA
Rs. 98,888
CAT
Institute of Finance and International Management
Bangalore
PGDM
Rs. 13,93,333
MAT, GMAT
Sydenham Institute of Management Studies, Research and Entrepreneurship Education
Mumbai

PGDM, Masters in Financial Management (MFM), Masters in Marketing Management (MMM)

Rs. 1,36,000-1,53,000
MAHCET, CMAT
Loyola Institute of Business Administration
Chennai
PGDM
Rs. 15,38,000
XAT
Birla Institute of Technology, Mesra
Ranchi
MBA
Rs. 5,89,00
MAT, XAT, GMAT
Institute of Public Enterprise
Hyderabad
MBA, PGDM, Executive MBA
Rs. 8,15,000
GMAT, CMAT
Balaji Institute of Modern Management
Pune
PGDM
Rs. 8,90,000
CMAT, MAT
National Institute of Technology
Rourkela
MBA
Rs. 4,68,000
MAT, XAT, GMAT
SCMS Cochin School of Business
Cochin
PGDM
Rs.. 7,50,000
CMAT, KMAT
National Institute of Technology
Durgapur
MBA
Rs. 1,92,000
CAT
National Institute of Technology
Tiruchirappalli
MBA
Rs. 2,97, 850
CAT
Department of Management Sciences, University of Pune
Pune
MBA
Rs. 1,32,000
MAH CET, MAT
Woxsen School of Business
Hyderabad
PGDM
Rs. 34,60,000
NMAT by GMAC, GMAT
Bharatiya Vidya Bhavan's Usha and Lakshmi Mittal Institute of Management
New Delhi
PGDM
Rs. 12,25,000
MAT and CMAT
DoMS, IISc
Bangalore
MBA
Rs. 70,000
GMAT
Mumbai
PGDM
Rs. 2,97,000- Rs 18,85,000
CMAT, XAT and GMAT
Goa Institute of Management
Goa
PGDM, Executive MBA
Rs. 18,07,000
XAT, GMAT and CMAT
Lal Bahadur Shastri Institute of Management
New Delhi
PGDM
Rs. 5,70,000
GMAT
Indian Institute of Forest Management
Bhopal
PGDFM
Rs. 6,24,000
XAT

Prin. L. N. Welingkar Institute of Management Development and Research (WIMDR)

Bangalore
PGDM
Rs. 8,64,000
XAT, ATMA, CMAT, GMAT
Indian Institute of Management
Visakhapatnam
PGP
Rs. 10,70,000
CAT
TA Pai Management Institute (TAPMI)
Manipal
PGDM
Rs. 16,00,000
XAT/GMAT
Trinity College for Management and Technology
Ghaziabad
PGDM
RS. 2,12,000
MAT, ATMA and XAT
ABV-Indian Institute of Information Technology and Management
Gwalior
MBA, PGDM
Rs. 3,38,000- Rs 6,70,000
CAT
MNNIT
Allahabad
MBA
Rs.1,04,000
CAT
MANAGE
Hyderabad
PGDM
Rs. 3.75,000
CAT
Other Popular MBA Colleges Accepting 80-90 Percentile in CAT 2022
There are many other colleges that you may consider if you have scored 80-90 percentile in the CAT exam. You can check the list of colleges provided below.
| | |
| --- | --- |
| Colleges | Fee(Annually) |
| | INR 3.6 Lakhs(1st Year Fees) |
| | INR 3.85 Lakhs |
| | INR 1 Lakhs(1st Year Fees) |
| | INR 3 Lakh(1st Year Fees) |
| | INR 70,000 |
| | INR 2.3 Lakhs(Annual Fee) |
| | INR 3.85 Lakhs |
| | INR 90,000 |
| | INR 1.5 Lakhs(1st Year Fees) |
| | INR 90,000 |
Also Read:
Actual Cutoff of MBA Colleges Accepting 80-90 Percentile in CAT 2022
The real cutoffs at the top non-IIM MBA colleges are higher than 90 percentile, despite the fact that many of them do not publicly state their minimum cut offs:
Other Criteria for Admission to MBA Colleges Accepting 80-90 Percentile in CAT 2022
In addition to your CAT percentile, the following criteria are crucial for earning a final admission offer:
Your academic background: From class 10 onwards, if you have scored 90 percent and higher marks, you will get a 20–30% weightage.
Work Background: Relevant job experience of 2-3 years will fetch you a weightage of 5-10%.
Non-Engineering background: Academic diversity makes you eligible for an additional 2-5% weightage when applying for admission.
Gender Diversity: Females become eligible to receive a weightage between 3-5% or above in the final admissions process conducted by the top MBA institutes.
What Next After Scoring 80-90 Percentile in CAT 2022?
Though scoring 80-90 percentile in CAT 2022 is the first step towards getting admission into one of the top B-schools of your choice, there are other factors that also determine a student's chances of getting admission in the top management institutes. After the selection of the candidates on the basis of CAT 2022 scores, students need to go through the following steps:
Group Discussion/Written Ability Test/Personal Interview

Final Selection
It is advisable for the candidates to take a look at the admission process and selection criteria of the respective institutes individually. Apart from this, candidates may check the CAT cutoff here of the top B Schools in India here.
How to Choose MBA Colleges Accepting 80-90 Percentile in CAT 2022?
There are many important factors that you should keep in mind while selecting a good MBA college accepting 80-90 percentile in CAT 2022. Some of them are provided below.
Credentials & Approvals -The MBA/PGDM should be AICTE Approved or UGC recognized.

Course Fee - There are top MBA schools like FMS and JBIMS that have affordable tuition fees, that range between Rs 2 and 6 lakhs. If your CAT percentile meets the requirements, getting an MBA from one of these institutions is identical to getting one from an IIM A, B, or C, where tuition is between 21 and 23 lakhs. The financial burden will increase as the fee increases.

Faculty/Teaching Staff - Institutes with qualified and research-oriented faculty should always be the first choice when choosing an MBA college or university.

Placements - You should check the placement history of the college before selecting it. Besides this, the tie-ups of the college can also help you to get an idea about the college placements.
Courses -You should check what courses are available at the college. You can select the college that offers your desired specialization.
Campus - You can visit the official website of the college to know what facilities are available on the campus. A good MBA college should have at least 2-3 labs as well as seminar halls.

Hostel Facilities - There are numerous IIMs and other MBA schools without an on-campus dormitory, which leads to reduced peer learning. Always choose an MBA school that offers on-campus housing with decent facilities.
Awards and Rankings -It is important to know the rankings and awards of the college. Besides this, you should also check the affiliation of the college.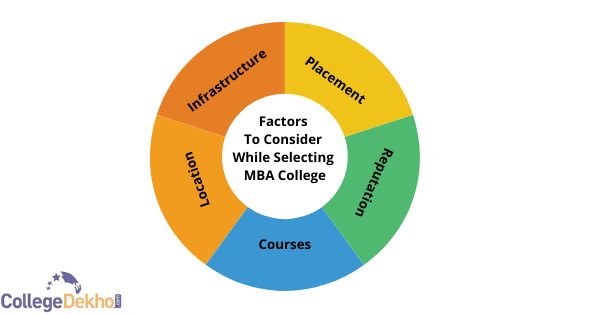 Related Articles: