"Difficulties, problems and struggles are not impediments, but catalysts to propel oneself towards success in life. Working with a focused approach towards life-goal, and not getting disheartened, whatever be the circumstances should be the Life-Mantra."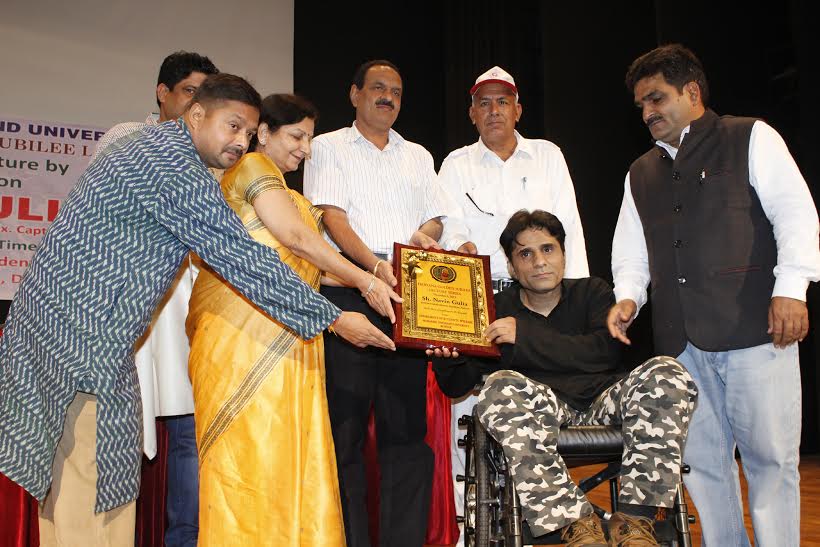 -Stated eminent motivational speaker, author, adventure sports icon, Ex. Capt. Navin Gulia in an inspiring lecture programme organized today in Maharshi Dayanand University (MDU). This lecture programme was organized as part of Haryana Golden Jubilee Lecture series initiated by Maharshi Dayanand University.
Sharing his life experiences, Navin Gulia said that due to grit and determination, he could overcome the severe adverse circumstances including his getting paralyzed below neck at the age of twenty-two. He urged upon the students to work steadfastly towards their life goal with hard work and extra efforts. He said that when facing an existential crisis in life, and caught in horns of dilemma-'To Do, or not to Do, always go for Do. He also asked the students to build up their knowledge base and communication skills. He recited inspiring self-composed verses-"Sahas see Sankalp kar, Vishwaas tera did hai/Jeewan hai Ye Yuddh hai, ye buddh hai, ye yuddh hai" He answered the queries of students and faculty members on the occasion.
Earlier, Director, P.R Sunit Mukherjee welcomed the guest speaker and threw light on his life and personality. He also recited poems composed by Navin Gulia. Dean, Academic Affairs Prof Sunita Malhotra speaking on the occasion said that Naveen Gulia's an inspiring personality, and his life is an inspiration for students. MDU registrar Dr. S.P. Vats said that Navin Gulia's life and inspiring words would go a long way to boost the morale of students, and induce positivity in them. He expressed the Vote of Thanks on the occasion. Director Youth Welfare Dr. Jagbir Rathee conducted the proceedings of this Lecture programme.
Head of Depts, faculty members, research scholars, and students listened in rapt attention to the eminent speaker Navin Gulia. Head, Dept. of Physical Education Prof Kultaj Singh, NSS Programme- Co-ordinator Dr. R.S Gulia, Prof Gulshan Taneja, Prof Nasib Singh Gill, Prof. Neelam Jain, Prof Santosh Nandal, Dr. Surender Yadav, etc. were prominently present on the occasion. This lecture programme was jointly organized by Students' Welfare Office, Dept. of Physical Education, and Public Relations Office of the University,