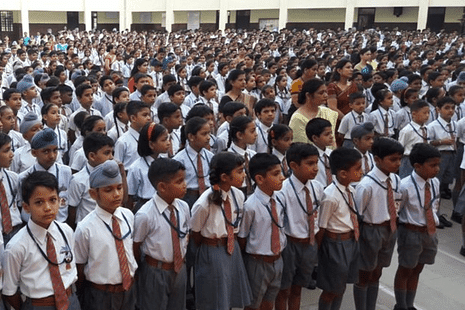 School Assembly News for 28 August 2023
School Assembly News Headlines for 28 August 2023 are listed here. Find all the recent and major happenings from the national, international, and sports sectors here and prepare well for the news reading.
School Assembly News Headlines for 28 August 2023
Students will find the latest news updates for 28 August 2023 for the school assembly for various sectors: 
National News Headlines for School Assembly 28 August 2023
PM Modi is a real-life illustration of women's power in Mann Ki Baat | Chandrayaan-3.
In Delhi, India and the Asian Development Bank will establish a climate change and health hub.
Trinamool will be opposed by a CPI(M) candidate backed by Congress in the Dhupguri byelection.
Uttarakhand pitches temples, hills as wedding destinations.
Yogi Adityanath like a guardian, says son of released former Uttar Pradesh Minister Amarmani Tripathi.
According to PM Modi, a country's history and identity make up its tangible heritage.
SC requests the government's response about openings in the national panel for safai karamcharis.
Jaishankar calls for a democratic, varied re-globalization.
Five IAF MiG-29 aircraft are taking part in the massive war game in Egypt.
India capable of launching more interplanetary missions, says ISRO chairman.
2023 B20 Summit | PM Modi suggests an International Consumer Care Day and suggests India as a remedy for supply chain issues.
G-20 nations arrive at consensus on issues of cultural heritage.
Vivek Ramaswamy believes that improved relations between the United States and India could aid in American efforts to declare their "independence" from China.
Also Read| 
International News Headlines for School Assembly 28 August 2023
The whole-life sentence will be required for horrific killers, according to U.K. PM Sunak.
The opposition in Zimbabwe rejects President Mnangagwa's reelection.
Following the COVID-19 shutdown, North Korea permits the return of its people living abroad.
Sheriff in Jacksonville: In a racially motivated killing, the gunman kills three people and himself.
U.S. military training exercises in Australia end in a crash.
The Dutch brewer Heineken loses €300 million when it sells its Russian operations for €1.
Russia hit a cafe in northeastern Ukraine, officials said, leaving two people dead.
Russia extends the arrest of American journalist Gershkovich by three months.
Norway will give Ukraine F-16 fighter aircraft.
Zelensky claims that Ukraine had "nothing to do" with the Prigozhin jet disaster.
Authorities in Hawaii ordered an evacuation of the Lahaina neighbourhood due to a nearby brush fire.
Sports News Headlines for School Assembly 28 August 2023
Indian women's visually impaired cricket team won gold at the IBSA World Games.
In the Durand Cup semifinals after defeating Chennaiyin FC 4-1, FC Goa.
Sethuraman wins back the national chess championship after nine years; Vishnu Prasanna comes in second.
Verstappen, who won the Dutch GP, is going for his seventh straight F1 victory. Second quickest is Norris.
The Indian men's 4x400m relay team smashes the Asian record and becomes the first team to go to the World Championships final.
Sanjay Bangar is wise to maintain K.L. Rahul as a wicketkeeper-batter for the Asia Cup.
Asia Cup setback for Sri Lanka due to injuries to Chameera and Hasaranga; Perera and Fernando also tested positive for Covid.
Also Read| Daily CBSE Practice Questions for Class 10 Social Science 27 August 2023
Stay tuned to CollegeDekho for more Education News pertaining to entrance exams and admission. You can also write to us at our E-Mail ID news@collegedekho.com.