The School of Social Work affiliated with JRN (Janardhan Rai Nagar) Rajasthan Vidyapeeth in association with Alfa Educational Society, Vikalp Sansthan, and Action Aid has organized discussion session based on Gender Issue. The chief guest of the program Ms. Namrata an IAS officer said while addressing the audience that women are equally contributing to progress and development of every sector, she is serving both families and work with responsibility. Women today are successful in every field, they just need right direction.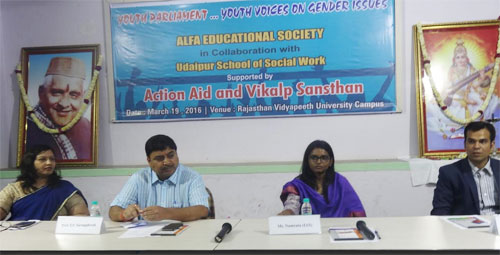 Dr. Manju Mandot, Preeta Bhargava, Priyanka Singh, Bharat Singh Kailash Birjwasi put forward their thoughts While directing the program Vice Chancellor Prof. S.S Sarangdewot has said that women can help women in growth and it is necessary to make them independent and connect with the mainstream of nation's development.
Participants from various places including Rajasthan University Jaipur, Kota University, Vishva Bharati University, Central University Ajmer and Mohanlal Sukhadia University took part in the program.
Source – Jay Kumar Savita, City Journalist, Udaipur, Collegedekho.com