MAH BHMCT CET is a state-level common entrance exam conducted for admission to the Bachelor of Hotel Management and Catering Technology offered by the government, government-aided and unaided self-financed institutions by hotel management colleges of Maharashtra. MAH BHMCT CET 2022 will be conducted on August 21, 2022. The exam is conducted in an online mode having a total duration of 90 Minutes. Candidates who are appearing for the exam are advised to prepare well for the exam to score a good percentile. In this article, we have provided some last-minute tips for the MAH BHMCT CET entrance exam. Candidates are advised to check the MAH BHMCT CET last-minute tips and MAH BHMCT exam day instructions provided in this article before appearing for the exam. 
Also Read: MAH BHMCT CET 2022 Exam Pattern
MAH BHMCT CET 2022 Important Highlights
Provided below are some major highlights of the MAH BHMCT CET 2022 Entrance Exam.
| | |
| --- | --- |
| Particulars | Details |
| Exam Name | MAH BHMCT CET |
| Conducting Body | State Common Entrance Test Cell, Maharashtra |
| Mode of Exam | Computer-Based Mode |
| Exam category | Undergraduate level |
| Type of Questions | Multiple Choice/ Objective Type Questions |
| Frequency of Examination   | Once a Year |
Also Read: MAH BHMCT CET 2022 Eligibility Criteria
Last Minute Tips for MAH BHMCT CET 2022 Exam
Here are some of the last-minute tips for the MAH BHMCT CET 2022 Entrance Exam:
Review Important Topics: Before the exam, it is wise to review the crucial MAH BHMCT CET topics. It will assist you in reviewing key ideas so that you do not skip any crucial exam questions
Practice MAH BHMCT CET Previous Year Papers: By working through the MAH BHMCT CET Previous Year Question Papers, applicants will get a better understanding of the MAH BHMCT CET 2022 test format and the themes that have come up frequently in previous years. The themes from which the majority of questions are asked must be determined by the candidates by examining the questions in the MAH BHMCT CET previous year's question papers and comparing them to the MAH BHMCT CET syllabus
Take Mock Tests: During the last few days of study, applicants should establish a routine of finishing one mock test every day to gauge their level of development and the amount of review still needed. Candidates will also become aware of their areas of weakness. The value of mock exams in educating students about the complexity of the exam's questions and format cannot be emphasized. Before the MAH BHMCT CET exam, students should complete plenty of practice tests to improve their knowledge of each subject. Additionally, candidates can improve their knowledge, speed, and time management abilities
Brush up on the Fundamentals: In order to be able to solve the most challenging problems, students need a thorough understanding of the fundamentals. Therefore, applicants must set aside some time to review the fundamental ideas
Ensure Proper Revision: In order to recall information quickly throughout the exam, candidates must thoroughly review all facts, numbers, themes, and approaches before showing up. The final two test days must be set aside for reviewing crucial subjects
Discover Time Management Techniques: Candidates must attempt to learn shortcut techniques to improve accuracy and speed in order to complete all questions within the allotted time. This is because they must respond to each question within a specific time restriction
Analyse Prior Year's Result: To get a sense of the degree of competition, candidates should review the MAH BHMCT CET Exam Results from previous years to see the exam trend and the number of successful attempts. Candidates can adjust their preparation methods and set their target scores in this manner
Prepare Your Documents: It's crucial to have all of your paperwork ready before the exam. To ensure that you have a copy of your MAH BHMCT CET admit card, print it out. Along with the admit card, be sure to keep your original ID and a photocopy of it ready
Eat Healthily: Students are frequently so preoccupied with their studies that they entirely neglect the needs of their bodies and their diet. It is crucial to refuel before the exam because food is the fuel that keeps us alive. Make sure you are eating healthfully because this will not only improve your physical health but also greatly improve your mood
Take a Break from Studying: Scheduling some downtime is important. Invest some time in something you enjoy doing, whether it's engaging in a pastime, spending time with friends, or watching a movie. Both your mood and your thoughts will be lifted by it
Remain Calm and Confident: The last days of exam preparation are often filled with anxiety and stress. However, panicking will just make things worse. As important as any other item on this list, maintaining calmness is important. Maintaining your self-assurance and being ready for achievement are crucial
Also Read: 
MAH BHMCT CET 2022 Exam Day Guidelines
Apart from the last-minute tips, candidates should also check the important exam day guidelines of MAH BHMCT CET provided below:
Candidates are advised to carry the MAH BHMCT CET admit card along with them while going to the exam centre. Those who are not carrying the admit card will not be allowed to enter the exam centre

They are advised to reach the exam centre at least one hour before the exam. They can check the date, time and venue of the exam centre from the MAH BHMCT CET admit card

Candidates should note that the total duration of the exam is 90 minutes hence they should divide their time accordingly

Candidates must follow the instructions provided by Test Administrator and CET Cell/ DTE Representative. Those who do not follow the instructions will be disqualified and asked to leave the testing centre

Candidates are advised to read the instructions provided on the question paper. The instructions will help the candidates to know how to answer the questions

Candidates should not spend too much time on any question. If they are stuck at any question they should skip that question and move on to the next

Candidates can switch between the test and the questions whenever they want during the examination

Candidates are advised not to target any score in the exam. They should only try to answer the maximum number of questions within the allotted time

While answering the General Knowledge & Awareness section, candidates should try to complete the section as soon as possible so that they can utilise the remaining time for the other sections

Candidates must bring a ballpoint pen. They will be given a sheet of paper. They can use the sheet for rough work and calculations. Once the exam is over, candidates need to hand over the sheet of paper to the Administrator before leaving the venue

Candidates are advised to concentrate on their own screen. Any candidate who is caught copying during the exam will be barred from taking it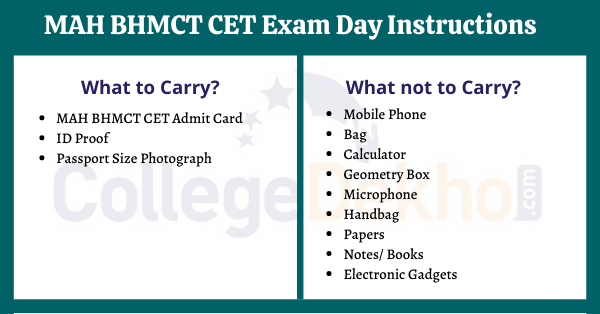 Important Things To Carry on MAH BHMCT CET 2022 Exam Day
Candidates should note that they will have to carry one Id proof along with the MAH BHMCT CET admit card while going to the exam center. All the documents that candidates need to carry on MAH BHMCT CET exam day are provided below.
MAH BHMCT CET Admit Card

Passport size Photograph

ID Proof(Voter Id card, Aadhar card, PAN card/ Bank Passbook with photograph/ Driving license)
Candidates should note that Learner's Driving License and Ration Card will not be accepted as ID proof on the AMAH BHMCT CET exam day. 
Things Not To Be Carried on MAH BHMCT CET 2022 Exam Day
Here are the things that are not allowed inside the MAH BHMCT CET exam centre
Calculator

Geometry box

Mobile Phone

Microphone

Log tables

Earphones

Pencil

Electronic gadgets

Smart Watch

Any kind of paper/ stationery/ rough sheet
Candidates should note that those who are carrying any prohibited item will not be allowed to enter the MAH BHMCT CET examination hall. Those who have any doubt regarding MAH BHMCT CET exam day guidelines may ask questions on the Collegedekho QnA zone. Besides this, those who want admission-related assistance can fill our Common Application Form.
Also Read: