22-Year-old Ankur Dhama, an MA student at Delhi University's St Stephen's College is all set to create history in Paralympics. He will be the first blind athlete to hoist the Indian tri-color in the Paralympics. Ankur was sent to Rio de Janeiro on August 31 by the Blind Relief Association.
Ankur will participate in the 1,500-metre final on September 13, provided he qualifies the heats. He recorded his best performance in Sonepat last July i.e. 4:17 minutes. He is hopeful that he'll be able to reduce this record by 5 seconds in Rio.
Sharing his strategy, he said, "If it's a very slow race, I don't mind leading. But if it's only slightly slow, I'll pick up pace in the last 200 meters." His coach will decide the final strategy.
Also Read:Check Out the Youngest Indians who Qualified for Rio Olympics
Middle-distance running is a team sport for the blind. Ankur will be assisted by Vipin Kumar, a student from Nagpur University who will be tied to Ankur in order to help him remain on track.
Pushing and dragging are prohibited in the event. There must be excellent coordination among the partners informed, Coach Satyapal Singh, Teacher at Acharya Narendra Dev College. He is also a Dronacharya Award winner. Even the slightest of mistake and failure in coordination will head to serious injuries because four legs are supposed to function as two while two pairs of arms as one, added the coach.
Ankur acknowledged the fact that it is impossible to run without a guide and also said that he has been running with Vipin for a long time now.
Vipin is 20 years old and resides in a village near Modinagar. Both the contestants met in 2011. He informs that in order to guide his partner, he has to be 10 seconds faster than Ankur. Vipin's support is not limited to the track. The bond between them strengthened over the years where Vipin used to be Ankur's eyes at stadiums, camps, athlete housing and many other places across the world and he continues to do so.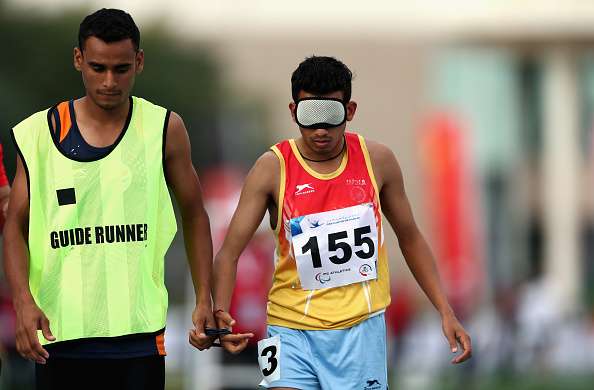 Ankur was six years old when he went completely blind in a week's time. He hails from Baghpat, UP and was sent to JPM Senior Secondary School for the Blind, Delhi. With the schools support, he started participating in international events. He bagged great success at the Asian Para Games in 2014 where he won two bronzes and a silver. It was at the Asia-Oceania Championships held in Dubai that he set a milestone and qualified the Paralympics.
Also Read:KIIT University's Dutee Chand Acquires Spot in Rio Olympics
KC Pande, Vice-chairman, Indian Blind Sports Association, said that it took them 30 years to achieve this. They have been organizing sports meet for the blind beyond the usual three-legged and potato races. They worked on their participation policies and in 1998 they became a registered member of the International Blind Sports Association and further adopted global norms and standards.