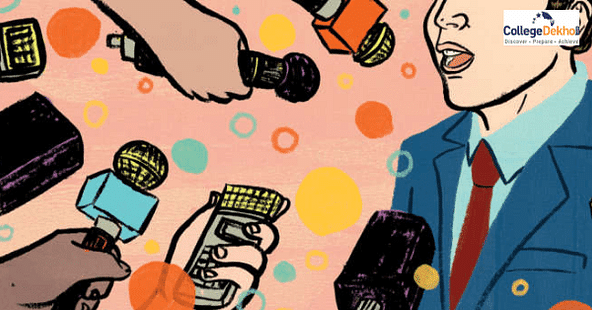 Not all those who aspire to become journalists get the right training at the right time. While some do not have enough financial backup, there are many students who are simply discouraged to pursue this as a career option. In fact, journalism wasn't such a popular career option a decade ago, and it was not something that people took seriously back then. Even today, there are many families that forcefully make their children opt out of this field. But contrary to that, the demand for Journalism courses and jobs in the journalism field is on a high. And if not hardcore journalism, there are many students who plan to explore a much wider field of mass communication that includes different specializations that can help them make a mark in the entertainment and media industry. Aspirants in India can appear for different mass communication and journalism entrance exams to make a career in this field.
On the other hand, obtaining a formal degree in journalism or mass communication has not stopped professionals and experts in the field from making it big. There are plenty of examples in the media industry where we've witnessed the growth of names like Prannoy Roy and Rajdeep Sardesai who've done some marvellous work in the field of journalism despite having no related qualification.
So, How do You Think They Made it Big in Journalism?
When it comes to making a career in Journalism, the greatest key to success is your passion for this field. Your capacity to think out of the box, creativity and your love for the profession will make you do everything needed for the job. Another important aspect is to have the right skill set, which you can develop while pursuing a course in Mass Communication.
The Must-Have Qualities To Become a Successful Journalist
When it comes to making a successful career as a journalist, there are certain qualities that employers look for while selecting candidates for different positions in the media industry. Some of the qualities that are a must to ace a rewarding career in the field of journalism are described below.
Storytelling: To grab the attention of your readers showing why something happens and how does it happen. Make use of the available resources to do interesting storytelling. The story should be investigative, narrative and descriptive. Your storytelling should be such that it can be visualized and gives a point of view or perspective to your target audience.
Communicating: Communication is the most important aspect of becoming a journalist. Communication has the power to influence the attitude, behaviour and point of view of an individual. Both verbal and nonverbal communication is important to lay an impact on other individuals or your target audience. Communication helps in making one on one connectivity and relation with your audience.
Critical thinking: It is a self-directed, self-disciplined and self-corrective process. A solving problem, reasoning, evaluating and decision making comes in with critical thinking. Critical thinking also enhances presentation skills and language proficiency.
Knowledge of world affairs: A journalist should know it all. You should be well-informed and well-aware of whatever is happening around you. If you want to specialize in a particular sector of the news industry, then you should know everything about that sector, be it politics, sports, business, crime or entertainment.
Passion for journalism: Journalism is a fast-paced field of work and, therefore, one has to be very energetic to stay ahead in the race. One has to be passionate to stay updated with current affairs, to do research work and conduct interviews.
Writing Skills: Pen is no less than a weapon for journalists. One has to know how to maintain the orientation of writing, to write in a simplified manner so that everyone can read and understand, to write focusing on the accuracy and details of the subject.
Researching: Fact-checking and research skill in journalism are one of the most important skills required to become a successful journalist. Researching does not only mean finding out information, it means to "research" that is to search about one thing again and again to find the best possible result required. Effective research skills help in investigative journalism also.
Popular Journalists of India
Here, we will discuss some well-known journalists of the media industry, who are doing extremely well with their capability and skills and had absolutely no formal training to become a journalist.
Prannoy Roy:
Mr. Prannoy Roy is the managing director of the leading television channel NDTV. He simply qualified as a British Chartered Accountant. He is also a Ph.D. from Delhi School of Economics. He started his career in 1984 and in his early days, he worked as a lead anchor for DD and BBC World News. It is said that the rules the newsroom with his proficiency in knowledge about the news.
Rajdeep Sardesai:
Another popular name in the world of journalism is Mr. Rajdeep Sardesai. The Gujarati-Goan was a Bachelor in Economics, also a Bachelor in Civil Law. He never got any formal training in journalism. In 1988, he started working with The Times of India for the Mumbai Edition. Later on, he joined NDTV as a political editor. Currently, he is the consulting editor in India Today channel. He covered some of the world-changing events in his younger days and is a recipient of the Padma Shri award by the Indian Government. He covered the Gujarat riots 2002 for which he was given the Ramnath Goenka Award.
Karan Thapar:
The person who earned degrees in Economics and Political Philosophy, is now an eminent journalist, Mr. Karan Thapar. He started his career with The Times in Lagos. The veteran journalist has also worked with The Hindustan Times Television Group and other TV channels like BBC, Doordarshan, and Channel News Asia. His work in Eyewitness, Tonight at 10, In Focus with Karan, Line of Fire, War of Words Devil's Advocate and The Last Word earned him fame and recognition. He has also received several national and international awards for his work.
Bahar Dutt:
Ms. Bahar Dutt, the sister of famous journalist Barkha Dutt, graduated in Social Work. She spent seven years with snakes and read about animals. But in 2005, she was hired by Mr. Rajdeep Sardesai as an Environmental Journalist for CNN-IBN. Later on, she became the Environment Editor. She is also a Ramnath Goenka Award winner for her reporting on the environment. She was given the Young Journalist Award in 2007.
Sagarika Ghose:
Ms. Sagarika Ghose, who has a Bachelor's in History and an M.Phil had started her career in 1991 with the Outlook magazine, Times of India and The Indian Express. She also got Excellence in Journalism Award (Aparajita Award) from FICCI, Ladies Organisation in 2005. Her editorial pieces have always received much appreciation from famous personalities and also from her readers. Despite having no professional training in journalism, she has churned out some great articles and has also bagged the ITA Best Anchor Award from the Indian Television Academy.
Also Read:Film Making Institutes in India: Location, Fees and Scope
Vikram Chandra:
Technology expert and TV journalist and the founder of Editor Technologies Mr. Vikram Chandra, who is currently the BIG FIGHT host in NDTV. He obtained a degree in Economics and pursued his passion for Journalism. He was assigned as a reporter in the Kashmir conflicts where he risked his life to bring out information. He was given the Best Anchor Award for his talk show Big fight.
Arnab Goswami:
Mr Arnab Goswami, who always wants to know 'what the nation wants to know', was a B.A in Sociology. He started his career with The Telegraph but in 1995 he got an opportunity to work with NDTV. After he gained prominence as an anchor for Times Now, he became the face of Republic channel.
Rajat Sharma:
Mr Rajat Sharma, the chairman, and editor in chief of India TV is actually a B.Com graduate. His shows like 'Aap Ki Adalat' and 'Aap Ki Baat' have earned him recognition over the years as a leading journalist of Indian television. He has received Padma Bhushan and is also the winner of ITA Best Anchor Award.
Also Read:Top Photography Colleges in India: Eligibility Details, Courses & Scope
Related Articles
While getting a formal education in journalism is the best way to go forward to make a career in this field, your skills are equally important in building your career graph. In a nutshell, it takes a lot more than your education qualification to bag the job of your dreams in the media industry.