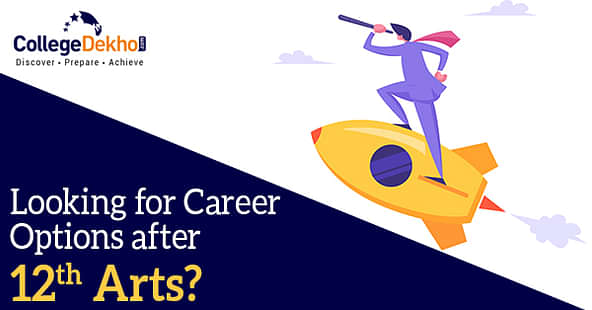 Choosing the right specialization after completing the class XIIth study is a very crucial thing for those who wish to get inducted in one of the Bachelor of Arts programmes. There are so many specializations which are offered in BA that if the students do not choose wisely, they might not be able to get the desired result. The question is - How to choose the right specialization in Bachelor of Arts after class XIIth? Well, we will try to provide as much as possible a detailed explanation regarding how to get out of this tricky situation. The candidates are confused a lot for choosing a right course/specialization in BA. Now, the candidates can easily decide what can be choosen after 12th in BA course.
Why is it Important to Choose the Right Specialization in BA?
Choosing the right specialization after class XIIth especially in Bachelor of Arts can be a daunting task as sooner or not after clearing the class XIIth exam, relatives and other "well-wishers" start pouring in their advice regarding your career or higher-studies options. It leads to confusion as you have relatively less knowledge regarding which is good for you in the long term and which is not. The students often make the wrong choices due to the incessant pressure. It leads to a point where the students do not feel satisfied with their career achievements due to one small mistake at a crucial juncture.
Students opting for a B.A specialization after completing their Class XIIth education are not only those who had studied Humanities in Classes XIth and XIIth but also who had Commerce and Science. In such a scenario, it is quite possible that students from the Science and Commerce backgrounds can become confused regarding the best specialization in B.A. It does not only mean that only Science and Commerce students face this problem, students from Humanities background can also face this issue as they had studied almost all the subjects which are offered as specializations in B.A. To cut the long story short, Humanities students face the "problem of plenty".
To help the students in choosing a specialization in BA after their class XIIth exam, CollegeDekho has prepared this article that will help the students choose the right specialization in BA after class XIIth.
Also Read: What is the difference between BA (Pass) and BA (Hons)?
How to Decide Which Specialization in BA is Better after XIIth?
In this section, we will try to focus on how to arrive at a conclusion regarding the best specialization in BA after the completion of class XIIth study:
Choose that specialization of which you will never get bored - It is very important for you to select that B.A specialization after class XIIth which entices you. The choice should not be made entirely keeping in mind the career prospects that specialization will lead to as it may have negative ramifications in the near or distant future. Also, it is advised that you should not go for a particular specialization because of trivial reasons (my friend has chosen that specialization, the college near my house only offers that specialization etc are some of them). You have had a good two years to ponder upon the best subject in which you can make a career.
Eg - If you love reading books or writing for that matter, the best specialization will be English, Hindi, Urdu or any other language subject (based on your preference).
Choose that specialization that syncs with your career plans - If you have a career plan in your mind then you should go for a B.A specialization which will lead you to your dream. All the time, energy and resources spent will be for nothing if your studies do not lead you towards your dream career or job. So, if you have a set career goal, then opt for that B.A specialization which will help you achieve it.
Do not let peer pressure or relative's pressure get under your skin - Choosing a specialization in B.A should be solely your decision which should not be anyway influenced by your friends and relatives. Yes, they must be thinking good of you but that does not mean they can decide what is best for you. So, stick to your decision and never let anyone influence you.
Talk to your seniors to get a proper insight - Well you must surely agree that by the time you complete your class XIIth studies, you have less or no detailed information of your favourite specialization. To counter this situation, you must speak to one of the seniors (known or unknown who is/had the same specialization) so as to know and gain proper insights about the specialization you are about to opt for. The seniors will be able to enlighten you with many such details along with the pros and cons of the specialization which will give you a clearer picture. After considering everything, you can make your choice.
Research before you Resolve - It is a very important formula to remember before you choose your specialization. Before making a final decision or committing towards a particular specialization, take a moment and do your own research as it will clarify many questions that might pop out.
Also Read: What is Hindi Honours - Career Scope, Eligibility, Colleges, Admission Process
The pointers mentioned above are just a set of suggestions which the students may take into account while selecting a BA specialization after completing class XIIth. The students can also resort to their own methods if they wish to. The main thing is that it is a big decision and the students should not commit any harakiri while selecting a specialization in BA after the class XIIth exams. Happy Hunting!!!
Top BA Colleges in India for Direct Admission
Here is the list of some popular self-financing BA colleges of India where you can apply for direct admission based on your merit through our Common Application Form along with their average annual course fee - 
| Name of College/University | Average Annual Course Fee (In INR)  |
| --- | --- |
| CT Group of Institutions, Jalandhar | 18,900/- |
| GNA University, Phagwara | 36,000/- to 70,200/-     |
| International Institute of Hotel Management, New Delhi  | 2,17,000/- |
| PP Savani University, Surat | 1,80,000/- |
| Centurion University of Technology and Management, Odisha  | 50,000/- |
BA Admission through Entrance Exams
The admission to BA courses are usually based on merit, but there are few colleges that take entrance exams for the admission. The candidates can check the the list of popular BA entrance exams that candidates can give for admission to various colleges:
| | |
| --- | --- |
| | |
| PUBDET | Azim Premji University National Entrance Test |
For more information and updates, stay tuned to CollegeDekho!