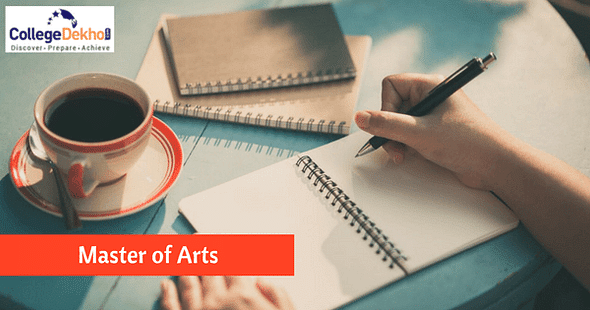 Art has always been a fascinating choice of subject amongst students who want to observe the world with a creative vision. MA degree course has therefore been a very popular master's degree in India as well as abroad.
There are various specialisations that one can choose in order to pursue MA degree course, some of them more popular than the others. However, various universities in India require you to pursue bachelors in the specialisation that you want to study during the MA degree course. Following is all you need to know about MA degree courses:
Popular MA Degree Courses:
Name of the Course

About the Course

Major Subjects

Salary Scope (Freshers)

MA English

English is a very diverse subject. The aim of this programme is to study the different literatures and dialect of the English language. Indian universities majorly cover the British and the American Literature.

British Literature
American Literature
Different Era of British Literature
Romantic Literature
Indian Writing in English

Rs. 25,000 to Rs. 40,000 per month

MA Economics

This programme covers the advanced aspects of national economy building, banking, comparative economics system and various other subjects related to analytics and economic policies.

Microeconomics Analysis
Elementary Statistics
International Trade
Quantitative Methods
International Finance

Rs. 30,000 to Rs. 60,000 per month

MA Sociology

The course covers social interactions and relations that can in turn help in the development of the country and help the students understand the importance of cultural sociology.

Modern Sociological Theory
Industrial Sociology
Indian Society and Culture
Gender and Society
Social Change and Development

Rs. 30,000 to Rs. 60,000 per month

MA Political Science

The course is designed to guide graduates through the different aspects of comprehensive and advanced political science. National as well as international politics is covered in this programme.

Contemporary Political Theory
Research Methodology
Ancient Indian Political Thought
Comparative Politics

Rs. 15,000 to Rs. 30,000 per month

MA Journalism

The master's course in journalism covers different aspects of electronic and print media to help the candidates understand writing and presentation styles. The advanced courses also include topics related to social media.

Radio Journalism
Online Journalism
Print Journalism
Photojournalism
English for Communication

Rs. 30,000 to Rs. 55,000 per month

MA Hindi

Hindi, being the most widely spoken language in India, makes master courses a very beneficial option for those who want to study classical Indian literature.

Ancient and Medieval History of Indian Literature
Hindi Poetry and Chayavad
Hindi Stories

Rs. 18,000 to Rs. 50,000 per month

MA History

This course will focus on a more advanced academic approach in understanding the historic events. Research skills, methodology, writing and presentation skills are the focus of this programme.

Polity in Medieval India
History of India
History of Marathas
Women in Indian History

Rs. 20,000 to Rs. 40,000 per month

MA Philosophy

MA degree in philosophy will focus on the core aspects of the field i.e. reality, justice, knowledge and existence facts. Research is an essential part of the programme.

Classical Indian Philosophy
Contemporary Indian Philosophy
Philosophy of Science
Jainism

Rs. 25,000 to Rs. 40,000 per month

MA Human Resource Management

This course covers the importance of human resource in an organization and ways to manage it. It also covers labour laws and other aspects related to human resource management.

Organisational Behaviour
Group Dynamics
Labour Legislation
Entrepreneurial Development
Global HRM

Rs. 25,000 to Rs. 80,000 per month

MA Social Work

It is another popular MA degree and is quite popular among students as the course is widely accepted, even by international organisations and other countries.

Sociology for Social Workers
Contemporary Social Problems
Criminology and Corrections
Community Health

Rs. 18,000 to Rs. 40,000 per month
Job Opportunities after pursuing MA Degree:
Despite the common belief, there are various jobs that you can apply for after pursuing a MA degree other than becoming a teacher or a professor. The development of India has introduced various jobs for students of arts background in the government as well as private sector.
Although many candidates choose to pursue Ph.D. after MA degree course, there is a lot of scope for jobs. The salaries after pursuing MA might not be very attractive but they certainly improve after you have gained up to 2 years of experience.