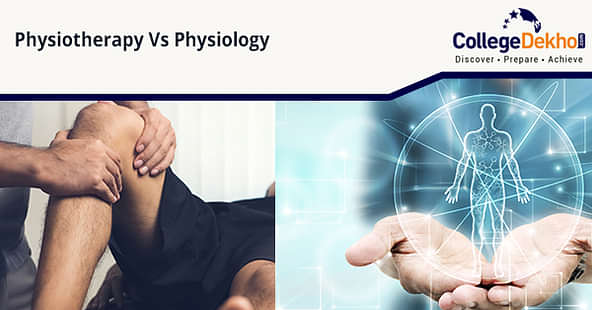 Are you interested in the healthcare sector but do not want to pursue MBBS to become a doctor? There are many fields and specializations open for aspirants who wish to make a career in the medical field without being a doctor. Physiotherapy is one such course that you can choose.
On the other hand, if after MBBS, you want to study in-depth about the exercises and address the problems of the human body, Physiology is a good option to pursue as a postgraduate level of study. People generally confuse Physiotherapy with Physiology and vice versa. This confusion has a valid reason as a few things are similar in both courses. In the article below, we will discuss in detail the differences and similarities between the two courses.
Physiotherapy and Physiology are both medical services rendered to a person in need of medical help. It is essential to know the similarities between Physiotherapists and Physiologists first before talking about the differences.
What is Physiotherapy?
Physiotherapy or 'Physical Therapy' is an allied medical course that treats a patient's ailment that he/she has developed from any disease or accident ultimately resulting in the loss of mobility or pain in certain locations of a body, especially in moving body parts, bones, tissues, etc. Some of the issues treated by the professional practitioners of Physiotherapy include Neck and Joint Problems that are caused by Muscle and Nerve Tensions, Lung Problems like Asthma, Distress in the Muscle, Joints, Ligaments, and Tendons causing Chronic Diseases like Arthritis and many more. 
Physiotherapy has been there as a popular practice for ages. Aspirants can apply for this course after they have completed their high school education with at least 45% marks in aggregate. This programme is offered at various academic levels. Students can choose to study Bachelor of Physiotherapy (BPT) or B.Sc in Physiotherapy as they are the most popular bachelor's course in the sector.
Types of Physiotherapy
There are several branches or types of Physiotherapy. Some of them are mentioned below:
| Particular | Details |
| --- | --- |
| Pediatric Physiotherapy | This branch of Physiotherapy involves all the practices that are used in order to treat any kind of chronic injuries or congenital conditions in babies. |
| Women's health-related Physiotherapy | It has gained a lot of popularity in recent times due to the increase in health issues among women. This branch talks about Physiotherapy techniques to deal with problems related to the female reproductive system. |
| Geriatric Physiotherapy  | Mainly involves all the Physiotherapy treatments that are used by professionals on old people. Due to the slow metabolism, several chronic diseases occur that can be treated over time using these Physiotherapy techniques |
| Neurological Physiotherapy | This branch primarily deals with all the disorders related to the spinal cord, nerves, and brain. |

Job Responsibilities of a Physiotherapist
A physiotherapist is more likely to work with patients who have met with unfortunate accidents or any other incident that has resulted in severe injury or loss of mobility. Physiotherapy generally is recommended by medical practitioners and Physiotherapists strictly follow the doctor's direction to prescribe exercises. The exercises prescribed by the physiotherapist aim to restore the movement of the organs or body parts that have been affected. A Physiotherapist is responsible for not only prescribing exercises but also using medical technological equipment to address the problems in a better way using exercises.
The key responsibilities of a physiotherapist include the following:
Organizing exercise sessions as a part of therapy

Helping the patient recover from illness, accident, or injury

Making detailed reports for future exercise planning and development evaluation

Assisting doctors and nurses if required

Following the directions given by doctors before prescribing exercises

Educate the patient about the exercises and their benefits for mental motivation
What is Physiology?
Physiology is a comparatively new course in the allied health sciences and it is a detailed study of the anatomy of the body and its origins but unlike Physiotherapy, Physiology can also be studied in the case of animals, plants, birds, etc rather than just the human body. Physiologists are professionally trained and highly educated personnel in this discipline. They study the basic anatomy of cells in various plants and animals. Physiologists are responsible for investigating the various diseases and disorders that develop in the human body, conducting analysis on the samples collected, and researching and developing medical instruments that are helpful in diagnosing ailments.

Physiology is a sub-discipline of Biology. Physiology is mostly studied at the postgraduate level. MD in physiology is a very popular course. At the bachelor's level. Some colleges also offer a B.Sc in Physiology.  Aspirants of this course are eligible to apply for a bachelor's degree in physiology after they have completed their high school education in science. The minimum marks required for this course is 45% to 50%. Admission is done primarily on a merit basis. 
Types of Physiology
The various kinds of Physiology treatments are mentioned below for your reference.
| Particular | Details |
| --- | --- |
| Animal Physiology | This branch of physiology is concerned with the study of the organs and cell structures in animals. Professionals in this field also conduct experiments and research in order to bring developments in the diagnosis of animals, both in captivity and in natural habitats. |
| Clinical Physiology | Professional practitioners of Clinical Physiology work closely with other medical practitioners and take part in the overall diagnostic procedures. They assist doctors with several issues. Clinical Physiologists are eligible to work in various subfields like audiology, neurophysiologists, and sleep physiology.  |
| Cell Physiology | The main subject matter of this branch of physiology includes studies about the structure and function of cells. It tries to understand how the functions of the cells carry signals to different parts of the body and cause diseases. |
| Exercise Physiology | Professional graduates of this course deal with patients with chronic illness and pain. They devise several exercises as a means to diagnose these issues and help the person achieve a better health condition.  |
Job Responsibilities of a Physiologist
A physiologist usually works with healthcare institutes and deals with the issues of the respiratory system, heart, brain, and more. Unlike Physiotherapists, Physiologists handle issues that are more internal in nature. A physiologist also prescribes exercises but it can be at the prevention level as well. In a healthcare institution, the job responsibilities of a Physiologist include the following:
Monitor and record patients' health and medical performance while exercising and under medication, and make thorough observations over time to deliver results to the physician.

Use medical equipment and machinery (if needed) while making a patient go through the exercise of the lungs and heart.

Performing tests to evaluate physical and mental stress levels.

Work hand-in-hand with physiotherapists and assess the medical performance of a patent in response to physiotherapy.
Similarities between Physiotherapy and Physiology
Following are some of the similarities between the two courses-Physiotherapy and Physiology
Both Physiology and Physiotherapy belong to the allied health course.

A person who is studying physiology and another one who is studying physiotherapy get training for 4 years in their course. There are a number of similarities in both sectors. Both include studying some common subjects such as the nervous system functions, like anatomy, biomechanics, and cardiopulmonary functions.

Both physiotherapy and physiology are entrusted with the responsibility to look for the overall health and mobility of a patient irrespective of age with an aim to develop the quality of life.
Differences Between Physiotherapy and Physiology
Both the courses seem to be similar but they do have some differences as well. The main difference lies in what the two courses focus upon and the kind of exercises that are a part of the courses:
Physiotherapy

Physiology

Mainly musculoskeletal disorders, which means, disorders regarding muscle and bones are treated by physiotherapy.

This includes some medical conditions such as Arthritis, Joint Aches, Back Pain, Cardiorespiratory ailments like Emphysema, Asthma, Neurological Disorders like Parkinson's disease, Stroke, Post-surgery complications, etc.

Physiology focuses on increasing metabolism and vigour as the course of treatment along with rehabilitation.

The diseases mainly treated by physiological exercises are Obesity, Hypertension, Diabetes, Immunity Complexities, Arthritis, etc.

Physiotherapy uses some specific methods to address these problems one by one.

The techniques used by Physiotherapy are manipulation, electrotherapy, mobilization, therapeutic physiotherapy exercises, and gentle massage.

These are performed by trained physiotherapists after evaluating the patient's physical condition.

Physiological treatments are not rendered only after identifying the problem.

The treatment to lower any kind of discomfort before the proper diagnosis is a part of physiology exercises.

In physiology, a proper plan is designed with the mainstream treatment and modifications in lifestyle and behaviour.

Physiotherapy can be studied at the Bachelor's level (BPT) course.

Physiology is a higher academic course at the Post Graduate level of medical science.

One has to complete MBBS before opting for MD in Physiology.
Physiotherapy Colleges in India
A 4 Year BPT course is gaining popularity day by day in India. People are also going for B.Sc in Physiotherapy. Whereas BPT is a 4-year course, B.Sc Physiotherapy is a 3-year course. BPT is slightly more popular as it deals with more technicalities required in the profession. Let us have a look at the Top Physiotherapy colleges in India below:
Physiology Colleges in India
Mostly, Physiology is studied at the postgraduate level. The degree offered in Physiology is MD (doctor of medicine) which is the highest academic degree for medical studies. People can study physiology after completing their graduation in medical courses. Some of the top colleges which offer Physiology admission in India are as follows:
Well explore the colleges mentioned below and if you feel like knowing more about them or want to apply, fill out our Common Application Form (CAF) and our education experts will guide you through the entire admission process. If you have any questions, you can avail of FREE counselling by calling on our toll-free number 1800-572-9877.
Related Articles
If you are interested in taking admission to any one of the Physiotherapy or Physiology colleges in India, then you can fill out the Common Application Form, available on our website. For more interesting articles on medical topics, stay tuned to CollegeDekho