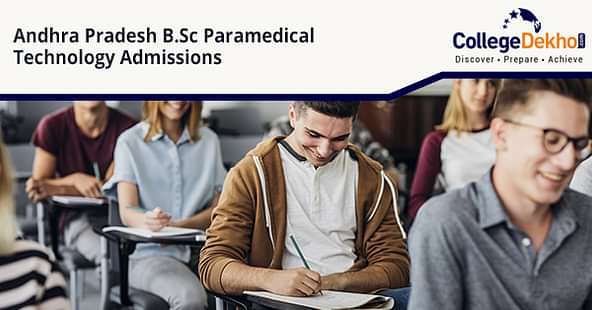 Andhra Pradesh Paramedical Technology admissions usually commence in the month of September every year. The counselling for admissions is conducted by Dr NTR University of Health Sciences. The university is responsible for overseeing the whole admission process, including application form filling and scrutinizing, document verification as well as allotment of seats in affiliated colleges.
Who are Paramedics?
'Paramedics' is a term usually associated with personnel, such as ambulance staff, who oversee emergency services and provide first aid to an injured person before they can be put under proper medical care at a hospital. While this definition is correct, it gives only a limited idea of who paramedics are and what they do. In the broader, more accurate, sense of things, paramedics are the emergency support staff vital to a hospital's proper functioning.
Apart from the ambulance staff, as was very generally put above, technicians, therapists, anesthesiologists, critical care attendants, and many other job profiles come under the domain of the 'paramedical'. Since having a trained paramedical staff is so essential to the functioning of any medical establishment, the demand for colleges offering paramedical courses in India is quite high. Due to the popularity of paramedical courses in India, there are plenty of options available to the aspirants. Whether one wishes to pursue a diploma, an undergraduate degree, a postgraduate degree or a postgraduate diploma, one can expect to find many good specialisations and colleges to choose from.
One such good option is pursuing a Bachelor of Science (B.Sc) from paramedical colleges in Andhra Pradesh. Following is a detailed overview of the whole process of Andhra Pradesh B.Sc. Paramedical Technology admissions 2021.
AP B.Sc Paramedical Admission Important Dates 2021
Having a plan of action is necessary for any candidate to efficiently follow the complete the process of taking admission into a B.Sc Paramedical Technology college in Andhra Pradesh. And in order to have a plan of action, candidates must keep in mind the schedule of admissions.
The important events and dates of B.Sc Paramedical Technology Admissions in Andhra Pradesh 2021 are given below:
| | |
| --- | --- |
| Important Events | Important Dates (Tentative) |
| Applications Open |  Third Week of September 2021 |
| Applications Close | First Week of October 2021 |
| Certificate Verification | Second Week of October - Third Week of October 2021 |
| Release of Merit List | TBA |
| Counselling | TBA |
AP B.Sc Paramedical Technology Courses
There is a wide range of B.Sc courses in Paramedical Technology specialisations that a candidate can opt for. However, since a high level of expertise and low margin for error is expected from paramedical personnel, these courses are designed to train an individual to be an expert in a narrow range of topics and roles. This calls for extra caution from a candidate while choosing which particular specialisation to take up as that would define not only the role that they play in a hospital or clinic but also the place where they will fit in as well as the type of patients that they will have to examine.
Candidates have the option of choosing from the following specialisations during B.Sc Paramedical Technology counselling in Andhra Pradesh.
| | | |
| --- | --- | --- |
| S. No. | Course Name | Overview |
| 1 | B.Sc in Medical Lab Technology | Study of the diagnosis and prevention of disease through laboratory tests |
| 2 | B.Sc in Neuro Physiology Technology | Study of the nervous system and associated neurological diseases |
| 3 | B.Sc in Optometric Technology | Study of the use of optical instruments to measure and diagnose diseases related to the human visual system |
| 4 | B.Sc in Renal Dialysis Technology | Study of administrating hemodialysis and other medical procedures administered in cases of renal failure |
| 5 | B.Sc in Perfusion Technology | Study of instruments essential to the treatment of diseases related to the circulatory system |
| 6 | B.Sc in Cardiac Care Technology & Cardio Vascular Technology | Study of instruments and procedures concerned with invasive cardiac testing and treatment |
| 7 | B.Sc in Anesthesiology Technology & Operation Technology | Study of the administration and proper dosage of various anaesthetics essential in medical procedures including surgery |
| 8 | B.Sc in Imaging Technology | Study of the instruments, techniques, and processes employed in the imaging of body parts for the diagnosis of ailments and diseases |
| 9 | B.Sc in Emergency Medical Technology | Study of the procedures of treatment and monitoring of patients requiring emergency care and critical life support |
| 10 | B.Sc in Respiratory Therapy Technology | Study of procedures and instruments involved in the diagnosis and care of patients suffering from diseases related to the heart and the lung |
AP B.Sc Paramedical Technology Eligibility Criteria 2021
The minimum eligibility criteria for admission in B.Sc Paramedical Technology courses are as follows:
Candidate must have completed 17 years of age on 31st December of the year of admission.

Candidate must satisfy the following education qualification:

Class 12th or equivalent from a recognized board with Botany, Zoology, Chemistry, and Physics as the main subjects OR

Inter-vocational with bridge course of Biological and Physical sciences OR

APOSS (Andhra Pradesh Open School Society) with Biological and Physical sciences
Also Read:Madhya Pradesh Paramedical Admissions
AP B.Sc Paramedical Application Form 2021
Candidates must follow the steps given below to create an online application for B.Sc Paramedical Technology admissions in Andhra Pradesh:
Access the online application portal by visiting paramed.apntruhs.in

Click on 'On-Line Registration' and create an account by entering Date of Birth (DD/MM/YYYY), 10-digit Mobile Number and selecting 'BSc NURSING 4YDC/BPT/Paramedical Technology Courses' from the Branch drop-down menu.

Enter all the details required by the application form, including personal information, educational background, etc. Candidates must ensure that accurate information is added as mentioned on their certificates to avoid rejection/disqualification of the application.

Pay the application fee. The fee for Andhra Pradesh B.Sc Paramedical applications is Rs. 2,360. Relaxation in the fees is provided for SC, ST and Backward Classes candidates, who have to pay just Rs. 1,888.

Take a printout or save an electronic copy of the completed application form and fee receipt.
Documents Required for AP B.Sc Paramedical Technology Admission 2021
During the online application process for AP B.Sc Paramedical Technology admission, candidates have to submit certain documents for verification of credentials. Candidates must ensure that all the information that they enter in the application form matches with their official documents. Given below are the documents required for AP B.Sc Paramedical Technology application form filling.
Class 12th certificate showing the Date of Birth of the candidate.

Mark sheet of qualifying class 12th or equivalent examination.

Transfer Certificate

Study certificates from class 6th to class 12th

Aadhar Card

Residence certificate of the candidate or parent issued by the MRO or Tahsildar (for candidates who have in institutions outside of Andhra Pradesh)

Income tax certificate of parent (for candidates claiming fee exemption)

Caste Certificate obtained from Meeseva (for candidates claiming reservation)
Also Read:The best specialisation courses after a B.Sc in Nursing degree.
AP B.Sc Paramedical Seat Allotment 2021
AP B.Sc Paramedical Technology seat allotment is done on the basis of merit lists, which are created based on the following criteria.
The first priority will be based on the aggregate percentage of marks obtained in Botany, Zoology, Physics and Chemistry (or optional) subjects in the class 12th exam.

Candidates who passed the qualifying exam in a single attempt will be given a higher priority over candidates who have passed through compartmental exams.

In the case of two candidates having equal marks, the older candidate will be given a higher priority on the merit list.

In the case of two candidates of the same age having equal marks, the aggregate percentage in all the subjects (up to 2 decimal places) will be compared.
Only the candidates whose documents have been verified and whose applications satisfy all the requirements for admission will be included on the merit list. Applications that are incomplete or defective as per the regulations and/or eligibility criteria will be rejected.
What After AP Paramedical Technology Web Allotments 2021?
Candidates who have secured seats in Paramedical course in colleges across Andhra Pradesh will have to follow the steps mentioned below -
The candidates will have to pay the University Fee of Rs. 5,500 through an online payment gateway (through the official website of AP Paramedical counselling) www.paramed.apntruhs.in
Later, the candidates will have to report to the respective college and pay the tuition fee of Rs, 17,600. The admission will be confirmed only after the candidates pay the tuition fees.
AP B.Sc Paramedical Technology Counselling 2021
The counselling dates of AP B.Sc Paramedical Technology admissions will be released in the month of Oct 2021. The names of all the qualified candidates are released in the merit list published by the NTR University of Health Sciences. All those candidates can get their documents verified during the AP B.Sc Paramedical Technology counselling process 2021. During the counselling, qualified candidates will have to go to the helpline centres to get their original documents verified and to complete the admission process. 
Also Read:Telangana Paramedical Admissions
Top Paramedical Colleges in AP
You can apply to any of the colleges listed below by simply filling up the Common Application Form (CAF) at CollegeDekho. You will be assisted by the experts throughout the admission process.
Stay tuned to CollegeDekho for more updates regarding AP B.Sc Paramedical Technology admissions 2021.
Good Luck!