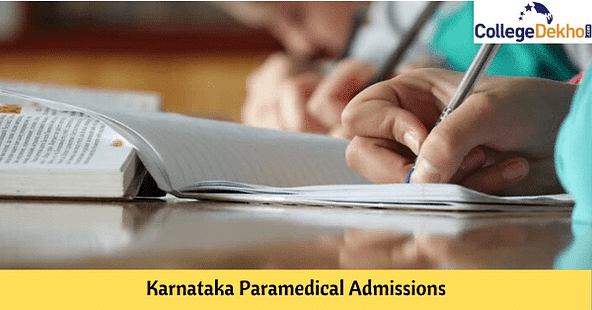 PMB Karnataka board released the notification for counselling on its main website www.pmbkarnataka.org 2022. The Paramedical Board Karnataka is conducting counselling for Diploma courses admission for the academic year 2022-23. 

Paramedical Courses on interdisciplinary medical subjects in Health Care Systems are becoming highly relevant. In recent years, professional and trained Paramedical personnel have been in high demand, which is an integral part of the medical profession. Established by the PMB Karnataka government, the Paramedical Board Karnataka (PMB) has total power over the government and private institutions offering paramedical diploma programs in the state.
Candidates who want to take admission to the paramedical course can find all the relevant information here about PMB Karnataka Paramedical admission 2022 such as courses offered, eligibility criteria, dates, application process & fee, and the selection process here in this article.
Also read: Scope of Paramedical Education in India
PMB Karnataka Paramedical Admission 2022 Highlights
The major highlights of the Paramedical admission 2022 at PMB Karnataka are listed below:-
| | |
| --- | --- |
| Category | Highlights |
| Conducting Body | Paramedical Board Karnataka |
| Official Website | www.pmbkarnataka.org 2022 |
| Mode of Application | Online |
PMB Karnataka Paramedical Admission 2022 Important Dates
It is essential for the candidates to have important dates of PMB Karnataka Paramedical admission 2022 on their tips so that they don't miss any events. The admissions are likely to start only after the exam ends as per UP Board 12th Time Table 2023. The important dates set by the paramedical board karnataka can be viewed in the table below:-
Events

Dates

Start Date of Online Application Form

23 June 2022

Last Date to apply

22 July 2022

1st Round Counseling Final Allotment Result

August 31, 2022

Students can Download the Allotment Copy and take Admission in the Allotted College

August 31, 2022

2nd Round of Counselling

From Rank 1 to 700 - November 11 bet. 9 am to 11 am
From Rank 701 to 1400 - November 11 bet. 11 am to 12:30 pm
From Rank 1401 to 2100 - November 11 bet. 1:30 pm to 3 pm
From Rank 2101 to last - November 11 bet. 3 pm to 5 pm

Last day of submission without late fees

December 14-31, 2022

Last day of submission with late fees

January 1-10, 2023
Eligibility Criteria for PMB Karnataka Paramedical Admission 2022
Karnataka paramedical eligibility requirements for admission are laid down by the governing authority on www.pmbkarnataka.org 2022. The document comprises details from academic eligibility to age limit. More details present on the paramedical board website 2022 karnataka can be found below.
Academic Requirements:-
A pass in class 12 or PUC in the science stream with a combination of topics like PCB, PCMB, CBZ, except for Diplom in Medical Records Technology, for which the minimum credential is PUC with some optional subjects such as Science / Arts / Commerce.

Candidates with an English Typing experience or basic knowledge of computers would be favored over other candidates.

If there are not enough candidates with PUC science qualifications, candidates with an S.S.L.C. certificate may be admitted to the above courses except Diploma in Ophthalmic Technology, Diploma in Dental Mechanics and Diploma in Dental Hygiene

The candidates admitted to a para-medical training in public or private institutions shall not benefit from a scholarship, freeship or internship.

The State Government and the Para Medical Board shall not undertake to provide work for those candidates who have completed the course with success.
Age Limit:-
On 31 December, before the year of admission, the applicant must have met the minimum age of 15 years.

The maximum age limit for admission is 35 years

The upper age limit for SC & ST candidates will be 40 years for those candidates who are In-service.
Note:- SSLC qualified candidates will have to study for three years of study. Such students are taught in the first year of their courses in English, Physics, Chemistry and Biology in the PUC standard.
PMB Karnataka Paramedical Application Form 2022
The PMB Karnataka paramedical application form 2022, can be obtained from the Para Medical Board official website upon payment of Rs. 400/-per submission (Rs 250/- for SC/ST). It is to be noted that all the application fees will be accepted in online mode only via Debit Card/Credit card/Net Banking. The application form shall be filled out in online mode, subsequently, the candidates need to send in three copies, along with the appropriate copies of documents to the Board in the form of a booklet. 
Also Read:- Paramedical Vs MBBS - Which Has a Better Scope?
Documents Required for PMB Karnataka Paramedical Admission 2022
The applicants have to submit two sets of duly accepted photocopies along with the appropriate original certificates/documents/testimonies when filling out the application form/ reporting at the time of admission.
Below is the list of documents, curated by the paramedical board 2022, that are needed at the time of admission/ application:-
Class 12th Certificate/ PUC

Class 10th Certificate/ SSLC

Transfer Certificate

Character certificate

Migration Certificate

Photocopy of the online application form (Two Copies)

Score Card/ Rank Card of the applicant

Caste Certificate

Five recent latest photos
Also Read:- List of Paramedical Exams in India 2022
PMB Karnataka Paramedical Course List 2022
The paramedical board Karnataka is responsible for offering admissions to various paramedical courses at the Diploma level. It posts all relevant updates and information on pmb.karnataka.org 2022. Aspirants can check the list of paramedical courses offered under the Karnataka paramedical board, here.
| | |
| --- | --- |
| S.No. | Paramedical Course Name offered in Karnataka |
| 1 | |
| 2 | |
| 3 | |
| 4 | Diploma in Medical Records Technology |
| 5 | Diploma in Operation Theatre Technology |
| 6 | Diploma in Dialysis Technology |
| 7 | |
| 8 | Diploma in Dental Mechanics |
| 9 | |
Also Read:- Best Paramedical Courses
Karnataka Paramedical Course Duration 2022
As per the guidelines of the paramedical board Karnataka, the course duration for the Paramedical diploma courses in various affiliated institutes of the state will vary according to the applicant's academic qualification-
For PUC carrying Candidates - The duration of the course shall be two years followed by a mandatory 3 months internship

For SSLC carrying candidates - The course duration is three years followed by a compulsory 3 months internship program.
PMB Karnataka Paramedical Selection Process 2022
Candidates will be selected on the basis of their merit for each category for PMB Karnataka Paramedical Admission 2022 in all of the diploma courses. And the counselling will be conducted in accordance with government regulations and will be notified to all candidates in advance. If Karnataka Paramedical admission 2022  counselling is conducted offline, the counselling dates and location will be announced on the Paramedical Board website - www.pmbkarnataka.org 2022 - and an SMS message will be sent to the candidate's mobile phone. If the counselling is conducted online, students will be given the choice to choose their course and college after all original documents have been verified at the zonal-wise selected centres.
Reservation Of The Govt. Quota Seats
Twenty per cent of the seats are reserved under Government Quota and to be filled by the Board of Directors. If the paramedical board Karnataka does not fill such seats within the defined time, the management will fill those seats themselves after obtaining the approval of the board.
Documents Required for PMB Karnataka Paramedical Counselling Process 2022
Candidates eligible to participate in the counselling need to download the counselling Letter from the official website (i.e www.pmbkarnataka.org 2022). The list of documents required for the Karnataka Paramedical Counselling Process 2022 are mentioned below:-
Counselling letter

Basic Scores (SSLC and PUC)

Certificate of having attended Karnataka for at least seven years

Hyderabad-Karnataka Reservation Certificate (For Eligible Candidates in Hyderabad-Karnataka)

Person with Disability (40% to 80%) certificate certified by District Surgeon

Computer Certificate/ Typing Certificate (For Medical Technology Course)
Note:- It is mandatory to submit all the documents at the time of counselling.
Top Paramedical Colleges in PMB Karnataka 
Are you looking for the perfect paramedical college in Karnataka? Then check out the following list of top paramedical colleges in Karnataka, offering a range of paramedical courses. Some of these courses also take admission on the basis of an entrance exam. The candidates can use  UP Board 12th Previous Year Question Papers 2023 to prepare for such entrance exams.
If you are looking forward to admission at Paramedical courses in Karnataka fill our Common Application Form and apply for admissions at the college of your choice. Our counsellors can help you choose the right course and college as per your needs and choices. You can also call on our toll-free number at 1800-572-9877 and avail FREE admissions guidance at CollegeDekho.
Related Articles
You can click on the links given below to know about Paramedical related articles