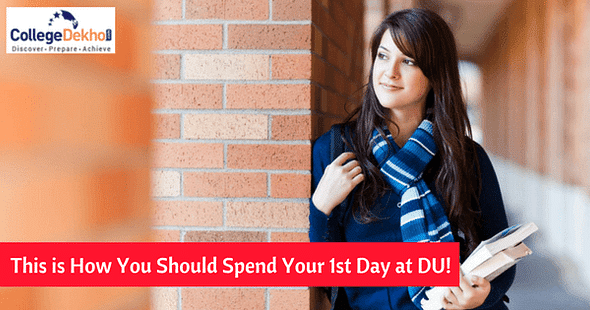 Delhi University, being one of the most happening educational institutions in India, raises a lot of expectations amongst the fresher students who are about to enter their first year at college. Well, the expectations are not without reason as there is a lot that DU has to offer.
Delhi University is probably the best institution in India if you are looking for all-round development and excellent exposure opportunities. Students from all over the country apply for the university, creating a heterogeneous environment that is most suited for versatile growth.
If you are about to start your first day at DU tentatively in August 2019, you ought to know some of the things that you must do at the beginning of your college life. Here's what you can do to make the first few days of your college life interesting.
Explore Your College Campus
Explore every corridor, classroom and ground of your college campus so that you know it by heart. It will not only help you in developing a sense of familiarity with the place but will also help you understand your college campus better.
Be Light; Start Cool
First days at DU are quite chilled out as most of the lectures are suspended, therefore don't load yourselves up with a lot of stationary. Carry a notebook and two pens, keep your baggage light and enjoy a relaxed first week at college.
First Lectures are Most Fun; Don't Miss Them!
Image Credit: Stupifies
First day at class is the best in terms of making new friends and meeting the professors. So make sure that you don't miss your first lectures in your excitement of the first day at college.
Network! It gives you a Head Start in First Year
College is the time to meet different type of people and develop a broader perspective about the world. Interact with your batch mates, students coming from different regions of the country. Talk to seniors as they can help you get accustomed to the different aspects of college life. The more well connected you are, the better time you are going to have at college.
The Key to Score: Find out all about your Professors
Understanding your professors and their expectations can really help you to make it big in your sessional tests as well as semester exams. Following their advice will enable you to shine throughout the academic session.
Your Path to Glory: Find Out all about the Societies and Clubs
Want to be that cool college student that most fellow students idealise? Learn more about the clubs and societies in your college, for example, music, dance, writing, sports, etc. in order to start your all-round development alongside regular education.
Find out the Best Eating Joints near Your Campus
One of the most important tasks for outstation students. Well, you couldn't have envisaged surviving on the horrible PG food throughout your college life! Start hunting for decent eating joints to keep your options open in case you want to ditch a meal at your hostel or PG.
Don't Fuss about your Outfit; Be comfortable
If you have to put in a lot of effort, then you are missing out on college life luxuries. Don't worry too much about what you have to wear or how you look. Aim for comfort!
Also Read:Check Out the Diploma Courses that you can Pursue after Class 12 Arts Stream
Remember, it's just the BEGINNING!
If your first day at college doesn't turn out to be how you had planned it, relax! This was only the first day, you have three years of your college life ahead of you and a lot of time to make friends, enjoy as well as thrive in whatever career you have chosen for yourself.
Keep Calm and Enjoy College!