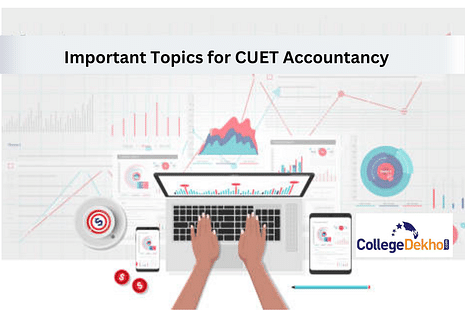 Important Topics for CUET Accountancy 2024 - To assist candidates in their entrance exam preparation, CollegeDekho has provided the CUET Accountancy important topics 2024 and topic-by-topic syllabus. The National Testing Agency (NTA) has announced the CUET 2024 exam dates for admission to undergraduate programmes at various central universities. The exam will be held from May 15 to May 31, 2024. The key concepts for CUET Accountancy 2024 should be familiar to all aspiring candidates so that they can plan their study approach and ace the CUET 2024 entrance exam. If you intend to take the Accountancy domain for CUET 2024, this article will assist you with systematic preparation. Check out the accountancy CUET 2024 syllabus, topics, and CUET 2024 exam pattern, and then download the PDF to get started on your comprehensive preparation.

The National Testing Agency (NTA) is in charge of releasing the CUET Accountancy syllabus 2024 to candidates taking the CUET. Candidates taking CUET 2024 should study the 12th class NCERT syllabus since it will be extremely beneficial to them. Aspirants will learn about the important topics for CUET Accountancy of exam by using the CUET syllabus 2024. The CUET Accountancy Important Topics 2024 include all of the important subjects and units from which students will find the exam questions. Candidates will be able to review all CUET 2024 Accountancy important topics, syllabus, entrance exam preparation strategy, and best reference books in this article.
Also Read:CUET 2024 Syllabus
CUET Accountancy Important Topics 2024: Section Topics 
Students can expect and prepare for the following CUET 2024 topic areas for the Accountancy domain:
Section IA - Languages

Reading Comprehension on different types of passages

Section IB - Languages

Reading Comprehension on different types of passages

Section II - Domain

Input text for MCQ Based Questions

MCQs based on NCERT Class XII standard

Section III - General Test

Input text for MCQ Based Questions

General Knowledge, Numerical Ability, Quantitative Reasoning, General Mental Ability, Current Affairs, Logical and Analytical Reasoning
CUET Accountancy 2024 Important Topics
To get a better understanding of the CUET Accountancy important topics 2024, candidates can review the following:
Accounting for Not-for-Profit Organizations and Partnership Firms 

Unit I: Accounting Not-for-Profit Organization

Unit II: Accounting for Partnership

Unit III: Reconstitution of Partnership 

Unit IV: Dissolution of Partnership Firm

Company Accounts and Financial Statement Analysis 

Unit V: Accounting for Share and Debenture Capital

Unit VI: Analysis of Financial Statements 

Unit VII: Statement of Changes in Financial Position

Computerized Accounting System 

Unit I: Overview of Computerized Accounting System

Unit II: Using Computerized Accounting System

Unit III: Accounting Using Database Management System (DBMS)

Unit IV: Accounting Applications of Electronic Spreadsheet
Also Read:CUET Accountancy Syllabus 2024
CUET 2024 Accountancy Exam Pattern
Those planning to study for the entrance exam should be familiar with the CUET exam pattern 2024. The CUET 2024 exam will be administered online by the National Testing Agency.
The CUET 2024 generic pattern includes information about the entrance exam, such as the assessment style, the marking scheme, the length of the exam, the total number of questions, and the type of questions.
Details

Exam Pattern

Total number of questions

175

Question Type

MCQs

Duration

Slot 1: 45 -195 minutes 

Slot 2: 45 - 225 minutes 

Topics

Section IA and IB - 50 Questions from this section

Section II - 50 Domain-specific questions. Out of the 50, 40 have to be attempted

Section III - 75 General test questions

Marking Scheme

One mark for each correct answer

0.25 mark for each wrong attempt
Also Read:  CUET Exam Pattern 2024
Best Books for CUET Accountancy 2024
CUET 2024 candidates should always read the best and most highly recommended books. The best books on accounting have been compiled by Collegedekho.
| Book | Publishing House |
| --- | --- |
| Accountancy I and II (Class XI and XII NCERTs) | NCERT |
| Handbook of Accountancy | Arihant  |
CUET 2024 Accountancy Preparation Tips
Preparation is the most important factor in the success of any examination. Sometimes people get confused and lost because they don't know what to study or how to study. Students must understand how to prepare for the CUET exam 2024, as well as some important preparation tips for passing the CUET accountancy 2024 exam, which are listed below:
Make A Good Timetable: Making a schedule for the CUET exam in 2024 is the first step in figuring out how to prepare for the exam. Make a list of all the subjects, crucial points, and chapters, then allot the maximum number of preparation hours in accordance with your list. Up until the exam, you must adhere to it and follow it religiously. 
Knowing the Syllabus: Reading the syllabus carefully and preparing in accordance with it is one of the most crucial aspects of preparation. Students must be aware of the syllabus's content, CUET Accountancy important topics, and the relative importance of each unit in order to tailor their study strategies.
Strengths and Weaknesses: One must determine their areas of strength and weakness before creating a study schedule. The students schedule their time, give each topic their full attention, and must leave time for practise and revision.
Understand the CUET Exam Pattern: Understanding the exam pattern you'll be taking is an essential part of CUET 2024 preparation. Learn the CUET 2024 exam pattern, including the structure, content, number of questions, and associated marks. The CUET 2024 exam is a single-stage computer-based test with 180 questions and 180 marks. If you are familiar with the exam format, creating a schedule will be easier.
Time Management: Students must study the exam format and master the skill of managing their time for various sections. They must be able to finish all of the questions within the allotted time.
Mock Tests and Previous Year's Questions: Both the mock tests and answering previous year's questions are always helpful. It not only boosts students' confidence but also enables them to assess their strengths and weaknesses and spend more time on the subjects they haven't been able to tackle. The confidence and time management of the students will increase as they pass more and more practise exams.
Practice and Revision: It is very important, and students should continue with them right up until the exam day. One must set aside time for revising the entire concept in addition to revising the notes and important topics. You will grow in confidence and boldness the more you review, work sample problems, and take practise exams. By repeatedly reviewing the accountancy syllabus for CUET 2024, the students will become more accustomed to it.
Also Read:  CUET Study Plan and Preparation Strategy
Lastly, one of the most difficult competitive exams to crack in India is the CUET. If candidates want to do better on the CUET 2024 exam, then must be prepared with a smart and positive strategy using these CUET 2024 preparation tips. 
The students opting for Accountancy CUET 2024 can refer to this article and keep a check on this page for further updates and date releases. If you have any questions, visit our QnA section and feel free to write your queries to us.
For further news/articles and updates related to CUET 2024, stay tuned to CollegeDekho!