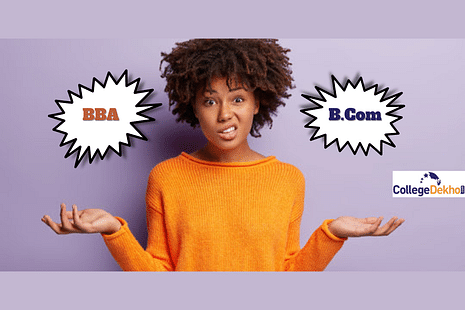 BBA vs BCom: B.Com and BBA have been the topmost choices for students who wish to make a career in the field of management or commerce. With various options available, it is difficult to choose the right career path between B.Com vs BBA after class 12. B.Com and BBA are some of the most popular choices of students who want to pursue a career in the field of management and business. There are many courses in the field of commerce that open new opportunities for students. Similarly, the specializations of the BBA programme are also quite diverse and have their own benefits.

The popularity of business education is rising as the Indian market continues to change. Educational institutes are introducing more focused courses to match the requirements of the economic changes in the country. There are various courses available for students who want to make their careers in the business and management sector. Bachelor of Commerce (B Com) is one of the oldest courses which continues to be extremely popular among students even today. Whereas Bachelor in Business Administration (BBA) falls in the category of courses that have seen a massive increase in demand in recent years.
Admission to both of these courses is easy and students have to fulfill certain eligibility criteria to get selected. Admissions in some top BBA colleges are done on the basis of entrance exams. The B.Com admissions are usually done on a merit basis, considering the marks obtained by the student in class 12th. Some colleges conduct their own entrance examination as well for B.Com admissions. Students are often confused about which course to opt for B.COm or BBA. Here is a detailed comparison of the two courses that will help you choose the best course for yourself.

Also Read: List of Top BBA Specialisations, Best BBA Courses
About BBA vs BCom
Before answering the question of BBA or B.Com which is better, we must understand both these courses and their outcomes thoroughly. Although both these courses belong to different areas of study and are vastly different from each other in terms of course structure, curriculum, teaching methods, and course outcomes, there are certain characteristic features that make both these courses an ideal choice for higher education after class 12. With that in mind, let's take a deeper look at both these courses and their defining characteristics before we decide which of the two is a better alternative.
What is BBA?
A Bachelor of Business Administration or BBA, as it is popularly known, is an undergraduate course in the field of management. Aspirants who wish to build a career as a manager and work in the corporate world typically choose BBA as their starting point. A BBA course is a professional degree, which means candidates can begin their professional careers immediately after completing their course. On the other hand, a BBA course can also serve as an excellent foundation for pursuing further studies in the field of business management, especially for courses like Master of Business Administration or Master in Management.
A BBA course can be pursued by students who have completed their 10+2 education in any stream. Admission to the BBA course is done either on the basis of merit in Class 12 final examinations or based on entrance examination scores. One of the most distinctive features of a BBA course is that candidates are allowed to choose specializations that relate to different areas of business. Aspirants can choose a specialization that interests them the most and subsequently build a career in the same field. Some of the most popular BBA specializations include Finance, Marketing, Operations, Supply Chain Management, Human Resources, etc.
What is B.Com?
Bachelor of Commerce or B.Com, as it is popularly known, is also an undergraduate degree program. As the name suggests, it is related to the field of Commerce and deals with a different and very specific aspect of business. A B.Com course is ideal for individuals who are interested in areas like Accounting, Business Economics, Business Law, etc. Typically, a B.Com course is three years in duration and is divided into six semesters. 
Candidates can pursue a B.Com course after the completion of their 10+2 education. Candidates who have pursued Commerce in their 10+2 are usually the ones that apply for B.Com courses, however, candidates who have pursued the Science stream can also apply B.Com provided they had Mathematics as a core subject. Admission to B.Com courses is based on merit or entrance exams depending on the college or university.
| | | |
| --- | --- | --- |
| Features | B.Com (Hons.) | BBA |
| Duration | 3 years | 3 years |
| Course Objective | This course is for students who are looking forward to making a career in finance, accountancy, and taxation. | The BBA programme is constructed to enhance a student's skill and knowledge in the field of Business Management and Entrepreneurship. |
Which is Better - BBA vs BCom?
BBA or B.Com which is better, is a question that is highly dependent on the a student's personal goals and requirements. For instance, a B.Com course is ideal for a student who is competent in areas like accountancy, business studies, etc. whereas a BBA degree will be more beneficial for individuals who have good leadership skills and are more competent in management disciplines.
Also, aspirants should keep in mind that a B.Com course is more focused on academics and theoretical knowledge, which means candidates who wish to pursue academics even after graduating with a Bachelor's degree should pursue B.Com, whereas aspirants who wish to jumpstart their career after graduation must go BBA as it is a professional degree course. Therefore, it is upon the student to decide between BBA vs BCom and which is a better choice for them personally by weighing the pros and cons and identifying the advantages of pursuing either of the two.
BBA Vs BCom - Subjects Studied
Although the syllabus of both BBA and B.Com contains topics related to the business world, there are some differences in the content.
| | | |
| --- | --- | --- |
| Features | B.Com (Hons.) | BBA |
| Subjects | General Business Principles | |
B.Com Vs BBA - Eligibility Criteria
The common eligibility criteria for BBA vs BCom have been mentioned below in the table.
| | | |
| --- | --- | --- |
| Features | B.Com | BBA |
| Eligibility Criteria | The student must have completed higher secondary education (class 12th) in the commerce stream and cleared the exams of all the subjects. The aggregate marks scored by the candidate should not be less than 50 per cent. It is compulsory for the student to have Mathematics as a compulsory subject in class 12th. | The student must have cleared all the exams of class 12th boards and must have completed higher secondary education in any stream. The student must have scored at least 50 per cent marks in class 12th. Some institutes prefer students who have Mathematics in 10+2. |
BBA Vs B.Com - Admission Process
The admission process for BBA vs BCom varies from institute to institute. The following table shows the common admission process for the courses that are accepted at most of the colleges in India.
Features

B.Com (Hons.)

BBA

Admission Criteria

Admission to the B.Com programmes offered by most of the prominent universities in India including Delhi University, JNU, etc.

However, there are a few universities such as BHU and Christ University that conduct entrance exams for B.Com Courses.
B.Com Vs BBA - Career Prospects
If you are wondering BBA or BCom which is better when it comes to career prospects, then checking out the following table would help you.
Features

B.Com (Hons.)

BBA

Job Opportunities

After successfully completing the B.Com (Hons.) programme, you will get various job opportunities. At the graduate level, B.Com offers better job opportunities as compared to BBA.

Although there are various job opportunities after BBA, the chances of getting a decent job are much better after a student has pursued an MBA. The salary will depend on the college as well as the post offered.

Roles Offered

Sales Executive

Office Executive

Research Assistant

Assistant Manager
BBA Vs B.Com Salary
The BBA vs BCom salary do not have huge differences. Although students who have completed their graduation from good colleges have a chance of getting into good companies and earning handsome salaries. The table below mentions the BBA vs B.Com salary.
| | | |
| --- | --- | --- |
| Features | B.Com (Hons.) | BBA |
| Salary | After pursuing B.Com (Hons.) from some of the good colleges, you can expect a starting salary of Rs. 25,000 to Rs. 45,000. | Starting salary will be around Rs. 7,000 to Rs. 23,000 depending on the size of the company. |
B.Com Vs BBA - What's Next?
Opportunities for further studies after B.Com and BBA are immense. You can explore a number of disciplines and study areas.
| | | |
| --- | --- | --- |
| Features | B.Com (Hons.) | BBA |
| Scope for Higher Studies | There are various options for higher studies after B Com (Hons.). You can either pursue M.Com or choose to do an MBA depending on your aspirations. Commerce graduates can also appear for CA exams for a career as a chartered accountant. | The best option for BBA students to enhance their chances in the job is to pursue an MBA after BBA. |
Before picking either of the courses, you must understand your career preference. Chose the courses that will help you pursue your ultimate goal. For example, if you want to get a job right after your graduation then B.Com is a better option. However, if you want to foray into management, a BBA followed by an MBA is the right career path.
BBA vs BCom Colleges in India
B Com and BBA are popular courses hence, many colleges in India offer the courses. Some of the best B.Com colleges in India and BBA colleges in India have been given below.
Picking the right colleges for graduation is also essential to pursue their B.Com or BBA degrees. When choosing between a mediocre B.Com college and a top-ranking BBA college, the candidate must select the BBA degree to study for their undergraduate programme. Job opportunities and placements depend largely on the college's ties with the industry.
Candidates must consider a top college to pursue a BCom or a BBA degree course. In case a candidate has been selected for admission into a mediocre BCom college and a top-ranking BBA college, he/she must consider a BBA course from the top college.

Related Articles:

If you have any queries, reach out to our experts on the CollegeDekho QnA Zone. For help with admissions, fill out our Common Application Form (CAF) or call 1800-572-9877 for FREE student counselling in India.