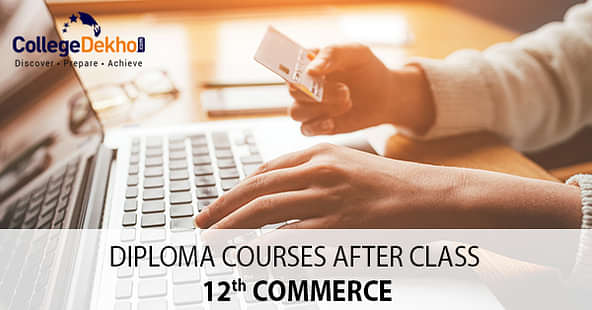 Are you interested in exploring unconventional courses after completing Class 12? Diploma courses after 12th are an excellent choice for students seeking specialized education in specific fields, enabling them to acquire knowledge in a particular discipline. Now that the board exams are over and students are contemplating their next steps, it's a perfect time to explore Diploma Courses after 12th Commerce that align with their interests and career aspirations.

Upon completing Class XII, many students contemplate their future paths. While some opt for degree programs related to their stream, there is a significant number of students who pursue Diploma Courses after 12th Commerce. These diploma courses are short-term and typically geared towards providing job-oriented training, emphasizing practical learning rather than theoretical knowledge. The primary aim of such courses is to develop practical skills and expose learners to real-world scenarios. Graduates from these diploma programs possess valuable skills that are highly sought after by various employers.

Leaving behind the protected environment of school life, it's natural to feel uncertain about which career path to pursue after 12th. However, courses like Diploma Courses after 12th rarely have long-term career consequences and often serve as a foundation for future learning and career advancement.

If you find yourself undecided about the right graduation course, pursuing a diploma can be a wise option. It allows you time to contemplate your career goals while continuing your education simultaneously. Here are some of the best Diploma Courses after 12th that you can consider exploring.
How to Choose the Right Course After 12th Commerce?
Commerce offers a vast and profitable area of study encompassing various courses such as Management, Accounting, Business Studies, Marketing Analysis, Statistics, Economics, and Mathematics. Students in classes 11 and 12 are exposed to a diverse range of subjects within the commerce field. This provides them with an excellent opportunity to assess their areas of interest, strengths, and capabilities, making it easier for them to make informed decisions about their future courses after completing class 12th. When deciding on a career path after class 12th, it is essential to consider one's interests, the career opportunities associated with the desired course, the syllabus, the course fees, and the colleges offering the preferred program. If mainstream courses do not align with your interests, use this time to explore Diploma Courses after 12th.
Employability Skills Required for Commerce Students
The entire journey of pursuing commerce courses demands not only a comprehensive understanding of the subjects but also the candidates' diligence, endurance, and determination. Diploma Courses after 12th are regarded as professional programs that provide specialized knowledge in a particular field. Hence, merely passing the exams or completing the program is not sufficient. It is essential to acquire the necessary skill set as well. To pursue Diploma Courses after 12th, professionals need to possess the following skills:
The ability to lead and collaborate effectively in a team.
Excellent intellectual capacity and creativity.
A sincere interest in dealing with numbers and improved computational skills.
Strong communication skills.
Proficiency in analyzing numerical data, facts, and figures.
The ability to make effective decisions.
Administrative and organizational skills.
Logical reasoning ability.
Adaptability and a willingness to learn new skills, technology, and working methods.
Precision and attention to detail in work.
Professionalism.
A strong work ethic and the willingness to put in long hours when necessary.
Diploma Courses After Class 12
A huge variety of Diploma Courses after 12th are offered to Commerce students. Listed below is the complete detail of Diploma Courses after 12th Commerce diploma courses that one can think of pursuing after completing their 10+2.
Name of the Course

Duration

About the Course

Job and Scope

Salary per month (approx)

Diploma in Writing and Journalism
1 Year
The course provides the comprehensive knowledge required to work in publishing houses, as content writers, etc. Candidates get acquainted with the basics of Journalism as well. 
May media houses or publishing houses look for skilled writers. Other than that, one can also work as a freelance content writer and earn a handsome salary. Candidates can also do internships with news channels and learn more about the journalism industry. 
INR 8,000 - INR 40,000 (depends on the work/ skills/ employer)
Diploma in Digital Marketing
3 Months
The course teaches how to promote services or products with the help of digital technology, devices and platforms. It could involve SEO, Email Marketing, Content Marketing, Paid Search Advertising, etc. 
With everything going digital and social media becoming one of the most prominent platforms to promote services and products, the demand for candidates skilled in digital marketing has increased exponentially. 
INR 8,000 and Above

1 year

This course is designed to teach you different aspects of banking, global markets, and financial institutions. Foreign trade and exchange are also a part of the programme.

You can work in different organisations and departments like insurance companies, private bank servicing departments, commercial banks.

However, job options are not very bright after a diploma. You can appear for bank entrance exams to get high-paying jobs.

Rs. 5,000 to Rs. 12,000

Diploma in Financial Accounting

1 year

Business Law, Auditing, Accounting, Taxation and Management skills are some of the popular areas of study of this course.

Jobs after this course are mostly available in the account maintenance and finance department of different organisations.

You will be required to maintain the record of cash flow statements, taxes, profits and loss statements.

Rs. 4,000 to Rs. 10,000

4 years

This programme covers advanced concepts such as accounting operations, the merger of public holding companies, changing financial statements, foreign currency operations, lease contracts, etc.

The advantage of this programme is that you can pursue post-graduate programmes like PGDM, PGPM etc. to enhance your chances of getting good salary packages.

Jobs are available with various organisations in the finance and accounting domain.

Rs. 10,000 to Rs. 22,000

1 year

This programme covers topics like merchandising, retail introduction, store design, sourcing, space management, etc.

You can get jobs as the cash counter executive at various stores, shopping marts, etc.

After gaining experience, you can also get roles like a store manager.

Rs. 4,000 to Rs. 12,000

1 year or 3 years (depending on the institute)

You will learn about the principles of business, management skills and financial management through this programme.

Management is a skill that is highly in demand. Diploma holders can also find reasonably good jobs in this field.

However, the chances of getting a job are better after pursuing a post-graduate diploma in the same field.

Rs. 8,000 to Rs. 15,000

4 months to 1 year (depending on the type of programme)

One of the popular Diploma Courses after 12th is the Diploma in Computer Application. This programme is designed to enhance your IT skills. You will learn to operate different software and application tools in this programme. It will enable you to work in different domains of IT and computer applications.

There are a lot of job opportunities for students who pursue this programme.

Individuals who know how to work on Excel Sheets and Databases are required in various organisations.

Highly skilled individuals can also get jobs in the application testing field

Rs. 6,000 to Rs. 12,000

1 year

This course is designed to give you an insight into the fashion industry, principles of designing, fabric selection topics, etc. in order to enable you to work in the fashion industry.

You can assist designers and experts working for different organisations and learn from their experience.

The job opportunities in the initial years are not great.

However, after 2 to 3 years of experience, you can also start creating your own designs.

Rs. 6,000 to Rs. 10,000

2 years

This course will enhance your presentation skills that are necessary to become a teacher. The course covers teaching methodology and subject specialisations as well.

After completing this course you can apply for teaching posts at the pre-primary, primary as well as elementary school level.

Teaching NGOs also hire diploma holders in this field.

Rs. 6,000 to Rs. 15,000

6 months to 1 year (varies from institute to institute)

The aim of the programme is to teach you different aspects of industrial safety including fire engineering, safety in construction sites, industrial hazards, occupational health and the environment.

Jobs after completing this course are available with consultancies working in the safety domain, NGOs working for the environmental safety and labour laws.

The job requires you to design safety plans and regulations for employees.

Rs. 5,000 to Rs. 12,000

2 years

This course covers topics like the basics of physical education and the measurement of tracks and fields.

You can work as a sports or Physical Trainer at schools, fitness centres or sports clubs.

You can also start your own fitness centres after completing this course.

Rs. 5,000 to Rs. 12,000

1 year to 3 years (depending on the institute)

Through this Diploma Course after 12th, you will learn the different aspects of hospitality, food management, front office handling, and the ways in which the hotel industry works.

There are a lot of hotels, restaurants, catering companies, ships and cruises that hire individuals with communication and hospitality skills.

Chances of getting a good job are better after pursuing graduation in the same field.

Rs. 4,000 to Rs. 10,000

1 year

You will learn the history of yoga, different yoga postures, practices, and therapies through this programme.

Jobs for such individuals are available at health centres. You can also start your own yoga centre and teach yoga postures and practices for students.

Rs. 5,000 to Rs. 8,000

Experienced individuals can earn up to Rs. 30,000 per month
Note: When opting for Diploma Courses after 12th, it's crucial to recognize that you cannot apply for government jobs or pursue post-graduate degree courses solely based on your diploma. To be eligible for post-graduation degrees or government jobs, you will need to supplement your diploma with a graduation degree. Nevertheless, if you wish to start working early or venture into entrepreneurship, Diploma Courses after 12th Commerce can be a favorable choice.
Professional Courses After Class 12th Commerce 
Those who have that extra pinch of creativity and professionalism and want to kick start their career in the Commerce field should look for the trending options of professional skill-oriented courses. These Diploma Courses after 12th are in-trend and students are taking up such courses as they do not want to learn any subject in detail but get knowledge in a separate domain. Take a look at the professional courses that can be pursued after Class 12th:
GST Course
Income Tax Course
Accounting & Taxation Course
SAP FICO Course
Content Marketing
E-Commerce
Production Management
Operations Management
Supply Chain Management
Logistics Management
Digital Banking
Business Anlytics
Data Operator
Chartered Financial Analyst (CFA)
Certified Public Accountant (CPA)
Top Diploma in Commerce Colleges in India
Some of the popular colleges in India that provide Diploma Courses after 12th are listed below. Students should choose the desired college by looking at certain factors such as location, ranking, pedagogy, faculty, infrastructure, fees, course availability, number of seats, admission procedure etc. If you want to get admission to the best Diploma Courses after 12th, then you need to do proper research to find the best colleges suitable for the courses.
| | | | | |
| --- | --- | --- | --- | --- |
| S.No. | Name of the College | Type | Location | Established Date |
| 1 | | Private | Sehore, Madhya Pradesh | 2018 |
| 2 | | Private | Prakasam, Andhra Pradesh | 2008 |
| 3 | | Private | Madurai, Tamil Nadu | 1953 |
| 4 | | Private | Mumbai, Maharashtra | 1989 |
| 5 | | Private | Garhwa, Jharkhand | 2007 |
| 6 | | Private | Jaipur, Rajasthan | 2008 |
| 7 | NIMS University | Private | Jaipur, Rajasthan | 2008 |
| 8 | | Private | Navi Mumbai | 2011 |
| 9 | | Private | Hisar, Haryana | 2008 |
| 10 | | Private | Greater Noida, Uttar Pradesh | 2010 |
If you feel like knowing more about the colleges mentioned above, fill out our Common Application Form (CAF) and our education experts will guide you through the entire admission process without you stepping out of your house. If you have any questions, you can avail of FREE counselling by calling on our toll-free number 1800-572-9877.