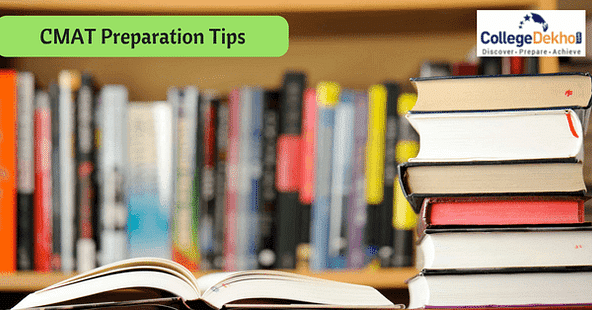 CMAT Preparation: To make a successful CMAT preparation strategy, you must focus and make a plan that includes regular revision as well as practicing a sufficient number of CMAT Mock Tests. CMAT exam requires you to prepare four major test areas: Quantitative Ability & Data Interpretation, Language Comprehension, Logical Reasoning and General Awareness.
CMAT Preparation Tips:
Understand CMAT Exam Pattern:
The first step while preparing for CMAT is to become familiar with the exam pattern of CMAT. This way, it will be easier for you to come up with a preparation plan. CMAT exam is divided into the sections given below:
Quantitative Techniques & Data Interpretation
Logical Reasoning
Language Comprehension
General Awareness
Know the Whole Syllabus:
Along with the exam pattern, you also need to be familiar with the CMAT syllabus. This will also help you focus on all the topics from which the questions are asked in the exam. Most of the questions asked in the paper are based on the basic concepts, and there are also some tricky questions that may require logical thinking. So, focusing on all the topics is vital during CMAT preparation.
Study Regularly:
It's important to set a fixed study routine for the CMAT exam as it will help you stay connected with the exam all the time. This way, you will also become more disciplined as far as exam preparation is concerned. You can also plan what topics you should study daily as part of your preparation plan.
Make Short Notes:
No matter how much study material you gather, there is just no replacement for making your own notes. Get into the habit of making short notes. It also helps at the time of revision.
Time Management:
Developing time management skills is one of the key things for entrance exam preparation. You must set a certain time limit when you set a goal to solve a certain amount of questions. Gradually, you will get better at solving questions and your speed will also increase.
How can CMAT Mock Tests help in CMAT Preparation?
Taking Mock Tests is an important step that you should not miss during CMAT preparation. It is the best way to improve time management skills. The Mock tests can help you in a number of ways. By practicing Mock Tests, it will become easier for you to understand your strengths and weaknesses. Practicing mock tests prepares you for the actual exam by as it helps remove the fear of exam. It will also boost your confidence and help you score well in the CMAT exam.
Section-wise CMAT Preparation Tips
CMAT Preparation Tips for Quantitative Techniques & Data Interpretation:
The total no. of questions asked in this section is 25 and each correct answer is rewarded 4 marks.
It requires practice of fast calculation techniques.
Knowing all the formulas well is important to boost your preparation for this section.
Get yourself registered with a website offering online mock tests.
If you are afraid of numbers, you can try to brush up your mathematical skills by solving previous year paper.
CMAT Preparation Tips for Logical Reasoning:
This section is very tricky and you must understand the reason behind why a certain question is correct or incorrect.
Before selecting any one of the responses, you must ensure that you are going through the responses very carefully.
You should always refer to the previous years' question papers.
Stay calm during the preparation. You can't solve a puzzle without peace of mind.
Break your paragraph into smaller sentences while attempting the Inference based, cause & effect, assumption questions.
CMAT Preparation Tips for Language Comprehension:
Language comprehension section in CMAT Exam will have the following main topics:
Idioms fill in the blanks, etc.
Expression-based questions with idiomatic/statement expression.
Analogy – relationship words and English Grammar
While attempting the composition question, go through the questions before the paragraph. This will be helpful when you're marking your answers as you read.
CMAT Preparation Tips for General Awareness:
This is an important section and it features in almost all competitive exams. You can prepare for this section by:
Reading newspapers and magazines daily
Watching news regularly on television
Discussion with fellow CMAT aspirants on topics of
Taking up tests and solving papers.
Best CMAT Preparation Books:
Sections
Books
Authors
Data Interpretation and Quantitative Aptitude

Quantitative Aptitude for Competitive Examinations
How to Prepare for Quantitative Aptitude for the CAT

General Awareness

General Knowledge
General Knowledge 2018

Disha Experts
Manohar Pandey

Language Comprehension

The Pearson Guide to Verbal Ability

Logical Reasoning

A modern approach to logical reasoning