More than 2 lakh aspirants will apply for CAT 2021 and competition for the top bracket will be intense. Hence, a CAT 2021 aspirant has to ensure that everything goes on flawlessly till the last minute. The final days of preparation are very crucial for every aspirant busy in CAT 2021 preparation. This is the time for candidates to sum up their preparation and focus on their strengths. Starting anything new or experimenting with exam preparation must be avoided at this point.
The COVID-19 pandemic has not only had an effect on how the exams are conducted but how candidates prepare as well. Many candidates must have prepared for CAT without coaching while others must have relied on online classes offered by CAT coaching institutes. During this stressful time, there may be many candidates who are feeling pressure from the approaching exam date.
However, at this point, it is crucial that candidates keep their minds stress-free and their confidence high to be able to hit the nail on the head. Having confidence in your preparation itself is a great morale booster and can change your attitude in the exam. Regular revisions of notes are necessary during this time. It is also important to revise any tips and tricks for solving questions in CAT 2021. A cool head, preparing for the last minute and clever use of time will help you crack the CAT.
In this article, we take a look at some of the best tips for last-minute preparation for CAT 2021. This will help you avoid any confusion and wind up your CAT preparation while also make you a better candidate on the exam day.
CAT 2021 Revised Exam Pattern
Every candidate must be fully aware of the CAT 2021 exam pattern to make full use of the time and resources available to them. Here is the revised exam pattern of CAT 2021.
Section
No. of Questions
Duration
Marking Scheme
VARC
26
40 minutes
+3 for a correct answer
-1 for an incorrect answer
No negative marking for non-MCQs
DILR
24
40 minutes
QA
26
40 minutes
TOTAL
76
120 minutes
Revised Number of Questions in CAT 2021
CAT 2021 question paper will have a total fo 76 questions. There will be 26 questions each in VARC and QA and 24 questions in the DILR section.
Duration for PwD Candidates in CAT 2021
PwD candidates will be given 40 minutes extra over the 120 minutes given to other candidates. Hence, they will have 160 minutes to complete the exam.
Also Read:CAT 2021 Exam Duration Reduced: More Changes Expected Soon
Last-Minute Tips for CAT 2021
Here are some of the best tips to keep in mind during the final stages of CAT preparation and on CAT exam day.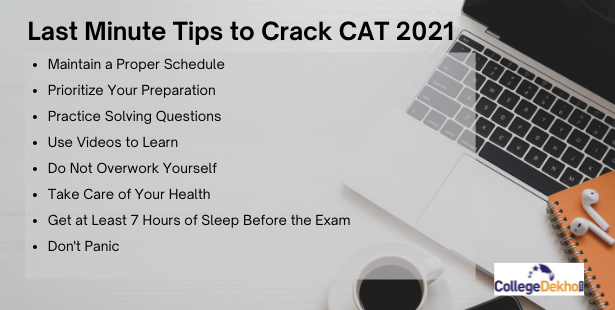 Tip #1: Maintain a Proper Schedule
Having a timetable drawn out for your final days of CAT preparation will help you stay focused and organised. Keeping a track of your activities makes you more organized and helps you avoid any wastage of time and stress.
Tip #2: Prioritize Your Preparation
Being organized is essential when you are on the brink of exam day. Prepare a list of your strong and weak topics and revise them accordingly. Do not start any new topic in the final days of the exam. Here are some excellent resources to help you get on track to plan your preparation.
Tip #3: Practice Solving Questions
Practising questions is the best way during the final few days to revise old concepts. Solving questions is also a great way to memorise formulas and increase your speed and accuracy for the exam. Here are some of the best resources to help you keep the momentum going with your CAT preparation.
Tip #4: Use Videos to Learn
There are a lot of good videos available on YouTube and websites of other coaching institutes that provide excellent insights for CAT preparation. Learning from videos is excellent for the final few days of CAT preparation as you can sift through a lot of important information in a short amount of time. Plus, the audio-visual impact also helps your brain in retaining the information better. Also, check our other best preparation tips for CAT 2021 given below.
Tip #5: Do Not Overwork Yourself
Facing the pressure of the exam, candidates often tend to overdo their preparation in the final few days and tire themselves out. Mental fatigue can have a detrimental effect on your performance and hence it is important to keep it in check. Make sure that you are taking breaks and keeping away from studies for some time. Indulge in leisure activities and take plenty of rest before the exam day.
Tip #6: Take Care of Your Health
Make sure you are taking good care of your health in the final stages of exam preparation. Get good sleep, maintain a good and healthy diet and avoid any activities that may have a bad effect on your health. This is a time for the onset of winters and hence you should also be careful to not be exposed to the cold. Remember, even having a small headache on the exam day can affect your performance so it is best to avoid it and keep in tip-top shape.
Also Read:Toppers Tips for CAT 2021: Check How Toppers Prepare for CAT, Strategy & Study Tips to Score 99 Percentile
Tip #7: Get at Least 7 Hours of Sleep Before the Exam
Students often stay up late into the night studying on the day before the exam. It is important to know when to stop studying and take rest. Get a good 7 hours of rest before the exam day and keep your brain fresh and active in the exam. What works best is to have a cheat sheet of sorts to glance through just before the exam to revise all of the concepts if needed.
Tip #8: Don't Panic
Easy to say, tough to achieve, and yet vital for your success in the exam. Proper planning and preparation such as keeping all of your documents ready for the exam day, reaching the exam centre early and having faith in your preparation will help you avoid any last-minute panic on the exam day. Check the following articles to be best prepared for the CAT exam day.
Tip #9: Start with the Easy Questions
When starting to answer in the exam, it is advisable to first skim through the questions and find the ones in which you are confident or you find easy. Solving a couple of easy ones beforehand will give you a confidence boost and give space for your brain to warm up for the tougher sections. On the contrary, getting stuck on the first question itself must be avoided at all costs.
Also Read:How to Approach CAT 2021 Question Paper?
Tip #10: Only Answer Questions When 100% Sure
There is no candidate that can solve all 100 of the questions in the CAT 2021 exam within the time limit. Hence, it is a good strategy to just skip the questions which are proving to be too tough or time-consuming. Come back to these questions after completing one round of the section. Use the Mark for Review option to highlight such questions. If you are unsure about a question, it is best not to answer it or give yourself some time while solving other questions.
Colleges Accepting CAT
These were some of the best last-minute tips to succeed in CAT 2021. Keep a cool head and make measured efforts towards achieving your goal to succeed in the exam. If you have any questions, ask them on the CollegeDekho QnA Zone. Best of Luck!