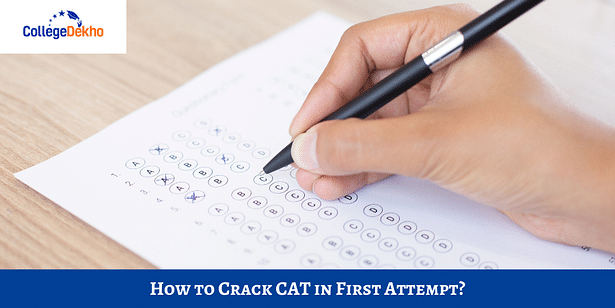 How to Crack CAT 2023 in first attempt is a question that occurs in the mind of every MBA aspirant preparing for the exam. Being one of the toughest MBA entrance exams in India, CAT is quite difficult to crack. Many students spend years in CAT preparation to improve their scores for admission to the best B-schools in the country. Aiming to ace the CAT 2023 on the first attempt may seem like a challenging goal, but with the right attitude and dedicated preparation, it's entirely possible for aspiring MBA students. CAT is the doorway to India's prestigious B-Schools. While it's a competitive exam, a focused aspirant, armed with commitment and a solid strategy, can aim for top percentiles even during their initial attempt. Candidates can now keep track of live updates on the CAT 2023 question paper and answer key using the links provided below:
The CAT 2023 was conducted by IIM Lucknow on November 26, 2023. Understanding how to prepare for the CAT 2023 with the correct approach can get you into IIMs and other top B-Schools in India, and eventually, you may go on to become one of the most renowned CEOs and business owners in the world. Every year, more than 2 lakh candidates apply for the CAT exam to fulfill their dream of studying in top management colleges in the country. Whether you have been preparing for CAT 2023 for over a year or are just getting started, this article will help you understand how to crack CAT 2023 in the first attempt by providing the best tips and strategies.

Also Read:
CAT 2023 Latest Updates
How to Crack CAT 2023 in First Attempt: Important Tips and Strategies
The following are some crucial strategies that MBA aspirants should take into consideration while preparing for the CAT 2023 exam.
Gain Detailed Knowledge of the CAT 2023 Syllabus
Understanding the CAT syllabus 2023 is essential if candidates want to pass the exam on their first attempt. Although the IIM that administers the exam does not specify a precise syllabus for the CAT exam, candidates can still learn a lot about the topics asked most often by going through the CAT previous years' question papers. Knowing this will enable the applicants to estimate the amount of time that they will need to devote to every topic. It would be easier to study well and answer the questions easily if they had a firm understanding of the CAT 2023 syllabus.
Choose Whether You Wish to Engage in Coaching or Opt for Self-preparation
Candidates must be able to evaluate themselves, identify their strengths and weaknesses, and determine where they have the credibility to appear for the most challenging entrance exam for MBA admission in India. After analyzing their strong and weak points, candidates will be able to realize if they require guidance from a coaching institute or if they can prepare all by themselves. CAT aspirants can refer to the best books and study materials to prepare for the exam effectively. Gaining knowledge on the correct CAT preparation study plan and grasping the fundamentals of the exam may be facilitated by coaching. However, it does not guarantee success. Self-preparation also enables a candidate to successfully pass the exam and earn a grade high enough to receive calls from IIMs and other prestigious MBA institutes in India. To pass CAT 2023 and acquire the desired score, candidates are required to stay focused, set objectives, and devise the appropriate strategies.

Also Read: How Much Time is Required to Prepare for CAT 2023?
Start Preparing as Early as Possible
For freshers, it is extremely crucial to start preparing for the exam as early as possible, because they will have plenty of time to review and thoroughly understand the subjects. Freshers must begin their preparation for the CAT exam at least a year in advance. This would also imply that they would have plenty of time to revise the topics they have learned over the first few days of preparation. Furthermore, it gives you the opportunity to return to your areas of weakness, where you need more time, preventing you from becoming anxious that the syllabus is unfinished.
Be Aware of the CAT 2023 Fundamental Topics and Concepts
Candidates must be very familiar with the fundamental ideas and concepts covered in the CAT 2023 syllabus because all of the questions presented in the exam are objective, which means they are all entirely conceptual and to the point. To move on to the challenging parts of the CAT syllabus, candidates must first have a firm grasp of the fundamental concepts and how they apply to questions. If their fundamentals are solid, they will successfully pass the exam because they can easily solve even the most challenging problems. 
To strengthen the Reading Comprehension section, candidates must start by reading novels written in simple language and make sure they understand everything that is being said in each paragraph or chapter. It could be challenging at first, but it will eventually turn out to be helpful. Similar to verbal ability, it is imperative for the aspirants to focus on their ninth and tenth-grade math first, and then go on to the difficult questions once they are comfortable with the formulae and their applications.
Make a Schedule for Preparing for CAT 2023
Making a structured timetable while keeping in mind the entire syllabus of CAT 2023 and the amount of time the candidates have in hand for preparation is essential. The timetable should specify how many hours they plan to spend studying each day as well as the subjects they will cover. Candidates must ensure that they set a goal for each week and make an effort to achieve it. Following the schedule religiously is crucial if the candidates want to pass the CAT exam in their first attempt. To be fully prepared for the CAT, candidates must devote 8–10 hours of quality study time daily and be consistent. For instance, if the candidates spend 11 to 12 hours a day studying and waste time the following day, studying 12 hours becomes useless. The quality of the time spent studying is more important than the number of hours studied.
Learn Effective Time Management 
You should evenly distribute the time you have available for CAT preparation. It will be preferable if you can complete your syllabus in three to four of the six months allotted, leaving you with the remaining two months before the exam to review and take practice tests. You must plan your approach to completing each segment of the CAT exam thoroughly because managing your time for study and problem-solving is a key component of the test. To make sure you have not only met the sectional cut-off but have also maximized your overall score, give more time on high-scoring areas.
Enhance your Accuracy
Focusing on accuracy is important because there is negative marking on the CAT exam, making it difficult to pass the exam in your first attempt. For this reason, your answers ought to be absolutely accurate. You should read your questions twice or thrice to ensure that you do not make mistakes unnecessarily because there is a negative marking of -1 mark for each incorrect response. So please be accurate and avoid making mistakes.
Attempt Mock Tests and Learn to Analyze Them
Attempting mock tests is one the best strategies that can assist you in passing the CAT eczema in the first attempt. The progress of the candidates can be evaluated best with the aid of the mock exams. Comparing the performance and score of two successive mock tests helps the candidates to analyze their progress. By recognizing their mistakes, candidates will be able to work even more effectively on their areas of weakness. They will also be able to recognize their strengths and weaknesses after taking mock exams on a regular basis. Therefore, solving at least three mock exams per week is advised. Solving sectional mocks assists you to gain clarity on the concepts under each section. Candidates also get an understanding of how to manage their time along with their aptitude for answering questions rapidly and accurately. Thus, before the aspirants take the CAT 2023 exam, they must make an effort to solve at least 30–40 mock exams.

Also Read: How Many Questions to Attempt in CAT 2023 for a 99 Percentile?
Make a Section-wise CAT 2023 Preparation Plan
For the CAT, it is preferable to have a section-by-section preparation plan. You will be able to concentrate on almost every part of the syllabus by doing this, which will help you study more effectively and achieve higher marks.
Preparation Tips for Quantitative Aptitude
Questions from this area cover Algebra, Geometry, Trigonometry, and Mensuration. Candidates must be able to do a strong mental calculation in order to perform well in this section. It is extremely crucial for them to memorize Divisibility Rules and Theorems, Tables till 25, Cubes till 20, Squares till 35, Cube and Square Root, Perfect Number, Percentage conversion ratios, and the Unitary method, among others. To answer questions rapidly and save time, candidates must concentrate on shortcut formulas. You will be able to answer the questions more quickly and have time to double-check your answers before marking if you learn shortcut formulas and implement them. Use the option elimination strategy to respond to a number of the CAT QA questions, especially those that require knowledge of the number system and mathematics. While reducing time and effort, this ensures accuracy.
Preparation Tips for Verbal Ability and Reading Comprehension
Reading comprehension carries more weight in the VARC, so give sufficient time to prepare this section. There are roughly 24 RC questions in this area. You might start by reading non-fiction articles, books, journals, newspapers, and editorials to develop your comprehension skills. CAT 2023 mock tests and sample papers might help you increase your speed and accuracy. Learn to recognize your own mistakes and how to rectify them. Learn the meaning and usage of any challenging words you come across by consulting a dictionary. Reading lots of editorials will help you develop your critical thinking skills. At the preparation level, avoid MCQs. Solve crossword puzzles and word games. Organize your day into segments and practice effective time management.
Preparation Tips for Data Interpretation and Logical Reasoning
In questions involving logic and data interpretation, there is usually some hidden information. Gain knowledge of various tables, graphs, and charts to interpret data, solve puzzles, and use cases for logical reasoning. Instead of restricting yourself to the questions in the study materials, use your free time to solve Sudoku problems and other puzzles. You may also hone your skills by playing mobile games like 2048. Each applicant must understand when to use approximations and how to do it appropriately. Before attempting to solve the problem on paper, you should first try to do it mentally. You'll save time and develop your mental strength as a result. Every day, you should attempt at least 4-5 sets of questions from the DI and LR.
Make sure that you put in all your efforts and dedication if you want to pass the CAT exam in the first attempt. Avoid overthinking, maintain focus, practice as much as you can, and make it a habit to appear for mock tests to evaluate your preparation. You are capable of it, so have confidence in yourself. Also, make an effort to move slowly. Don't push yourself too much. If you follow a methodical approach to success you will soon be able to accomplish your objective of clearing the CAT 2023 exam in your first attempt.
CAT Best Coaching Institutes
Candidates can review the list of the following coaching institutes that would provide them with proper guidance and preparation strategies to crack the exam on the first attempt.
Candidates must also check out the links below to learn more about CAT 2023 preparation!
Related Links:

If you have any doubts regarding the CAT preparation process, you can ask questions in our Q&A zone. Besides this, those who are interested in admission into any top B-Schools in India can fill out our Common Application Form. Stay tuned with us for more articles related to CAT 2023!