CAT is one of the toughest exams conducted every year for MBA admission in India. Every year more than 2 lakh students apply for this entrance examination and only some of them are able to get admission to top B-Schools of India. One of the major factors that create a difference between scoring 100 and 90 percentile in the exam is proper planning.
According to Antoine de Saint-Exupéry "A goal without a plan is just a wish". Those who have prepared well for the exam has already won half of the battle before actually appearing for it. There are many other reasons such as lack of motivation and no mentor support that can result in an unfavourable outcome. This article will help you know some common mistakes that candidates should avoid during CAT preparation.
Common Mistakes to Avoid During CAT Preparation
Not Going Through the CAT Syllabus
You are advised to go through the syllabus of the CAT exam before starting the preparation so that you can note that all the important topics which will be covered in the exam. Those who have not gone through the syllabus may face difficulties as they do not have any idea about what are the important topics for the exam. Besides this, going through the syllabus will also save time of the candidates as they can skip the topics that are not included in the syllabus. 
Not Having a Time Table
You should prepare a time table so that you can get an idea about how much time can be allotted to one topic. Preparing a time table will also help the candidates complete the syllabus 1 month before the exam so that they can utilise the remaining time in revising the topics and solving the previous years' question papers. You can prepare a time table in any order depending upon your strengths and weaknesses.
Also Read:CAT Predicted Question Paper 2021 - Important Topics, Chapters, Analysis
Not Solving Mock Tests
You should try to solve at least 6-7 mocks in a week. Those who do not have a regular habit of solving mock test papers may face difficulties while answering the final CAT exam. The mock test papers will help the candidates know all about the exam structure and what type of questions they can expect in CAT 2021.
Inconsistency in Preparation
Inconsistency in CAT preparation may reduce your chances of getting a good percentile in CAT exam. You should be regular with the exam preparation. Besides this, you are advised to stick to the time table. There is a possibility that you might have to face some challenges such as not getting the correct answer or a bad score in the mock tests. You should try to concentrate on further preparation rather than thinking about those problems.
Also Read: Mock Test – The Right Strategy to Crack CAT 2021
Not Devoting Enough Time to Each Topic
One of the most common mistakes made by the candidates is not devoting enough time to each topic. You should try to solve at least 10-15 questions of each type so that you can get an idea about all types of questions that can be asked in the exam. Besides this, there are some topics such as critical reasoning and data interpretation that need more practice. You should solve 30-40 questions from these topics.
Lack of Regular Revision
It is important to practice the topics you have learnt at regular intervals. A regular practice will protect you from overburdening yourself during the last 3 months left before the exam. You are advised to prepare notes for all the important formulas and concepts so that you can revise them before appearing for the exam. 
Getting Demotivated
You should avoid getting demotivated during the CAT preparation. If you are facing problems while solving problems or understanding the concept, you can focus on the next topics rather than getting demotivated. You can read motivational novels or listen to motivational speeches so that you can keep your concentration level high. Besides this, you can discuss your problems with your mentors. 
Also Read:Step by Step Guide to Crack CAT Without Coaching
Not Setting Targets
Setting a target will help you complete the topics and concepts within a limited time. This will also help you improve your problem-solving skills and the ability to cope with stressful situations.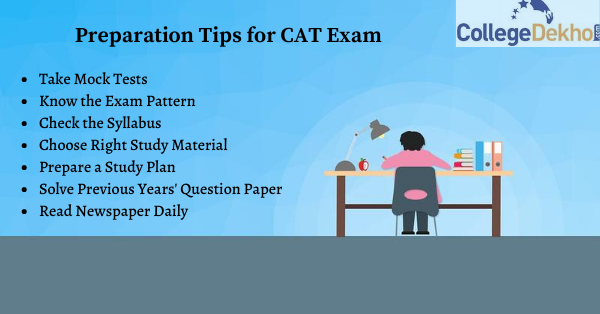 Tips for CAT Preparation
Here are some important tips that can help you during CAT preparation.
You should analyse the CAT mock tests to know what are your strong and weak areas. It will also help you to know how much preparation is required to convert your weakness into a strength.

You should check the exam pattern of the CAT to know the structure and marking scheme of the CAT exam. 

You can adopt a section-wise or topic wise preparation strategy as per your comfort level

You should try to learn shortcut techniques and formulas so that you can complete a question within a very short span of time

You should check the details mentioned in the CAT admit card so that you do not have to face any kind of difficulty during the exam day. Besides this, you are advised to keep your admit card safe.

You should develop a habit of reading. You can read newspapers and magazines. It will help you to score well in the Verbal Ability and Reading Comprehension (VARC) section and to perform well in the GD/ PI round.

You are advised to choose the best books for CAT preparation. You can consult the previous years' topers or experts to choose the best books for CAT preparation.
Since a few days are left for the exam, you should pay heed to the pointers mentioned avoid in order to avoid these kinds of mistakes. You should concentrate on improving your English and time management skills. Besides this, if you face any kind of difficulties during CAT preparation, you can post your questions on the Collegedekho QnA zone. We will be happy to help you.
Here are some articles related to CAT 2021 preparation.
Call on our toll-free number 18005729877 to get admission related assistance. Fill our Common Application Form(CAF) to apply to the top MBA colleges in India.  
All the Best!