Being able to voice your opinion freely is one of the biggest examples of living in a true democracy. Whether it is the malfunctiong of the Ministry or a bad decision taken in view of public causes, we've heard of many a case, where public opinion has overthrown or has been influencial in making changes in the society.
Such is the power of social media. So the CollegeDekho team went scavenging on people's opinions on the education system in India, and lo and behold, look what we found! While we could not stop at the jest and humour that lace these tweets #educationinindia, on the morbid side, it is much food for thought.
Serious things aside, CollegeDekho brings to you the state of afffairs of the Indian Education System, from the eyes of fellow or aspiring students. So, let's take a sneak peek of student's opinions on a lighter note!
I think so or maybe a full stop.

I think bunking is bunking. Right!?

At least the system is making sure that the students can be weight lifters in future.

Atleast you tried.

---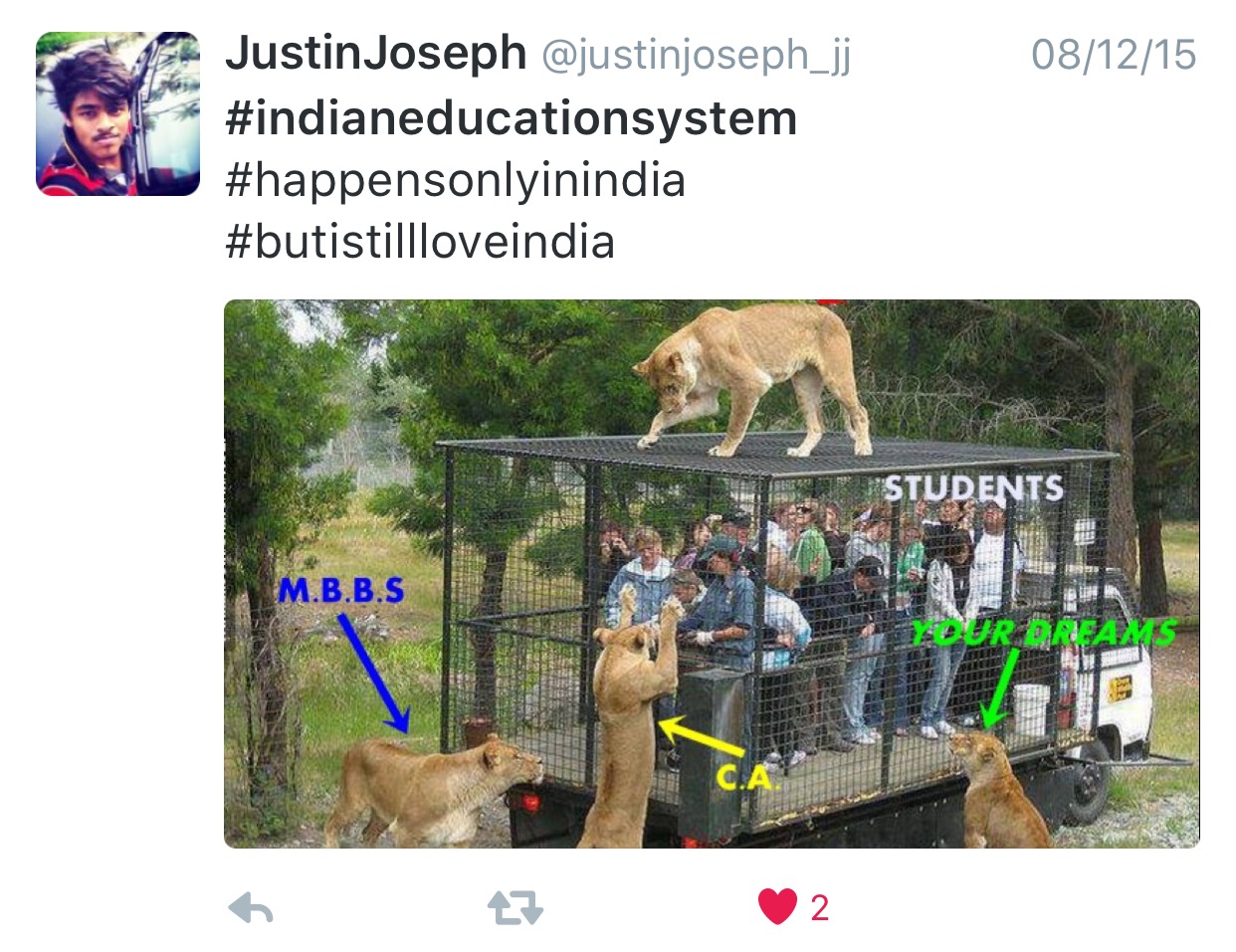 I completely agree.

Then, there is this

The competition in India is so edgy that even after acquiring a good score (90% +) in your Board Exams, students are left with no option, especially in premiere universities like the Delhi University. Add to that the cut-throat competition at the management colleges viz., the Indian Institute of Management or IIM's! A 95% is not a good score, apparantly. Similarly, it is of no wonder that India is facing a severe brain drain of engineering talent with most of them opting for career choice outside the country! With 18 Indian Institute of Technology (IIT) and 31 National Institute of Technology (NIT) and other research institutes in India like India Institute of Science (IISc), it is really a cause of concern that the bright minds are all migrating away.
HRD Ministry, Education Boards, higher institutions of India, are you listening??
Student nowadays.