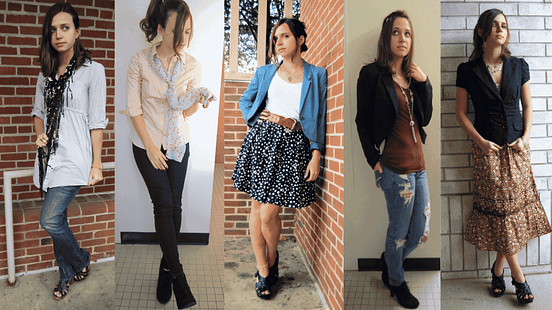 Fun and style are directly proportional to life in college. Without style, college life would have been bland and dull!!
College and the word itself thrills me to the maximum. Those days of fun and masti with friends, bunking lectures to attend college fests, participating in the dramatic society, hanging around in the canteen to slurp down the tastiest dish very well reminds me of college days. With every new trend in the city's market, college departments are thronged with students with the best fittings and style of its own.
Here are a few attires that help you in selecting from for your daily wear in college.
1. Leggings, Casual Shirt, Stoll This outfit combo is perfect for daily college wear which also keeps you comfortable and stylish. Along with it, girls can tie their hair in a bun or a braid to carry themselves with the college bag and bottle.
2. Tee-shirt, Cargo or Trousers Who said girls have all the style? Boys can carry themselves with this attire to college and look as a hunk amongst the crowd. Bright colors mostly keep you rejuvenated and active throughout the day.
3. Funky jewellery and cap Nowadays, funky attire is at its height. Earrings or nose rings for both girls and boys are available in the market to give you a dashing and smart look. A light cap can be chosen by boys to get a cool make over along with the casual clothes for everyday classes.
4. Full length rompers Girls have a wide variety of clothes to select from. They generally choose trendy clothes for their get over. Rompers are common favorites by girls these days. Knee length or full length printed rompers with a clean hair makeup makes you an ideal style icon in college.
5. Shorts with Sneakers This is a casual outfit that can be preferred by both girls and boys for college. Bright colored sneakers and light colored shorts give you the best contrast in style. This is comfortable and can be easily worn on regular college days.
6. Jumpsuits: Girls can look at themselves the best with half or full length jumpsuits. This is a comfortable attire that keeps you easy throughout the day. You can walk, run or sit comfortably with no extra slits from sides.
7. Pallazo pants and short kurtis For girls there are numerous outfits one can choose from. Recently, pallazo pants are in great demand mostly by college going girls. These pants are wide at the bottom and the material used is soft that keeps you comfortable with style. On top of these pants, one can wear short kurtis or long tops. Open hair or a stoll attached to the neck makes you look the prettiest.
8. Accessories: Apart from jewellery, there are other accessories to choose upon by both girls and boys. Bracelets, sunglasses, watch or a tattoo can never be denied by any fashionable student in college.
So, what are you waiting for? Select the best attire for yourself and move ahead to college campus.