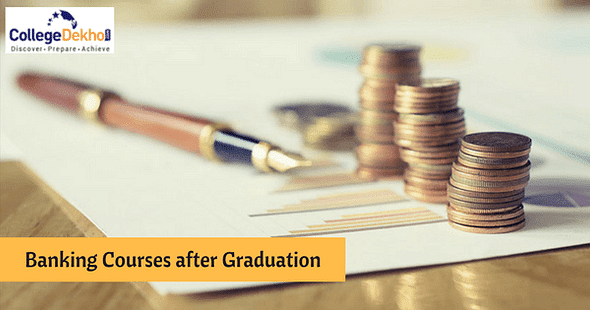 Banking is an industry that consistently offers employment opportunities, as there is a continual demand for candidates who possess a strong understanding of financial processes and innovative approaches to managing banks. This is a key factor driving the increasing popularity of pursuing banking courses after graduation.
Candidates from various fields including commerce, business, arts and engineering seek bank courses after graduation in order to enhance their career prospects. There are various banking courses after graduation and few of them are provided by popular banks themselves. The other courses are offered by masters in business administration colleges.
If you want to pursue bank courses after graduation, another route is to prepare for Bank PO examinations. Most of the government banks recruit students through IBPS PO, whereas, SBI and its associate banks recruit candidates through SBI PO exam. Find out more about banking courses after graduation below:
Significance of Pursuing Banking Courses? 
Banking is a diverse field that requires an individual to have a complete understanding of how a bank works and operates on a daily basis. Individuals in contemporary times need a comprehensive knowledge of the financial industry and banking regulations. Being a banking professional will help gain expertise in the following systems:
Creating a budget for different individuals and/or companies
Auditing existing financial records as per the legal guidelines
Analysing international stock markets
Brokering financial deals
Advising investors about the best financial and investment deals
List of Banking Courses After Graduation
You can find below a list of banking courses that you can pursue after completing your graduation.
Name of the Course

Type of Course

Duration

MBA in Banking and Finance

Master Degree

2 years

M.Com In Banking and Finance

Master Degree

2 years

M.Voc in Banking, Stocks and Insurance

Master Degree

2 years

PGDM in Banking Management

PG Diploma Course

2 years

PGDM in Banking & Financial Services

PG Diploma Course

2 years

Short-term Post Graduate Diploma in Retail Banking (PGDRB)

PG Diploma Course

3 months class work

3 months internship

Short-term Post Graduate Diploma in Banking Operations

PG Diploma Course

3 months class work

3 months internship

Short-term Post Graduate Diploma in Banking

PG Diploma Course

3 months class work

3 months internship

Professional Programme in Commercial Banking (PPCB)

Advanced Certificate Course

2 months

Advanced Certificate in Banking Laws and Loan Management

Advanced Certificate Course

3 months
Eligibility Criteria for Bank Courses After Graduation
From Certificates to Diplomas to fully-fledged Master's Degree courses, you can find a variety of banking courses after graduation. Since there is so much variety in the courses, pinning down common criteria for all the different levels would not be fair. Mentioned below is the eligibility criteria for different kinds of banking courses that you can pursue after graduation.
Eligibility Criteria for MBA and 2-year PGDM Banking Courses:
In order to apply for these programmes, you will have to secure at least 60% marks in graduation along with a good past academic record.
Admission to MBA and PGDM courses are done on the basis of management entrance exams such as CAT.
Candidates who clear the above exams are then called for group exercises and personal interviews for their personality assessment and skill check.
Eligibility Criteria for Short-term PG Diploma Banking Courses:
You must have secured a minimum of 50% marks in order to pursue these courses.
Admissions are done on the basis of aptitude tests conducted by the respective institute and personal interviews.
Eligibility Criteria for Certificate Banking Programmes:
The minimum requirement for these programmes is the graduation degree. However, some colleges may ask for a minimum aggregate of 50%.
Selection is done on the basis of personal interview. Few institutes also select students on the basis of entrance tests.
Banking Entrance Exams
Take a look at the Bank Entrance Exams and the different steps associated with them:
In order to get a job in a reputed bank, one needs to crack certain competitive exams.

On the basis of these exams, candidates are selected at different positions.

From Bank PO to Clerk to Specialist Officer, there are a number of reputed banks that conduct their examinations.

The eligibility criteria or these different exams vary.

Most of the Banking exams are conducted in two stages: Prelims and Mains.

Candidates selected after both of these stages are then called for group discussion and personal interview rounds.

After being shortlisted, candidates are trained for their jobs for about 3 months to one year.
Here is a list of Banking Exams that will help you.
Online Banking Courses
Due to the ever-expanding banking sector and increasing demand for banking professionals, numerous banking courses are now available on the internet. Further with online learning getting more popular, many renowned platforms have come up with unique banking courses. These in some cases are even free and are mostly for a duration of 3 months-6 months. These are best suited for working professionals or students who because of multiple responsibilities and restrictions cannot attend full time programs, thus, in such cases, online banking courses are a boon. Here is a list of Banking courses that can be pursued online- 
Online Banking Course

Offered By

Banking Credit
Analysis Process
Relationship Management in Corporate Banking
Digital Banking Accounting, Finance and Banking-A Comprehensive Study

Udemy

Introduction to Managing your Personal Finance Debts- Revised
Financial Freedom: A Beginners Guide

Alison

Foundation of Central Bank Law
Essential Career Skills for Investment Banking and Finance
Risk Management and Banking Financial Markets
Capital Markets

edX

Economics of Money and Banking
Financial Markets
Digital Transformation in Financial Services
Financial Markets and Investment Strategy

Coursera
Banking Courses Offered by Banks
The economic development of a country largely depends on the banking industry as it is the backbone. Some banks in India offer courses to interested candidates and their employees. After completing the course, a certificate is provided to the candidates. Find here the banks that offer banking courses.
State Bank of India (SBI)
SBI is one of the most popular public banks in India that provides banking services, insurance and other financial services to its customers. Some of the courses offered by the bank are:
Certificate and training in digital banking business model
Certificate program in general insurance
Certification in credit risk management
Certificate in corporate credit
Certificate in relationship marketing strategy for financial services
The jobs you can get after completing one of the banking courses are:
Assistant Manager (network security specialist)
Advisor (Operations Support Subsidiary)
Chief Technology Officer
Zonal Sales Manager
Assistant Manager (Routing and switching)
Deputy Chief Technology Officer (Core banking)
Chief Information Officer 
ICICI Bank
ICICI bank is a private-sector bank in India providing financial development and modernization of business in non-public sectors. Check here the banking courses offered by ICICI bank:
PGD in Banking
PG Certification Course in Banking
MBA in Finance and Banking
Yes Bank
This bank is an Indian private sector bank for Investment banking, Merchant Banking, Mutual Fund business and Brokerage businesses through Yes Asset Management of India. The various courses offered by Yes Bank are:
PGP in Branch Banking Services
PGDM in Banking & Finance
Certificate in HDFC Trade Finance Program
Certified Financial Planner
HDFC Bank
People who are interested in the banking sector must have an idea that the HDFC Bank is the largest private-sector financial service bank. The bank mainly deals with wholesale banking, retail banking, personal loans, property loans, credit cards, etc. Find here the banking courses offered by HDFC Bank:
Training Program in Trade Finance Program
Training in Business Banking Relationship Manager Program
Top Banking Courses Colleges in India & Abroad
There are numerous universities and colleges offering banking courses across the globe. With a globally recognised degree in banking, one can explore better career prospects in this field and work with renowned banking and financial institutions. While in India we have some top banking colleges, there are also some popular universities and colleges abroad offering varied banking courses. Some of the best universities offering banking courses are mentioned below.
Banking Course Subjects 
Numerous types of banking courses are available in India and worldwide and subjects may differ from college to college, course to course. But there are a few subjects which are common in the syllabus of all the levels, colleges etc. Tabulated below are the popular subjects pertaining to banking courses.
| Direct & Indirect Taxes | Foreign Exchange | Commercial Bank Management | Principles of Finance |
| --- | --- | --- | --- |
| Modern Banking Theories | Marketing of Financial Services | Financial Markets in India | Banking Awareness |
| International Banking & Finance | Banking Laws | Economics of Global Trade | Financial Accounting |
Scope of Banking Courses 
As banks get revolutionalised, there are different types of banking and finance-related jobs that students can aim for a better and secured future. There is wide scope in the field of banking and financial sectors like insurance, stocks, funding, wealth management, investment, etc. Many banks even offer jobs in management, loan audit, etc. For those who are looking for steady growth in their career and lucrative options, should definitely opt for the banking field.
Job Opportunities after Banking Courses 
Banking attracts a lot of job opportunities as its credentials are well-identified across the world. Some of the well-paid job profiles after completing a banking course include:
Salary Scope after Bank Courses
Salary options after pursuing MBA or 2-year PGDM courses are very bright as these are globally recognized courses. Fresh graduates can expect salary packages between Rs. 5 lahks to Rs. 12 lahks per annum depending on their skills of the individuals.
The salaries rolled out for Bank POs are also quite high. A Bank PO can expect a starting salary package varying from Rs. 3.6 lakh to Rs. 4 lakh per annum. Banks like SBI may also offer salaries up to Rs. 5 lakh per annum.
The certificate and short-term diploma courses also offer good job opportunities if combined with well-paid internships. Candidates who pursue these courses along with internships can get packages varying from Rs. 2.5 lakh to Rs. 3.5 lakh per annum.
Salary Packages Offered To Banking Professionals

Tax Assistant

INR 5,00,000 LPA

Internal Auditor

INR 5,00,000 LPA

Bank PO

INR 4,00,000 LPA

Financial Consultant

INR 6,00,000 LPA

Credit & Risk Manager

INR 7,50,000 LPA

Insurance Consultant

INR 5,50,000 LPA

Banker

INR 7,00,000 LPA

Bank Manager

INR 8,00,000 LPA
Hope the information mentioned above helped you. If you wish to get admission to any of the banking courses after completing graduation, fill out our Common Application Form (CAF) and get counselling from the education experts. If you have any questions or doubts regarding the same, ask away through our Q&A Section.
Stay tuned with CollegeDekho.
Good Luck!