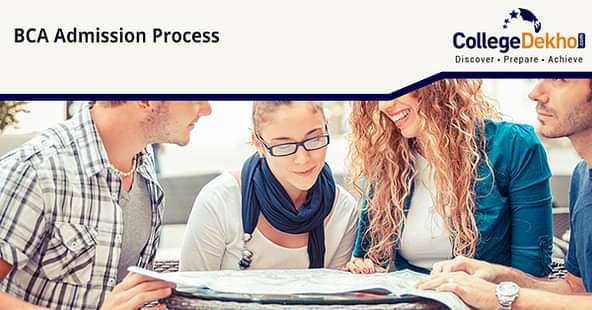 BCA Admission Process 2023: If you are looking for a bright career in the field of Information Technology (IT), BCA is one of the best options to pursue after Class 12th. Even though a BTech course exists in IT, only a limited number of institutes offer it. When it comes to BCA, many colleges and universities offer this course. Candidates aspiring to pursue a BCA course must take into consideration a few factors before finalizing the best college for admission. On the other hand, the admission process of BCA (Bachelor's in Computer Applications)course in most colleges is more or less the same. In this article, you can check all the details about BCA admission 2023 such as eligibility, admission process, application form, fees and the list of top colleges etc.
BCA Admission Overview
BCA admission is based on the 12th merit score. In addition, students must sit for the BCA Entrance Exam 2023. There can be taken in multiple universities based on performance in various entrance exams such as IPU CET, BUMAT, SET, UGAT, and others.
Bachelor of Computer Applications (BCA) is an undergraduate course that lasts three years. Students in this course learn about software development and sophisticated computer applications. Web technology, software engineering, computer languages such as Java, C++, C, HTML, operating systems, and database management systems are all covered in this study. For the BCA programme, admission is based on merit or Entrance Exams.
There are several top institutions and colleges that offer the BCA course as well as its specializations. Admission will be based on merit and entrance exams. The key entrance exams for BCA admission are IPU CET, CUET, and SET. BCA Admission 2023 is based on a combination of merit and entrance exams. Students are admitted to top BCA colleges based on a merit list prepared based on their performance in the 10+2 exam or a state or university-level entrance exam.

Top BCA entrance exams include IPU CET, SET, CUET, and others. 
BCA Admission Dates 2023
Most of the colleges have been conducting the online admission process for BCA admission, and the candidates will have to visit the official website of the college to fill the application form. Usually, the BCA admission process in various universities and colleges across the country begin after the announcement of Class 12th results. Once the Class 12th results are out, the candidates are advised to check the respective college/ university website in which he/ she wants to get admission. 
KSOU Registration for BCA Admission has begun; apply by October 20, 2023. 
Tamil Nadu Open University is accepting applications for BCA programmes until October 20, 2023. 
BCA registration has begun at YCMOU, and students can apply until October 15, 2023. 
The MJPRU Application Form for the BCA Course is now available; students can register until October 5, 2023. 
KKSHOU BCA Admission is now open for the 2023 academic year. Apply before October 20, 2023.
BCA Admission 2023 at Amity University Noida is currently underway. The deadline for applications is October 15, 2023.
IGNOU BCA Admission is now open for the academic year 2023-24. Students can register until October 10, 2023.
BCA Admission Highlights
The table below contains major highlights of BCA admission 2023-
| Particulars | Highlights |
| --- | --- |
| BCA Full Form | Bachelor of Computer Applications |
| Eligibility Criteria | Minimum 50% marks in 10+2 in any relevant stream. |
| BCA Admission Process | Either by Entrance Exams or by Merit |
| BCA Course Fees | Up to 2 to 8 Lakhs |
| Course Level | Undergraduate Degree |
| BCA Course Duration | 3 years |
| BCA Course Subjects | Data Structures, Operating Systems, Database Management, User Interface Design, etc. |
| Jobs After BCA | Software Developer,Programmer, Tech support,  Technical Analyst, System Administrator, and others |
| Recruiting Companies | Infosys, NIIT, HCL, Wipro, TCS, Accenture, Capgemini, and others |
| Salary After BCA | Up to 4 LPA |
BCA Eligibility Criteria 2023
Candidates aspiring for BCA admission 2023 must keep in mind that they need to abide by the guidelines specified by the respective college/ university. We have listed down the general eligibility criteria for BCA courses, and most of the institutes in India follow similar eligibility for admission into BCA.
| Minimum Qualification of BCA | The candidates must have passed Class 12th with a minimum of 45-50% of marks. Candidates belonging to reserved category should have around 40-45%. |
| --- | --- |
| Eligible Stream in Class 12th | Students with Mathematics as one of the subjects in Class 12th are considered eligible for BCA admission. |
| Entrance Exam Applicability | Most private colleges in India do not have entrance exam for providing admission to candidates in BCA; while some of the private deemed universities conduct an entrance test for the same. Thus, in all, direct admission is possible in BCA  |
Top Universities/ Colleges for BCA Admission 2023 with Fees
Before going through the admission process of the BCA course, it is advisable for the candidates to check the list of top colleges/ universities offering BCA. The fee structure of the BCA course has also been mentioned in the table below.
| Name of the College/ University | Fees (for the First year)* |
| --- | --- |
| SRM Institute of Technology (SRMIT), Kancheepuram, Tamil Nadu | INR 85,000 |
| | INR 95,000 |
| | INR 57,000 |
| | INR 96,000 |
| | INR 10,500 |
| | INR 25000 |
| | INR 71,500 |
| Vivekananda Institute of Professional Studies (VIPS) New Delhi | INR 90,000 |
| | INR 1,36,000 |
| | Not Available (NA) |
| | INR 68,000 |
| | NA |
| | INR 63,410 |
| Indira Gandhi National Open University (IGNOU) – Distance Mode | INR 13,400 |
| | INR 82,000 |
| | INR 1,67,500 |
| | INR 46,250 |
| | INR 50,600 |
| Banasthali Vidyapeeth, Jaipur | INR 99,000 |
| | INR 87,000 |
*Note: The fee structure for BCA course mentioned above is just tentative, and the actual fee structure may vary. Therefore, the candidates are advised to crosscheck with the official website of college before filling the application form.
BCA Specialisations
The BCA programme offers a variety of specializations that students can choose from in order to pursue a specific interest. The following is a list of specializations:
BCA Admission in Computer Graphics
The most popular specialization programme in India is the BCA in Computer Graphics. This BCA course focuses on the foundations of computer graphics and algorithms. The entire fee for BCA Computer Graphics is between Rs 36,500 to Rs 5 lakh (approx). Students should have a minimum of 50% in their 12th grade, as well as mandatory disciplines such as computer application/computer science. The length of the BCA in Computer Graphics degree course is 3 to 6 years.
BCA Admission in Animation and Multimedia
The Bachelor of Computer Application in Animation and Multimedia is a BCA programme for undergraduates in multimedia, animation, and gaming. This programme will train students in the most recent industry-appropriate syllabus using technical teaching methods. Students will have the opportunity to test and explore contemporary multimedia design challenges and trends in order to create an extensive set of design solutions that take social, cultural, and economic considerations into account.
BCA Admission in Database Management System (DBMS)
BCA in Database Management Systems is a three-year undergraduate degree divided into six semesters for students who desire to advance their abilities in programming, design, and administration. The complexity of data, as well as the numerous benefits it provides to every company, has resulted in a significant demand for data management solutions today.
BCA Admission in Data Analytics
The IT sector offers a three-year Bachelor of Computer Application in Data Analytics programme. This program's mastery of technology and management skills can benefit both students and working professionals. A "Data Analytics" course can help you develop your data analysis abilities while also serving as the initial step in your technical and management career. This three-year course covers modules in computer science and information technology, as well as C programming, C data structures, data analytics, and reporting.
BCA Admission in Cyber Security
A Bachelor of Computer Application in Cyber Security and Forensics prepares students for employment in this constantly growing sector of technology. The syllabus is intended to teach students about security principles and processes, the relevance of cyber threats, and the influence of technology systems on society. Students will also be able to grasp, develop, utilise, and remedy the internet's flaws by using this application.
BCA in Accounting Applications
BCA in Accounting Applications is a three-year undergraduate professional course. Students learn about accounting application tactics in this BCA specialisation course. The BCA course requires a 12th-standard grade point average of 45%. The BCA in Accounting applications needs students to be interested in studying various aspects of accounting through the application of technology.














BCA Entrance Exams
To pursue a Bachelor's degree in Computer Application, students need to apply and pass the BCA entrance exam. BCA admission exams are held at both the state and national levels. Also, numerous private colleges conduct their own BCA Entrance Exams online. The BCA entrance exam score is used to decide admission to the top colleges.

The most popular BCA entrance exams for BCA course admissions are listed below, along with important BCA Admission 2023 dates:
AIMA UGAT
AIMA UGAT, also known as the AIMA Under Graduate Aptitude Test, is an annual standardized exam conducted by AIMA (All Indian Management Association) for admission to UG courses such as BCA, B.Com, BHM, and others. AIMA UGAT is a paper-based test (PBT) that lasts 2 hours for BCA. The paper generally has 130 MCQs for BCA each with a weightage of 1 mark. There is a negative marking in AIMA UGAT
BUMAT
BUMAT or Bharati Vidyapeeth Undergraduate Management Aptitude Test is conducted by Bharati Vidyapeeth for admission into BBA and BCA courses. To be eligible for the exam, students must have passed 10+2 with at least 45% marks, according to the BUMAT 2023 eligibility requirements. The BUMAT 2023 question paper will have 200 objective type questions with 4 different options. Candidates will receive one mark for each right answer, with no negative marking.
CUET
The NTA's Central University Entrance Exam (CUET) is an all-India level entrance exam for admission to UG programmes provided including BCA by most of the participating institutions. The exam is conducted once a year in over 500 places in both India and abroad. The test lasts two hours and is conducted online as a computer-based test.
IPU CET
The entrance examination for admission to BCA is the Indraprastha University Common Entrance Examination for Bachelor of Computer Application 2023, or IPU CET BCA 2023. Guru Gobind Singh Indraprastha University conducts IPU CET BCA 2023. The exam is a computer-based test and consists of 150 objective-type questions with a total time duration of 180 minutes. The IPU CET is of 600 marks, 4 marks are awarded for every correct answer and 1 mark is deducted for every incorrect answer.
KIITEE
The KIITEE entrance exam is conducted by Kalinga Institute of Industrial Technology. Candidates who have completed Class 12 in any stream with at least a 50% aggregate and have Mathematics as one of their subjects can apply for admission in the BCA programme provided by KIIT. There will be 150 MCQ of 3 marks. 1 mark will be deducted as a negative marking for incorrect answers and the total time duration is 2.5 hours.
PESSAT
PESSAT stands for People's Education Society Scholastic Aptitude Test. PES University conducts it for admission to BCA and other degrees provided by the institution. Candidates are chosen based on their performance in the personal interview phase as well as their exam scores.
SET
Symbiosis International (Deemed University) conducts the Symbiosis Entrance Exam (SET) for admission to Symbiosis institutes. To be able to apply for this exam students should have passed class 12 or equivalent examinations in the relevant streams from a recognized board or university with a minimum aggregate of 50%. The SET exam is a four-section online exam - General English, Quantitative, General Awareness, and Analytical and Logical Reasoning. The SET 2023 exam will consist of 60 questions in total. Each question is worth one mark and there is no negative marking.
SUAT
Sharda University conducts SUAT on an annual basis to provide individuals admission into various undergraduate and postgraduate programmes. SUAT is relevant to all disciplines of BCA. If a candidate receives a rank in a National/State Level Examination such as JEE Main/ CLAT/ CAT/ MAThe or she will be exempted from SUAT. It is an online exam that has 100 questions and the time duration is 90 minutes.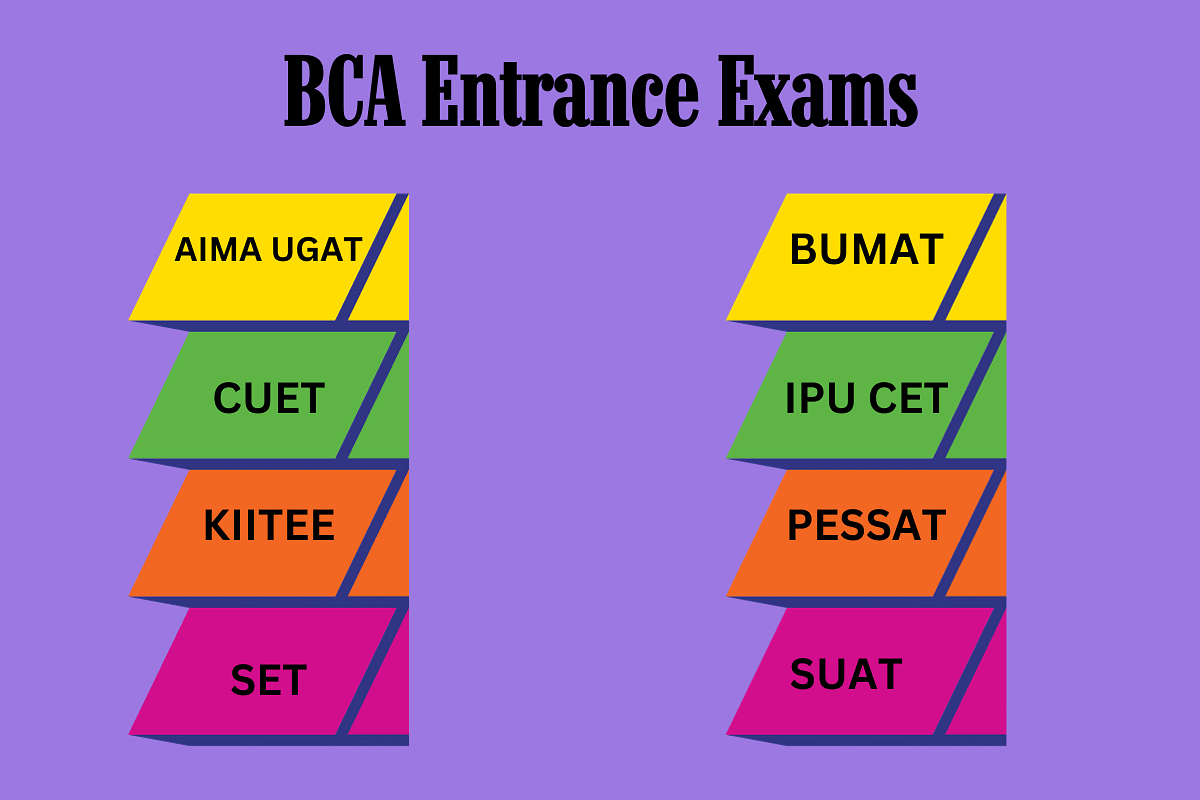 BCA Entrance Exam Schedule
The following is the schedule for the BCA entrance exam:
Exam

Application Date

Admit card

Exam Date

AIMA UGAT

January 31 to June 19, 2023
June 21, 2023
June 24, 2023

BUMAT

January 23 to June 9, 2023

June 15, 2023

June 18, 2023

CUET

February 10 to March 30, 2023

May 2023

May 21 to June 23, 2023
(Except June 3 to 4, 2023)

IPU CET

19 Mar–15 May 2023
28 May 2023
31 May–17 Jun 2023

KIITEE

May 16 to June 4, 2023

June 2 to 4, 2023

June 7 to 8, 2023

PESSAT

October 20, 2022 to July 2023

To be notified

3 days after taking the test

SET

January 11 to April 12, 2023

Test 1- April 25, 2023

Test 2- May 3, 2023

Test 1 - May 6, 2023

Test 2 - May 14, 2023

SUAT

January 3, 2023

To be notified

May 23, 2023
BCA Entrance Exam Syllabus
AIMA UGAT 2023 Syllabus
The areas where AIMA evaluates students to deem them eligible for their BCA program as mentioned in the AIMA UGAT 2023 Syllabusare as follows-
English Language
Numerical & Data Analysis
Reasoning & Intelligence
and General Knowledge
BUMAT 2023 Syllabus
BUMAT 2023 evaluates candidates' problem-solving abilities, knowledge application, time management skills, and task orientation. The following is the BUMAT syllabus for each section:
Reasoning/ Logical Aptitude: 60 questions
Numerical Aptitude: 60 questions
Verbal Ability: 60 questions
Reading Comprehension: 20 questions
CUET 2023 Syllabus
CUET exam will have 3 sections. The IA and IB sections will be based on languages. Sections II and III will cover domain-specific subjects and general awareness, respectively.The following subjects are covered in the majority of the CUET BCA exam syllabus:
English (Section I) 
Computer Science/Informatics Practice (Section II)
General Examination (Section III)
IPU CET Syllabus
The syllabus for IPU CET BCA 2023 exam is as follows-
Computer Awareness
English Language & Comprehension
General Knowledge.
MathematicsBCA Selection Process
KIITEE Syllabus
KIITEE syllabus for BCA consists of 4 subjects. The name of the subjects and question distribution is given below-
Mathematical Ability-30 questions
Analytical & Logical Ability- 30 questions
Verbal Ability- 40 questions
General Knowledge- 20 questions
PESSAT 2023 Syllabus
This exam assess students in English language, analytical skills and mathematical knowledge. The PESSAT 2023 syllabus is provided below-
English Comprehensive / Verbal Ability- 30  Marks
Analytical & Logical Reasoning- 45  Marks
Quantitative Reasoning- 45 Marks
SET 2023 Syllabus
As stated previously, the SET is a four-section online exam. The SET 2023 exam will consist of 60 questions in total. Each question is worth one mark. The syllabus of SET 2023 exam is given below-
General English
Quantitative
General Awareness
Analytical and Logical Reasoning
SUAT Syllabus
SUAT evaluates the analytical skills of students when providing admission to their BCA course. The syllabus of SUAT 2023 exam is provided below-
English Communication,
General Awareness,
Logical reasoning
Critical thinking
Quantitative Aptitude
How to Apply for BCA Course?
BCA admission is dependent on both merit and an entrance exam. Those who have finished their 10+2 level with a minimum of 45% marks are eligible for this programme. Popular BCA entrance exams include SET, AIMA UGAT, IPU-CET, GSAT, and others. Other colleges, however, provide direct admission to students based on their performance in the qualifying exams. On the other hand, some universities provide BCA through distance learning, while others offer online classes.
The application forms are usually accessible at the time when the 12th class results are announced. This usually happens in the months of May and June. Candidates must accurately fill out all of the details. Most forms will require the following information:
Name of the candidate
Permanent and Current Address
Contact Number
Date of Birth
Gender
Education Qualification 
Extracurricular certificates 
Caste (General, OBC, SC/ST etc)
Physical Disabilities if any
Domicile of the state
Documents Required for BCA Course Admissions
It is a requirement to provide all the supporting documentation listed in the prospectus or application form's annexure. The documents required for BCA course admissions are as follows-
Minimum 2 Photos
Attested copy of the Education Qualification (Both 10th & 12th standard)
School Leaving Certificate (Proof for age of the candidate)
Attested copy of the Certificate of Caste if belonging to the SC/ST or OBC category
Physical Disability certificate by authorized Medical Officer
Attested copy of the Domicile Certificate 
Attested copy of the Extra-curriculum Certificates
BCA Application Form 2023
The application form for BCA admission 2023 will be available on the official websites of the BCA institutes of India. There are different methods to fill out the application form, and the same has been enumerated below.
BCA Application Form 2023 for Private Colleges
If you are aspiring for BCA admission in private colleges, you will have to follow the steps mentioned below –
Online Application Form: Most of the colleges host application form for BCA course through their official website, and the candidates will have to visit the official website of the college to register for admission. It is important to note that the application fee has to be paid digitally. The college may or may not ask the candidates to send the hardcopy of the application form by post. The online application process varies across different colleges. The basic steps involved in the same are as follows –
Step 1 – Basic Registration
Most online application portals of private colleges will have basic registration where candidates will have to fill their basic details such a Name, Mobile Number, E-Mail ID etc. The candidates will receive a confirmation message on their mobile via SMS and he/ she will have to log in with credentials mentioned on SMS.
Step 2 – Form Filling
The second step can be form filling where the candidates will have to fill their academic details, address etc.
Step 3 – Documents Upload
In this step, the applicants will be asked to upload the scanned documents of Class 12th mark sheet etc.
Step 4 – Application Fee payment
The candidates will have to pay the specified application fee through the payment mode available on the official website. The candidates will have to pay the application fee digitally, i.e., through Credit Card/ Debit Card/ Internet Banking.
Step 5 – Printout of Application
As the last step, the candidates can take the printout of the application form. Some colleges may ask candidates to send the printout of application form with all relevant documents by post.
Note: Most of the colleges mentioned in the table above accept online application form for BCA course.
CollegeDekho's Online & Single Application Form for BCA
Through CollegeDekho's online & single application form, you can register for multiple BCA colleges. Through this facility, you need not fill the separate application form for each college. You can also pay the application fee through our CAF (Common Application Form) portal. You can click on the link below –
COMMON/ SINGLE APPLICATION FORM for BCA
After clicking on the link below, you can either search the college with the name or click on 'Search Colleges'. You can select the stream IT. You will see a list of colleges in which you are eligible to get admission in BCA. Select the relevant colleges and pay the registration fee. Our CollegeDekho counsellor will get in touch and help you with admission formalities.
Offline Application Form for BCA
Some colleges may not accept BCA application form online, and you will have to visit the college individually for the same. Some private colleges have both online and offline application process. If the candidates are applying offline, he/ she will have to pay the application fee to obtain the form.
BCA Admission Process 2023
BCA aspirants must note that the admission process for BCA differs from one college to another. While private BCA colleges have their own admission process, private deemed universities conduct an entrance exam for the same. On the other hand, the admission process for government BCA colleges is different from that of private colleges and deemed universities. In order to help the candidates with relevant information about the admission process, we have divided the colleges into three different groups and explained the BCA admission process for the same.
BCA Admission Process of Private Colleges
If you have applied for BCA admission in a private college, the admission process will be based on merit, i.e., marks scored by the candidates in Class 12th. Only a few private colleges conduct an entrance exam for BCA, and most of the times, the admissions are based on merit. Please note that these colleges may also release a cutoff list if the competition for the admission is high.
In some times, UG admissions are based on centralized counselling conducted by the state government where the candidates need to register through a single application window and exercise the options. In such cases, the candidates will be offered admission based on his/ her first preference and merit. For example, the Telangana government conducts DOST for UG admissions (including BCA in government and private colleges). Similarly, Calcutta University conducts a combined admission process for all its affiliated colleges.
BCA Admission Process of Deemed Universities
If you are aiming for BCA admission in deemed universities, please note that some of the top universities like LPU, Amity, Jain University etc conduct an entrance exam. The seat allotment will be based on the marks obtained by the candidates in the entrance exam and Class 12th.
On the other hand, there are some deemed universities which do not conduct an entrance exam and grants admission on the basis of merit, i.e., marks scored in Class 12th. While applying for admission, the candidates are advised to check with the official website of the university for entrance exam applicability. You can also check the list of BCA entrance exams by clicking on the link below –
Also read: List of BCA Entrance Exams 2023 with Dates
BCA Admission in Government Colleges
The number of government colleges offering BCA course in India is comparatively less than that of B.A, B.Sc and B.Com. The colleges, which offer BCA, grant admission based on merit, i.e., marks scored by candidates in the entrance test. Some colleges even release a cutoff list if the competition for admission is high.
How to Select the Best BCA College for Admission?
The list of BCA colleges mentioned on the table above is just a few to name, and there are many other top BCA colleges in India. You can check the region/ state wise list of best BCA colleges from the table below. Before that, we suggest you some tips on choosing the best BCA college –
Location Preference: Most students and parents are tending to choose the college that is located in their state/ city. While choosing the best college, it is advisable to make a list of colleges. Visit the official website of each college and check the placements report, infrastructure and other facilities. At the same time, try to get in touch with the graduates/ pass-outs/ existing students of this college to take feedback.
Placements: Placements is the most desired factor for each student and parent when it comes to BCA admission. The expectations for getting employment after graduating BCA are high, and it is important to check the previous/ past placement record of the college before getting admission.
Some of the other factors include infrastructure, college environment, student diversity, hostel facilities etc.
State Wise List of Top BCA Colleges 2023
Please click on the link below to check the list of top BCA colleges state wise –
We have tried our best to give a detailed explanation of the BCA admission process. We hope that this article has given you an idea of the complete process. If you need further admission assistance for BCA, you can either fill the Common Application Form on our site through the link mentioned above or contact us on Student Helpline – 1800-572-9877.
Related Admission Articles



For the latest updates on BCA admission, stay tuned to CollegeDekho.