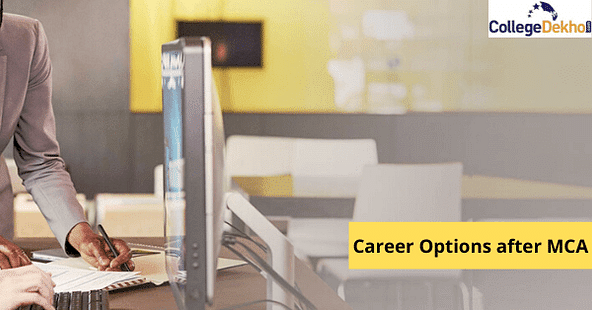 Best Career Options after MCA - Many of you must be curious to know about the top MCA careers. Masters of Computer Applications is a  well-known postgraduate degree that combines theoretical and practical knowledge. To meet the demand for skilled IT experts in the industry, Indian universities offer a three-year MCA degree.
Candidates take courses in modern programming languages and discover how to develop efficient applications for major enterprises. If one has not made the appropriate career choices after earning an MCA, it is difficult to get high-paying jobs in this market and economy. In order to have a successful job after earning an MCA, one must enrol in professional certificate programmes or courses.
With an increase in digital payments, online shopping, demand for online classes etc, MCA graduates can expect decent career prospects with lucrative salary packages. Compared to the existing number of jobs in the IT field, more recruitments or hiring may take place in the coming years. Therefore, MCA can be one of the best career options for aspirants who are looking for jobs in the IT sector. Specialized profiles in software development, hardware technology, systems development and engineering, troubleshooting, management information system, internet, and networking are just a few of the numerous job opportunities available after an MCA. If you're not sure what to do after getting your MCA, keep reading to learn about potential career options. that are out there that you may explore for a great working opportunity in the future.
Table of Contents
Jobs Roles to Choose After MCA
MCA degree programme gives candidates an opportunity to work as a professional in different job roles. Each role required different skills and responsibilities. The candidate can choose the job role based on the area of their expertise and interest. Many MCA colleges in India provide job opportunities to final-year MCA students through on-campus placement drive. The candidate can also apply for jobs in their desired company through walk-in or direct interviews. Some of the job roles, recruiters and the average salary of an MCA passed out candidates is listed below:
| Job Role | Top Recruiters | Average Salary (Per Month) |
| --- | --- | --- |
| | TCS, Wipro, Infosys, Cognizant, Tech Mahindra, IBM, HCL, Accenture etc. | Rs 45,000 per month |
| Hardware Engineer | Hi-Tech Solutions, Ericson, Robotics and Scalability Technology, IBM | Rs 30,000 per month |
| Software Consultant | TCS, Wipro, Infosys, Cognizant, Tech Mahindra, IBM, HCL, Accenture etc. | Rs 45,000 per month |
| IT Support | IBM, TCS, Wipro, HCL, Tech Mahindra etc | Rs 30,000 per month |
| | Wipro, Infotech, SnapDeal etc | Rs 30,000 per month |
| | MCA colleges/ Institutes | Rs 30,000 per month |
Also Read:NIT MCA Admission 2023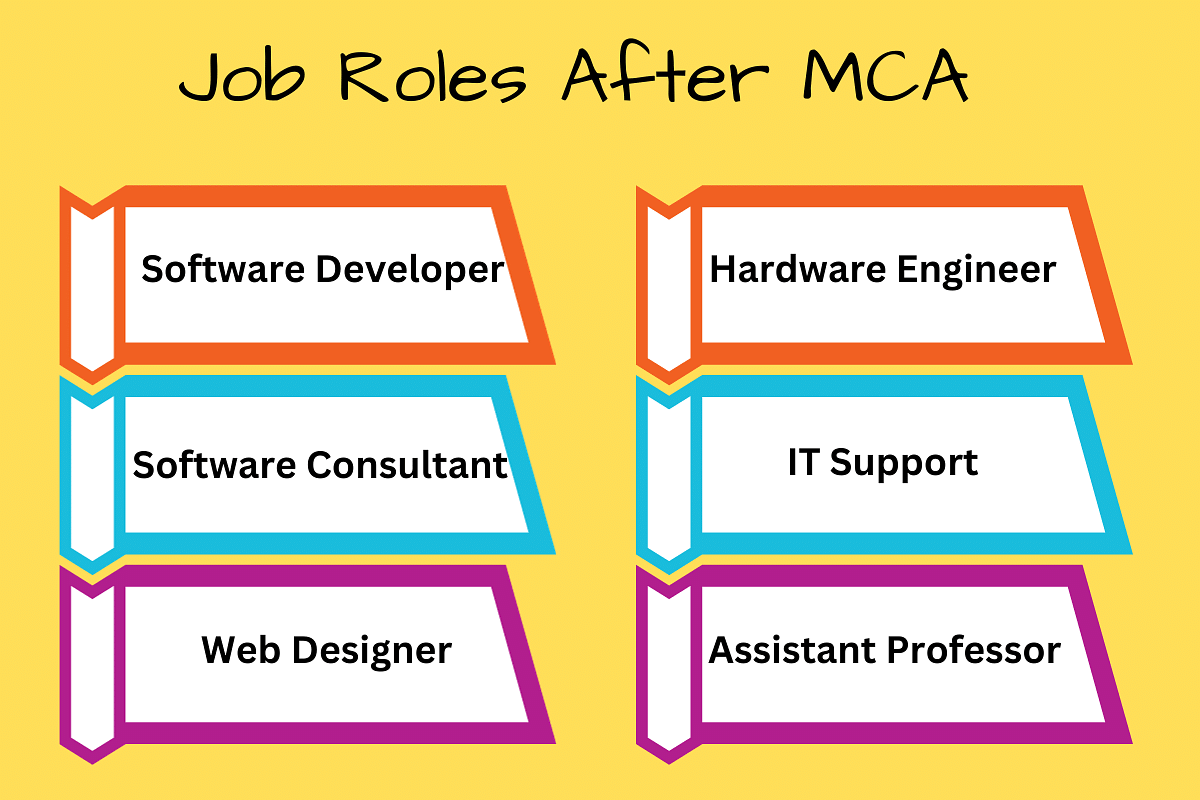 List of Government Jobs After MCA
Apart from private jobs, there are various government jobs available for MCA passed-out candidates. Those who wish to apply for government jobs after MCA must check for government job openings. The list of government jobs after MCA is given below:
| Organisation | Job Role | Salary (Per Month) |
| --- | --- | --- |
| Broadcast Engineering Consultants India Limited (BECIL) | Consultant | Rs.35,000 – 45,000/- |
| NIC, Government of India | Programmer | Rs 35,000 |
| Government of Haryana | Senior System Analyst | Rs 35,000 |
| Public Sector Banks | IT Officer | Rs 35,000 |
Scope Of MCA
MCA course and scope and curriculum focus on the different aspects of the software development lifecycle of modern communication applications, including networking of computing devices used in manufacturing, telecommunications, financial services, e-commerce platforms, and mobile application development. It is simple to imagine the array of opportunities that are further increased by the rise of technology-powered companies, many of which have become unicorns (valued at over US$ 1 billion) in the last two years alone, with some of them going public.
Approximately 45 lakh people are employed by the Indian IT sector at present, according to statistics. Considering that this sector's growth projections are steadily rising, this number is certain to increase. The future applicability of MCA is constant, irrespective of whether it involves offshore applications or services. While the typical IT corporate giants, such as Wipro, Infosys, TCS, Cognizant, Capgemini, and many more, hire thousands of MCA graduates every year, other industries, such as telecom, banking, healthcare, manufacturing, etc., are heavily reliant on their technology divisions.
List of Certificate Course after MCA
After MCA, a candidate can opt for a specialised certificate course that has huge demand in the industry. Some of the popular certificate courses to opt after MCA are listed below:
CCNA
CCNA (Cisco Certified Network Associate) certification course offered by Cisco Systems. The course helps candidates get well versed with topics like LAN/WAN, WLAN, TCP/IP model, Switches and routers, Network utilities (ping, tracert, arp), IP addressing and subnetting etc.
To become CCNA certified, a candidate must take and pass the CCNA exam. Pearson VUE is responsible to conduct CCNA exam at its designated centres.
Data Scientist
Data science is a promising career path for professionals. It is all about the analysis of data and information, its processing and usage of programming skills to handle bulk amount data. It involves the use of advanced analytical tools, statistics and complex algorithms to extract insights of structural and unstructured data.
There are various institutes that offer a certified or full-time course on Data scientist like Amity University Manesar,GD Goenka Gurgaon, IITB Bhubaneswar, Maharishi University Of Information Technology ( MUIT) Noida etc.
Apart from this, an Online certificate course on Data Science is also available.
DevOps
DevOps is a process to automate and integrate the processes between software development and IT teams for faster and reliable development and deployment of software products.
DevOps has a great scope because of increased automation needed in the IT industry. The DevOps approach has features to release quality and efficient products with efficiency. Candidates interested in a career as a DevOps can opt for a certified course in DevOps. Most of these courses are available online.
Also Read: MCA or MBA- The better Course after BCA
Cloud Computing
The cloud computing industry has grown fast in recent years. Today cloud computing services are an integral part of the infrastructure of IT companies. Companies of all sizes rely on a cloud computing platform to host their data and application
Thus, the demands of professionals with cloud computing knowledge will increase in the coming years.
A candidate can opt for higher education or certificate course in Cloud CompDr. M.G.R. Educational And Research Instituteuting if they wish to pursue a career in the same field. JECRC University ( JECRC)- Jaipur, , Jagannath University- Jaipur, PES University- Bangalore, LPU,SRM University are some of the institutes that offer Cloud Computing courses.
Machine Learning
Machine Learning finds its applications in Artificial Intelligence. It is the science and technology of feeding data and information in computers and helping them interact with the real-world scenario.
In the coming years, Machine Learning will play an important role in the software application. Thus, the scope of professionals in Machine Learning is high.
IIT Madras offers a certificate course in Machine Learning. Apart from this, there are other platforms from where the candidate can opt for an online certificate course in Machine Learning.
If you are looking for admission assistance in top private MCA colleges, you can fill the Common Application Form.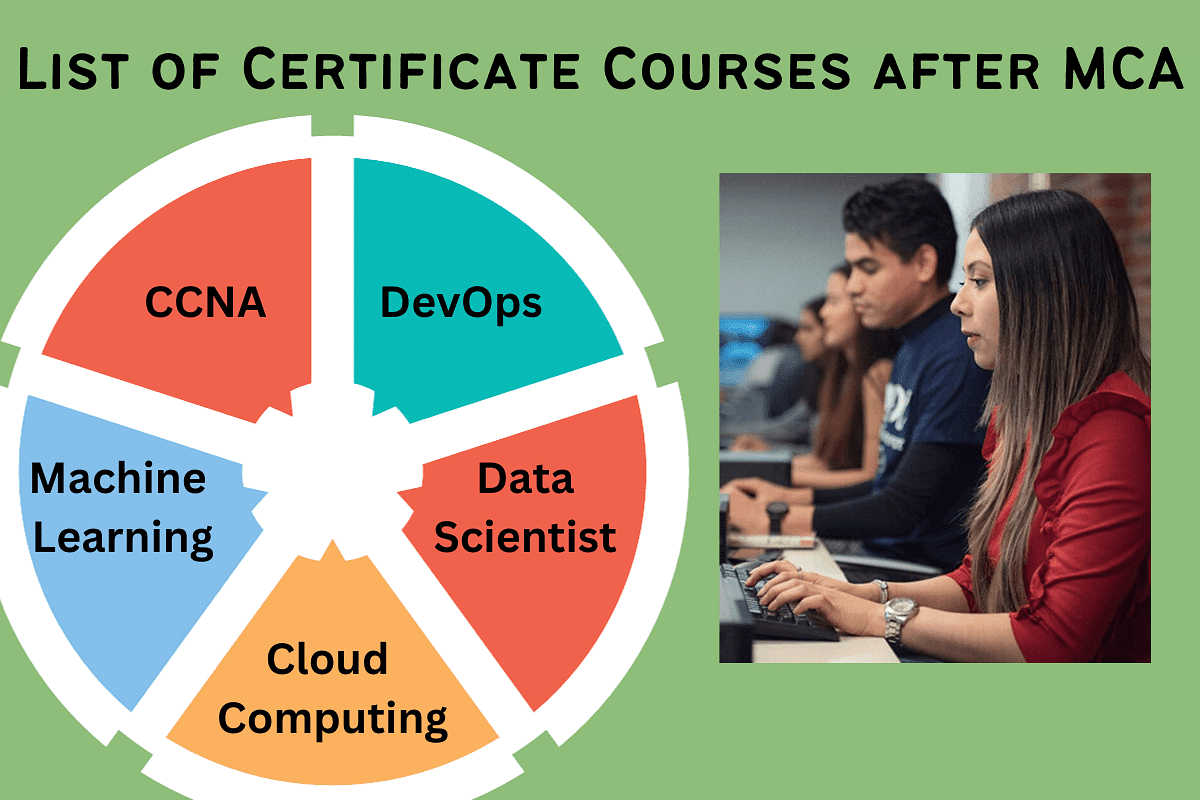 Colleges Offering MCA
We have curated a list of the top MCA colleges in India. Check the list in the table given below.
| Sl No. | College |
| --- | --- |
| 1 | Christ University Bangalore |
| 2 | IMCC Pune |
| 3 | |
| 4 | National Institute of Technology - [NIT] |
| 5 | |
| 6 | |
| 7 | |
| 8 | |
| 9 | |
| 10 | |
| 11 | |
| 12 | |
| 13 | |
| 14 | |
| 15 | BRM Institute of Management and Information Technology, Bhubaneswar |
Related Articles
For more MCA related information, stay tuned to CollegeDekho!