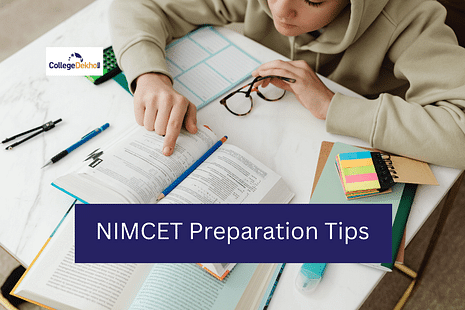 NIMCET 2023 Preparation Tips- National Institute of Technology Jamshedpur will be conducting the NIMCET 2023 exam on June 11, 2023. If you want to study Master in Computer Application (MCA) courses in premier colleges like the National Institutes of Technology (NITs) should start preparing for the exam from now on only to stay ahead. NITs are one of the most reputable colleges in India and hold prestige. Studying at NIT is a dream for many students as NIT offers high placements with lucrative salaries in multinational corporations. To secure a seat in the NIT or other NIMCET participating colleges, you must pass the NIMCET exam with a high score. Every year, over 25,000 candidates enroll for the NIMCET, and roughly 805 places are available in 11 NITs across India. As many candidates participate in the exam and seats in the NITs are limited it is tough to crack the exam. You must study dedicatedly and begin your preparation early to qualify for the NIMCET exam to be conducted on June 11, 2023. To help you with that, we have provided the NIMCET 2023 preparation tips in this post which will help you to excel in the exam. 
Read the full article to get details on NIMCET preparation tips 2023. 
When to Start Preparing for NIMCET 2023 Exam?
Before diving into the details of how to prepare for the NIMCET 2023 exam, let's analyze what is the right time to begin preparation for the NIMCET exam. Early exam preparation will give you enough time to study all the topics, and improve your mistakes.  The following break-ups will help you understand the time limit necessary for NIMCET:
| | | |
| --- | --- | --- |
| Stage | Time | Details  |
| Clearing concepts | 2 to 3 months | Understand the fundamentals of each topic of the NIMCET syllabus to achieve a high score. |
| Regular practicing | 2 to 3 months | Determine strong and weak points and improve them properly. |
| Previous year papers, mock tests, and Revision | 2 to 6 months | Finally, for a good NIMCET result, go over the whole preparation and sample papers as many times as possible  |
Note- Even if you didn't start 6 months early, you still have months to prepare for the NIMCET exam as it is scheduled on June 11, 2023. 
Quick Link: NIMCET Application Form
Ultimate NIMCET 2023 Preparation Tips to Crack the NIMCET Exam
The National Institute of Technology Master of Computer Applications Common Entrance Test( NIMCET), is a test for admission to MCA programmes. Every year, this entrance test is held to give admission to Masters in Computer Application (MCA) programmes at participating NITs. Many colleges and institutes other than NITs use NIMCET scores to determine admission to MCA programmes. Go through the NIMCET 2023 preparation tips highlighted below. 
Go through the NIMCET Syllabus and Exam Pattern 2023
Before beginning NIMCET 2023 preparation, you should properly go through the NIMCET 2023 syllabus and exam pattern. The NIMCET 2023 syllabus includes all of the subjects that you must learn. This eliminates the possibility of missing out on any given topic. You should also look into the NIMCET 2023 exam pattern. The exam pattern contains all of the crucial information regarding the test, such as the sort of questions that will be asked, the distribution of marks, the time length, the marking scheme, and other characteristics. Understanding the exam pattern will allow students to create an appropriate study strategy.
Check the NIMCET exam pattern 2023 given below. 
The NIMCET exam will be administered online (CBT)

The question paper will be in English language only

The question paper will be of the Multiple Choice Questions (MCQ) pattern

The test will have 120 questions on question paper

Each right answer will receive four marks

For each incorrect response, a -1 mark will be deducted

The exam will be divided into four sections. Each part contains a separate set of marks
Make a proper NIMCET timetable 2023
Once you are thorough with the exam pattern and marking distribution, prepare time table. Make a timetable that includes your daily goals.  Make sure your study plan includes all of the academic subjects. Allow time for revision and trying previous year's papers, as well as practice examinations This will assist you in finishing the preparation within the time frame. Also, instead of focusing on one issue, devote time to each one. Leaving any subject or any subject is a no-no.
Quick Link: NIMCET Counselling Process
Understand the NIMCET Subject Wise Marks Distribution
Understanding the NIMCET subject-wise distribution of marks can assist you in determining which subject is given the greatest weightage. Mathematics is the most weighted topic in the NIMCET 2023 test, with 50 questions, followed by Analytical Ability & Logical Reasoning, which has 40 questions. Check the NIMCET subject-wise marks distribution given below. 
| | | |
| --- | --- | --- |
| Subject | Number of Questions | Marks |
| Mathematics | 50 | 200 |
| Analytical Ability & Logical Reasoning | 40 | 160 |
| General English | 20 | 80 |
| Computer Awareness | 10 | 40 |
| TOTAL: | 120 | 480 |

As mathematics is given the highest weightage in the NIMCET exam, you should focus on practical problems and practice questions daily. Following that, attempting and understanding analytical ability and logical reasoning is also crucial. You must study English and improve your grammar skills. Lastly, attention should also be paid the computer awareness. Studying each subject through and well will help you score a good overall NIMCET cutoff. 
Select the best NIMCET Books for preparation 2023
The next step is to gather all of the necessary study materials for the NIMCET.  Select the best NIMCET books for preparation. Refer to to expert and toppers recommended NIMCET books. The books from the best selling author can help in providing accurate information about the subject. If you are unable to begin preparing on your own, you might enroll in a coaching for guidance. Some of the best NIMCET books and study material are given below.
| | |
| --- | --- |
| Book Name | Author |
| English Grammar | Wren and Martin |
| Verbal Ability and Reading Comprehension | Ajay Singh, Publisher – Arihant |
| Computer Fundamentals | PK Sinha |
| How to Prepare for Logical Reasoning | Arun Sharma, Publisher- Tata McGraw Hill |
The ideal study resource for NIMCET 2023 preparation is class 10 to 12 Math and English books. There are also specialized books for each section

It is suggested to prepare for the Mathematics part using NCERT math books from Class X and XII

Reading material, such as books, newspapers, and magazines, is the greatest way to prepare for English. The following are supplemental study materials for each area of NIMCET
Study the NIMCET Syllabus Carefully
Begin by understanding the fundamental ideas of each subject included in the test. The NIMCET syllabus includes subjects like Mathematics, Logical Reasoning, Computer, and English up to Class XII level. Reading and revising each topic thoroughly will aid in determining strong and weak areas. Once you've identified your strong and weak points, focus on improving your weak points first. 
Attempt NIMCET Previous year papers, mock tests, and sample papers
One of the most efficient techniques to improve preparation is to practice, NIMCET previous year papers, mock exams, and sample papers. It will assist you in understanding your own strengths and shortcomings. After attempting the NIMCET sample papers and mock tests, read over your answer sheet to see where you went wrong. Re-examine the subject. The previous year's papers and mock exams provide you with real-time exam experience and allow you to identify your weaknesses. If a candidate's speed is weak, they can improve on it.
The NIT Jamshedpur releases the official NIMCET mock test, however, you should not depend only on it and should take mock tests from other sources as well.

You might enroll in a decent exam series given by several coaching institutes and online
Do continuous revision
You should do a revision of what you have studied from time to time. Going through what you have already studied can ensure that you haven't forgotten anything and that everything is still fresh in your mind. With each version, the concepts become clearer. Reading and revising each topic thoroughly will aid in determining strong and weak areas. Once you have identified your strong and weak points, focus on improving your weak points first to excel in the NIMCET exam. 
Quick Link: NIMCET Seat Allotment
Join online study groups
There are several online study groups created by instructors, test toppers, and mentors to assist students with their KEAM 2023 preparation, You may join these NIMCET study groups to clear their concerns, ask questions, and get assistance in learning the material. These organizations provide test preparation tips and methods.
We hope that this article on NIMCET 2023 preparation tips was helpful and informative.