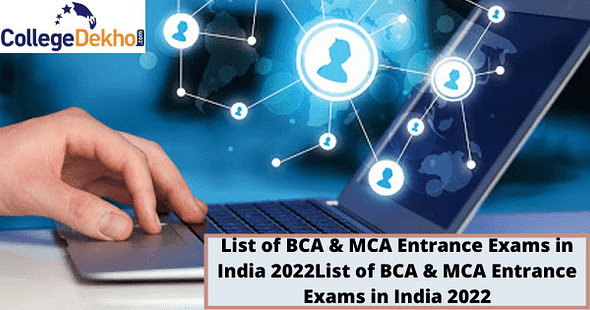 List of BCA & MCA Entrance Exams 2024 in India: BCA followed by MCAis considered the best career path for people who want to foray into the Information Technology industry. For all coding lovers and software admirers, these can be ideal programmes. BCA and MCA programmes open up bright opportunities within almost all IT companies. Students who have passed or are about to appear for class 12 Board Exams can apply for BCA programmes, whereas those who are about to complete graduation or have achieved a degree in any of the IT or science courses (BCA, B.Sc IT, etc.) can apply for MCA programmes. Candidates must have proper knowledge about the various state/ national as well as university-level exams that they can appear for in order to secure admission into BCA and MCA courses. For the academic year 2024, the BCA 2024 exam dates and MCA dates will be released shortly. 
Also Read:Career Options for Students after PCM in Class 12
The best universities offering BCA and MCA programmes take students on the basis of entrance exams. However, there are institutes that offer BCA programmes on the basis of class 12 board exam results. Students who are aspiring to apply for BCA courses will have to apply for the BCA entrance exams. Here's the list of all the popular BCA and MCA entrance exams:
Popular BCA Entrance Exam Dates 2024
Below given in the table is the list of popular BCA Entrance Exams. The BCA 2024 exam dates will be updated below once the official conducting body of the respective exam makes an announcement regarding the exam. 
Popular MCA Entrance Exams Dates 2024
Below given in the table is the list of popular MCA Entrance Exams. We will update the MCA 2024 exam dates for each exam below once they have been announced by their respective conducting body. 
Note: These dates can be changed by the university or any other conducting body under unavoidable circumstances. Make sure that you keep checking for the details of the exam on the official website to be updated. Check out the eligibility criteria for the exam before applying and paying the application fees.
Also Read:High Paying Non-IT Jobs that B.Tech Students are Eligible for!
BCA and MCA programmes are designed to help you develop coding and other IT related skills. Scoring good marks in either of the above exams can help you secure a seat in one of the best universities of India for BCA programmes.

Related Articles