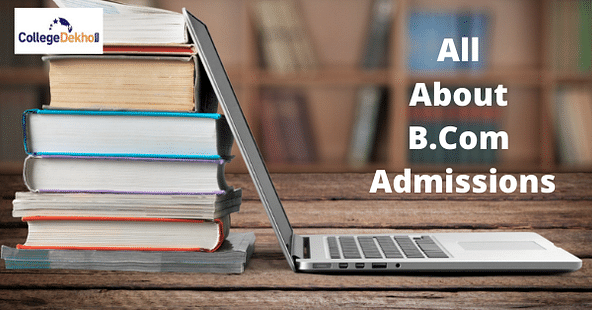 When it comes to choosing educational degree courses in India, B.Com (Bachelor of Commerce) stands out as one of the top preferences among students. This program attracts those interested in studying finance, accounting, money management, and investment. If you are one of these students and seeking information about B.Com admissions in 2023, you have come to the right place.

This article covers every aspect of B.Com admissions in India for the year 2023, encompassing the admission process, popular B.Com exams, selection criteria, application procedure, eligibility requirements, and the top B.Com colleges in India in the country. Several colleges and universities in India are renowned for their B.Com courses, and to apply to these institutions, you should be well-informed about the topics discussed in this article.
Also Read:Integrated B.Com Admissions in India 2023: Check Eligibility, Application Form, Fees
About B.Com Admissions 2023
B.Com admission process in India for the academic year of 2023 will commence in the month of April to May. The commencement of application at various B.Com colleges is subject to change as per the institutions' discretion.
Most of the colleges in India conduct B.Com admissions on the basis of marks scored by students in the qualifying examination. Which means, if you have scored higher in your intermediate examinations, you will have better chances of grabbing a seat at top colleges than the ones with a lower percentage at the same level.
B.Com Admissions 2023 Eligibility Criteria
When talking about admissions for a particular course at colleges across the country, listing down criteria that fit every college is not possible. So, you can check out the common eligibility criteria for B.Com admissions in India 2023 below.
You must have completed an intermediate level of education or equivalent from a recognised board.
The minimum percentage requirement varies from college to college. For instance, the cut-off percentage for B.Com at top universities like Delhi University or Mumbai University can reach as high as 99 per cent, whereas, for some colleges, it can be a minimum of 45 per cent.
There is no specific stream requirement for this programme, as such. But, you might get preference over candidates from other streams if you completed 10+2 with Commerce.
For some colleges, candidates will have to qualify in entrance examinations.
Also Read: Rajasthan B.Com Admissions 2023 - Application, Dates, Selection Process, Cut-off, Top Colleges
B.Com Admissions 2023 Selection Process
The selection process for B.Com admissions 2023 includes different steps at different institutions. The process can either require you to qualify an entrance examination or offer you admission directly on the basis of your intermediate scores. Here are the two ways that are followed for B.Com admissions in India. Have a look and figure out which way would you like to prefer.
Direct Admissions for B.Com 2023
The first way for B.Com selection process, which is followed by a majority of colleges in India, is Direct Admission.
Through the Direct Admission pathway, candidates are selected on the basis of their percentage in the Intermediate examination.
For this, you will simply have to apply to the college or university.
After your class 12 results are out, the colleges will release their cut-off scores.
If you have scored equal to or more than the cut-off scores, you will be eligible for enrollment to the intended college.
If you fail to score as per the cut-off list, you will either have to wait for the second cut-off list or you can apply to some other college with lower cut-off scores.
B.Com Admissions 2023 Through Entrance Exams
The other way for B.Com selection process is admission through entrance exams.
In this admission pathway, candidates are selected on the basis of the marks scored by them in the entrance examinations.
For this, you will first have to apply to the college/ university.
The college will be providing you with the schedule of the exam.
When the results come out, the institution will be releasing the cut-off or merit list.
If you make it to the lists, you will be eligible to get enrolled in the course.
B.Com 2023 Subjects 
Those candidates who want to study B.Com, need to have an idea of the subjects taught to them. Some of the important and common subjects taught under the Bachelor of Commerce (B.Com) course in different colleges/ universities and modes such as UG, Online and Distance mode are as follows:
| Human Resource | Business Law |
| --- | --- |
| Decision Analysis | Economics |
| Logistics Management | Labour Relations |
| Industrial Psychology | Management Science |
| Accounting | Marketing |
| Politics & Public Policy | Econometrics |
| Auditing | Taxation |
| Insurance | Banking |
| Transport Economics | Communication |
B.Com Entrance Exams 2023
Few colleges/ universities accept candidates based on the B.Com entrance exams 2023. The list of the B.Com entrance exams is as follows:
Top B.Com College Offering B.Com Admissions 2023
Listed below are some of the top colleges/ universities in India offering B.Com course in 2023. You can click on the college name to get more information about it.
B.Com Admissions 2023: Career Opportunities
B.Com graduates can find career options in the banking area, administrative firms, insurance firms, marketing companies etc.
Below we have mentioned some of the major areas of career building opportunities for B.Com graduates.
| Working Capital Management | Public Accounting Firms |
| --- | --- |
| Business Consultancies | Investment Banking Sectors |
| Policy Planning Bodies | Marketing Companies |
| Educational Institutes and Industrial Houses | Treasury and Forex Departments |
Top Jobs After Completing B.Com
Some of the best job roles for B.Com graduates along with average salaries are as follows.
| Job Profiles | Average Salary (INR) |
| --- | --- |
| | 3.5 – 4.5 LPA |
| Accountant | 4 – 6 LPA |
| Account Executive | 2 – 3.5 LPA |
| Bookkeeper | 2.5 – 3 LPA |
| Tax Consultant | 6 – 10 LPA |
B.Com Colleges in India That You Cannot Miss
Keeping the current scenario in mind, we have curated you a list of top B.Com Colleges for which, you can get admission without stepping out of your house. Amazing right? Well explore the colleges mentioned below and if you feel like knowing more about them or want to apply, fill out our Common Application Form (CAF) and our education experts will guide you through the entire admission process. If you have any questions, you can avail FREE counselling by calling on our tollfree number 1800-572-9877.
| S.No. | List of B.Com Colleges | Approximate Annual Fee |
| --- | --- | --- |
| 1 | | Rs 49,900/- |
| 2 | | Rs 25,000/- to Rs 30,000/- |
| 3 | | Rs 1,30,000/- |
| 4 | | Rs 40,000/- to Rs 60,000/- |
| 5 | Hi-Tech Institute of Engineering & Technology (HIET), Ghaziabad | Rs 50,000/- |
| 6 | | Rs 46,900/- |
| 7 | Cambridge Institute of Technology-Main Campus (CIT), Bangalore | Rs 1,10,000/- |
| 8 | | Rs 1,03,000/- |
| 9 | | Rs 26,400/- |
| 10 | | --- |
| 11 | | Rs 40,000/- |
| 12 | | Rs 1,36,000/- |
| 13 | | Rs 56,000/- |
| 14 | Swarrnim Startup And Innovation University (SSIU), Gandhinagar | Rs 25,000/- |
| 15 | | Rs 1,15,000/- |
| 16 | Maharishi Markandeshwar University, Sadopur (MMU, Sadopur), Ambala | Rs 47,500/- |
| 17 | | Rs 50,000/- |
| 18 | | Rs 1,08,000/- to Rs 1,33,000/- |
| 19 | | Rs 1,00,000/- |
| 20 | | Rs 26,000/- |
Related Articles
Hope the information mentioned above helped clear your doubts regarding B.Com admissions in India for 2023. If you have any queries, you can ask us through our Q&A Section. We will get back to you for solving your query soon. 
Stay tuned to CollegeDekho for more such updates.