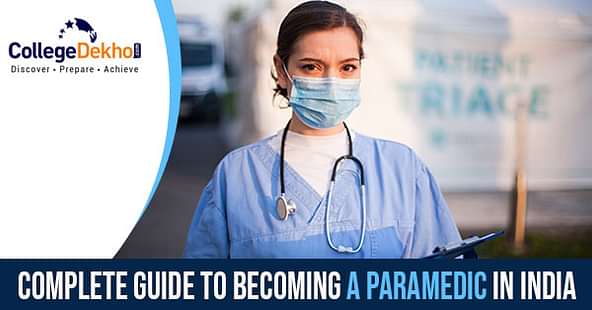 How to become a paramedic in India: The branch of Medical Science that deals with emergency medical treatment, diagnosis, and treatment of different diseases and health problems using cynical labs, diagnostic tools, X-rays, ultrasound, etc is called Paramedical Science. Due to the shortage of the Paramedical workforce in India, the demand for paramedics in the healthcare sector has increased. Consequently, a number of students are moving towards pursuing Paramedical courses in India. Medical aspirants have now started exploring the Paramedical field as there is immense scope in the respective field.
Now the question arises, 'How to become a paramedic in India'? The answer to this question can be understood in different steps involved in becoming a paramedic. If you are also confused and want to know about the paramedical field and how you can be a part of it then this article will help you find an answer.
The contents of this article include courses to pursue to become a paramedic, eligibility criteria for a paramedic, best colleges and key skills required to excel in the paramedical field.
What Does a Paramedic Do?
Before delving deeper into the process of becoming a Paramedic, it is essential to grasp the role and responsibilities of this crucial healthcare profession.
A Paramedic is a specialized healthcare professional with advanced training in emergency medical care and proficiency in utilizing modern medical technology to diagnose and treat a wide range of medical conditions and health emergencies. The multifaceted roles of a Paramedic encompass:
Administering medications and injections to patients.
Assisting in childbirth, including delivering babies safely.
Assessing a patient's condition and making critical decisions regarding appropriate medical interventions.
Performing surgical procedures, such as the insertion of a breathing tube, when necessary.
Utilizing defibrillators and electric shock equipment to revive and resuscitate patients experiencing cardiac arrest.
Providing support for patients with fractures and applying wound dressings.
Maintaining meticulous records and ensuring accurate documentation of patient care.
Collaborating closely with fire services and law enforcement agencies during emergency situations.
Operating diagnostic machinery and equipment to aid in patient assessment and treatment.
Paramedics are frontline healthcare providers who play a pivotal role in saving lives and providing immediate medical care during emergencies. Their expertise, quick thinking, and adaptability are indispensable assets in the realm of healthcare and emergency response.
Things About the Future of Paramedical Education in India You Didn't Know.
How Do I Become a Paramedic?
Now that you have understood the roles of a paramedic, it is time to go through the steps to become one. Before you begin your journey in this career, there are a number of things that you need to be aware of. These things/ steps will take you towards your goal.
Step 1: Choose a Paramedical Course/ Specialisation
There are a number of paramedical courses that you can opt for to become a paramedic. From bachelor degrees to master to short-term certificate courses to diploma courses, this field offers them all. Here are some of the top specialisations/ areas of study offered through paramedical courses.
| | |
| --- | --- |
| Operation Theatre Technology | Audiometry Technician |
| Medical Laboratory Technology | Dental Hygienist |
| X-Ray Technology | Hearing Language and Speech Therapy |
| Ophthalmic Technology | Sanitary Inspector |
| Radiography and Medical Imaging | Nursing |
| Occupational Therapy | Nursing CAre Assistance |
| Medical Record Technology | ECG Technology |
| Physiotherapy | Optometry |
| Dialysis Technology | Anaesthesia Technology |
| Speech Therapy | Audiology |
The UG, PG and diploma courses offered include the above-mentioned specialisations in different combinations. To know more about the courses, here is a list of all paramedical courses in India along with all the necessary information.
Step 2: Eligibility Criteria for a Paramedic
Wondering what are the requirements to become a paramedic in India? Well, now that you have finalized a paramedical specialisation for yourself, it is time for Step number 2. The second step towards becoming a paramedic is fulfilling the eligibility requirements for the intended course. You must know that the eligibility requirements are subject to an institute's discretion. So, we have mentioned the common eligibility criteria for paramedical courses at different levels.
Course Level

Eligibility Criteria

UG

Candidates must have passed at least 10+2 level of examination in Science stream with Biology as a compulsory subject.

It is important to score at least 50 per cent marks in class 12.

Reserved category students may get some relaxation in the cut-off percentage.

Diploma

Candidates must have passed at least 10+2 level of examination in Science stream with Biology as a compulsory subject.

For some diploma or certificate courses, candidates who have passed 10th are also considered eligible.

There is no minimum percentage requirement for diploma or certificate courses as such.

PG

For postgraduate paramedical courses, candidates must be holding a valid bachelor's degree in the relevant field.

The degree must have been issued by a recognised university.
Step 3: Get Admission in Paramedical Courses
The admission to paramedical courses to become a paramedic is done either directly or through entrance exams.

Most of the colleges offer direct admissions on the basis of merit or percentage scored by candidates in 10+2.

However, there are some colleges that only give admissions on the basis of entrance exams.

Some colleges conduct their own entrance exams, some accept state-level exams whereas, some accept national-level exams only.

Some of the entrance exams are AIIMS M.Sc. and Biotechnology Entrance Exam, IGNOU OPENMAT, NEET - UG, NEET - PG, CPNET, IPU CET, Tripura JEE, Goa CET (GCET), etc.
To get a detailed list of all the paramedical entrance exams in India, click on the link.
Step 4: Apprenticeship
There are some paramedical courses that include one year or six months of mandatory internships. Some examples of such courses are Bachelor of Physiotherapy (BPT), B.Sc Nursing, etc. But, for the courses that do not offer a mandatory internship, it is always advisable to opt for one. Internships give you experiences of the field and prepare you for future challenges. This also helps you gain some skills that a paramedic must-have. Some of the key skills are:
Discipline

Leadership

Communication

interpersonal skills

Customer service

Patience

Organisation

Problem Solving

Teamwork

Physical Fitness

Quick Thinking

Mental Toughness

A Strong Stomach
Step 5: Work as a Paramedic
After you have completed all the above steps, you are ready to embark upon the journey to the world of Paramedical Science. Now you can work in hospitals, colleges, nursing homes, research laboratories, railways, armed forces, NGOs, business organisations and even become an independent business owner. Depending upon the specialisation you took during your graduation or postgraduation, you will be able to work in different job profiles. Initially, the salary package of a paramedical can range from INR 2.2 LPA to INR 12 LPA but with experience, the package keeps increasing.
Hope these five simple steps helped you find the answer to your question and will help you in your journey to becoming a professional in the paramedical field. If you have any questions, you can ask us through CollegeDekho Q&A Section. Also, fill our Common Application Form (CAF) or call our toll-free student helpline number 1800-572-9877 if you have any admission related query or want to apply for admissions.
Top Courses in India to Become a Paramedic
There are a number of Paramedical courses you can pursue after Class 10, 12 and a bachelor's degree. Here are some of the top courses that you can opt for at different levels:
Top Paramedical Colleges in India
Here's a list of top colleges that you can explore to become a Paramedic in India.
| | |
| --- | --- |
| Top Paramedical Colleges | Fee Range |
| GITAM University, Visakhapatnam (Deemed to be University) | INR 2,200 Per Annum - INR 4.25 LPA |
| Shoolini University (SU), Solan | Up to INR 83,000 Per Annum |
| Amity University, Jaipur | INR 50,000 Per Annum to INR 2.5 LPA |
| Maharishi Markandeshwar (Deemed to be University) - [MMDU] Mullana, Ambala | INR 48,000 Per Annum - INR 88,000 Per Annum |
| Jagannath Institute of Management Sciences - (JIMS) Sector-3 Rohini, Delhi | INR 22,500 Per Annum, INR 1.5 LPA |
| Centurion University of Technology and Management (CUTM), Vizianagaram | INR 50,000 Per Annum - INR 2.5 LPA |
| Jagannath University (JU ), Jaipur | INR 43,000 Per Annum - INR 1 LPA |
| IIHMR University (IIHMR), Jaipur | INR 2 LPA |
| Parul University, Gujarat | INR 30,000 Per Annum - INR 1 LPA |
Good luck!