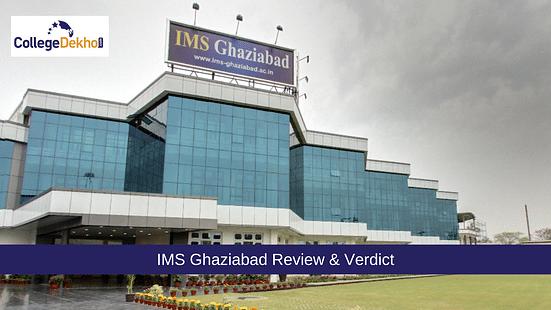 IMS Ghaziabad was founded in 1990 by a group of visionary and intellectual people who wanted to provide high-quality education to young Indians. IMS Ghaziabad is known for its innovative environment, where students learn the knowledge, values, and professional skills they need to be successful in their careers. Over the past 33 years, IMS Ghaziabad has become one of the most prestigious institutions in India for professional education and research in Management Studies, International Business, Information Technology, Biosciences, Engineering, and Journalism.
Campus at a Glimpse
IMS Ghaziabad, geographically located in the NCR, boasts to offer the pragmatic experience required to flourish in today's competitive global arena. IMS Ghaziabad has a strong alumni network of over 40,000 people. The institute is committed to developing future leaders through its three campuses: IMS Ghaziabad (University Courses Campus), IMS Ghaziabad, and IMS Engineering College.
There is no question that IMS Ghaziabad's strong rankings and accreditations have made it a sought-after school for business education. But, amidst the various claims and promises made by IMS Ghaziabad and the feedback provided by students in the form of reviews and constructive criticism, we are here to share the most candid and honest review of IMS Ghaziabad!
IMS Ghaziabad Rankings: Missing from NIRF!
In recent years, IMS Ghaziabad has secured rankings in various domains, notably in Management and other relevant fields. Below are some significant rankings achieved by IMS Ghaziabad: 
IMS Ghaziabad Rankings: 2023
Ranked 12th in India's Best B Schools Survey 2023 by IIRF (North India).
Ranked 39th in India's Best B Schools Survey 2023 by IIRF (Pan India).
Ranked 8th by Outlook Publishing (India) Pvt. Ltd. in India's Best B Schools 2023 in Top Private B School in Delhi NCR.
Ranked 10th in the Outlook Publishing (India) Pvt. Ltd. in India's Best B Schools 2023 in Top Private B School in North India.
Ranked 21st in Outlook Publishing (India) Pvt. Ltd. in India's Best B Schools 2023 amongst the Best Private Standalone Institutions.
IMS Ghaziabad Rankings: 2022
NAAC accredited 'A' grade institutional score.
Ranked 1st in North India and 17th in All India for Best BBA Colleges by IIRF 2022.
Ranked 3rd in North India and 7th in the Category of Super Excellence for Best BCA Colleges by GHRD Times 2022.
Ranked 4th in the Category of Eminence, North India and 10th in the Top Best BBA Colleges in India by GHRD Times 2022.
Ranked 10th among Top B Schools of North India and 30th among Top B Schools of All India for Post Graduate Degree Program in Business Management by Chronicle 2022.
Ranked 7th among the Top 70 Best BBA Institutes of India and 4th position among the Top 10 Best B-Schools of North India by Times BBA Education Ranking Survey 2022.
Ranked 6th in the Top 50 BBA Private Institutes and 2nd in the Top 20 BBA Institutes in the Placement category by Times BBA Education Ranking Survey 2022.
Bagged an award of Best BBA College in North India for an outstanding contribution towards Education, Skill, and Research by the Integrated Chambers of Commerce and Industry (ICCI) 2022.
IMS Ghaziabad Rankings: 2021
Times B School Survey-2021
3rd in North India
2nd in Placements in all India
6th in all India for Top BBA Private Institute
CEGR
Best Management Institute in North India for Placement-2021
Best Journalism and Mass Communication College in North India-2021
Best BCA Institute in UP-2021
Best Biotech Institute in UP-2021
Our Take:These rankings and accreditations definitely demonstrate IMS Ghaziabad's educational and placement excellence. The university is well renowned for its MBA, BBA, BCA, Biotech, and Journalism and Mass Communication programmes. Aside from these, IMS Ghaziabad is consistently praised for its strong industry connections, and commitment to ensuring student success.
Having said that, IMS Ghaziabad's absence from the National Institutional Ranking Framework (NIRF) in recent years is significant. The NIRF is a ranking system for Indian higher education institutions released by the Ministry of Education. It evaluates educational institutions based on a variety of criteria such as teaching, learning, resources, research and professional practice, and graduation results. This merely indicates that IMS Ghaziabad has not fared well in the current NIRF rankings and it is possible that other schools have outperformed IMS Ghaziabad in some of these categories.
IMS Ghaziabad Academia & Batch Size
As previously stated, IMS is a private institution in Ghaziabad, India. It was established in 1990 and provides undergraduate and postgraduate courses in management, engineering, technology, and other disciplines. 
Courses Offered at IMS Ghaziabad
IMS Ghaziabad offers a wide range of courses at the undergraduate and postgraduate levels:
Undergraduate 

Postgraduate 

Bachelor of Business Administration (BBA)
Bachelor of Commerce (Hons.)
Bachelor of Computer Applications (BCA)
BSc (Hons.) in Biotechnology
BSc (Hons.) in Microtechnology
Bachelor of Journalism and Mass Communication (BJMC)

Master of Business Administration (MBA)
MSc in Biotechnology
MSc in Microtechnology
MSc in Data Science
MSc in International Business
Master of Computer Applications (MCA)
In addition to these regular courses, IMS Ghaziabad provides a variety of executive and part-time programmes. These courses are intended for working people who desire to further their careers or change careers.
Our Take: IMS Ghaziabad is attempting to emphasize on quality over quantity by offering fewer courses to its students than other institutions in India today. The courses are designed to give students the information and skills they need to succeed in their careers. Experienced faculty members who are specialists in their disciplines teach the courses. IMS Ghaziabad also places a heavy emphasis on practical education, with students able to work on real-world projects and internships.
IMS Ghaziabad's Faculty
The faculty of IMS Ghaziabad is highly trained and experienced, with the majority holding PhD degrees from prestigious universities. However, there have been concerns regarding the teaching quality, with some students claiming that the staff is usually in a rush to finish the curriculum, which obviously means less emphasis on ensuring that students comprehend the ideas.
Our Take: This indicates that the faculty at IMS Ghaziabad have the appropriate academic credentials and experience to teach the courses they have been allocated. Some students, however, have stated that the faculty and staff are more concerned with completing the syllabus than ensuring that students understand the concepts. Some of the faculty members also rely on older case studies to teach a concept. This might be due to a variety of factors, including a big class or batch size to handle, a demanding workload, or a lack of teaching experience.
IMS Ghaziabad's Batch Size
The batch sizes at IMS Ghaziabad are alleged to be big, with some courses having more than 50-100 students. This makes it difficult for students to receive personalised attention from teaching members. 
Our Take: We believe that IMS Ghaziabad's batch sizes might foster a competitive atmosphere, which can be stressful for certain students. Many universities and institutions, particularly in India, have large batch sizes. There are several reasons for this, including the high expense of higher education and increased competition for admission.
IMS Ghaziabad Infrastructure
The infrastructure at IMS Ghaziabad is usually regarded as average and acceptable. The campus is well-kept and provides all the necessary resources for students, such as classrooms, libraries, laboratories, and computer labs. 
Classrooms: Air-conditioned classrooms and lecture halls give future managers a comfortable and spacious place to learn and grow. The latest audio-visual support system and multimedia technology allow faculty members to teach in an interactive way, which helps students stay engaged and motivated.
Computer Labs: IMS Ghaziabad has eight computer labs with state-of-the-art facilities, including 500 PCs/laptops, advanced servers, and all-in-one computers with video conferencing capabilities. All labs have audio-visual systems for live practical demonstrations.
Library: IMS Ghaziabad has two well-equipped libraries, one on campus and one in the hostel. The libraries have a wide range of resources to support postgraduate and doctoral programs in IT and management, including over 45,000 books, 10,374 national and international journals in print and online formats, and over 800,000 ebooks.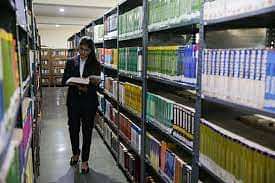 Hostel Facilities: On-campus living is a key part of an immersive learning experience. To provide the best possible facilities for students, IMS Ghaziabad has constructed a well-furnished hostel with separate wings for boys and girls. The hostel facilities include the following:

Hygienic cafeteria and mess
Provision of indoor and outdoor games
Lavish green playgrounds 
Fast-paced Wifi 
Specified washing area
Round-the-clock ambulance and medical check-ups
Modern gym with the latest equipment 
Open-air theatre
The hostel fee details are as follows:
| Category | Fees (Per Annum) in INR |
| --- | --- |
| AC Room | 1,40,000 |
| Hostel Security (Refundable) | 5,000 |
| Total | 1,45,000 |
Hangout Areas and Cafes: IMS has also built a well-equipped cafeteria on campus. The cafeteria serves hygienic meals to students in order to keep them physically and psychologically healthy while they study.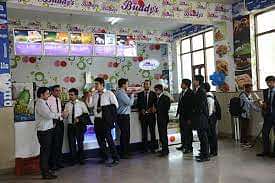 Our Take: Overall, the infrastructure at IMS Ghaziabad is suitable as per the demands of its students. However, students have posted some constructive criticism and negative evaluations of IMS Ghaziabad's infrastructure on social media and in newsletters on maintenance issues, food quality issues, hostel fees, and other offerings. While some rooms have air conditioning, some of the units are old and not in proper working conditions. This only means that the institution might need to spend a little more on adding some extra facilities and ensuring that the existing ones are in good working order.
IMS Ghaziabad Internships & Placements
IMS Ghaziabad provides its students with a range of internship and job possibilities. However, it is important to be mindful of the criticism levelled against the university's internship and placement programme. 
IMS Ghaziabad Placements
IMS Ghaziabad continues to attract companies from a variety of fields, including tax consulting, relationship management, fund accounting, financial analysis, project consulting, human resources, marketing, research, management training, sales, equity advising, corporate sales, corporate intelligence, credit, talent acquisition, commercial lending, and data analytics.
Given below is the placement data of PGDM/MBA 2021-23 batch:
| Particulars | Statistics |
| --- | --- |
| Highest International CTC | INR 28 LPA |
| Highest Domestic CTC | INR 20 LPA  |
| No. of Companies visited | 150+ |
| Median Salary | INR 8.25 LPA |
| Number of Students Placed | 100% |
Top Recruiters at IMS Ghaziabad's Placements
Here is an overview of some of the top recruiters that come during the IMS Ghaziabad's placement drive and recruit students: 
| Deloitte | Amul | Godrej | Honda |
| --- | --- | --- | --- |
| Accenture | Flipkart | Colgate | Gartner |
| Byju's | Federal Bank | ICICI Bank | ITC Limited |
| JK Tyre | Pwc  | Dabur  | Nestle  |
| MRF | EY | IDFC First Bank | Aditya Birla Capital |
| HDFC Bank  | Zydex  | Piramal  | Himalaya |
| Pantaloons  | Federal Bank  | Wipro  | WNS |
Here's a brief analysis of the percentage of companies and their respective sectors that took part in the IMS Ghaziabad's placement drive 
| Sector | Percentage (%) |
| --- | --- |
| FMCG/CD | 24.55 |
| Research & Consulting | 21.00 |
| Banking & NBFC | 18.00 |
| Service | 10.91 |
| Logistics | 10.00 |
| Automobile | 5.00 |
| Manufacturing | 5.00 |
| e-Learning | 2.73 |
| Retail | 2.73 |
| Real Estate | 0.91 |

Our Take: IMS Ghaziabad's placement cell is doing a great job of connecting recruiters and students. With a 100% placement record, the placement cell is helping students land their dream jobs. Every year, recruiters from both Indian and multinational companies from various sectors visit the campus to recruit students. 
The placement cell also provides training to students through workshops, lecture sessions, mock interviews, and other activities. Students with the right skills, enthusiasm, and zeal for their work are offered jobs. But, here are our 2 cents based on student reviews on various platforms:
While IMS Ghaziabad has a 100% placement record, students' average wage packages are not as high as those provided by top-tier B-schools in India.
There are no placement records for undergraduate students at IMS Ghaziabad. 
While a number of notable firms visit the IMS Ghaziabad campus for placements, their number is restricted when compared to top-tier B-schools in India.
Many students at IMS Ghaziabad are placed in sales and marketing roles. This may be beneficial for students interested in these disciplines, but it may not be favourable for those interested in other fields, such as banking or consulting.
IMS Ghaziabad Internships 
Summer internship programme (SIP) possibilities are available to students at IMS Ghaziabad. The institution claims to have a strong business network and works with a number of firms to provide internship opportunities to its students. However, several student reports and reviews on various social media sites imply that internship possibilities at IMS Ghaziabad are frequently in tiny organisations or in non-core jobs.
Our Take:It is important to note that these are only a few of the issues levelled towards IMS Ghaziabad's SIP programmes by students. Not every student had a bad experience with the university's internship scheme. Some students lauded the institution for its strong corporate network and dedication to assisting students throughout SIP.
Student Diversification at IMS Ghaziabad
IMS Ghaziabad's student body is somewhat diverse, with students from all states, regions, and backgrounds. The institution professes to place a significant emphasis on inclusion and diversity, and it attempts to provide a friendly and inclusive atmosphere for all students.
Gender Participation 
| Student Diversification  | PG Courses (2 Years) |
| --- | --- |
| Male  | 59% |
| Female  | 41% |
Our Take:The gender representation of female students at IMS Ghaziabad is a good factor to consider. A male-to-female ratio of 59:41 in PG courses showcases that IMS is doing enough to attract more female students as well. 
Demographic Representation 
| Student Demographic Representation | PG Courses (2 Years) |
| --- | --- |
| With-in State | 62% |
| Outside State  | 38% |
Our Take:IMS Ghaziabad attracts 62% of students from within the region of Delhi-NCR and around 38% of students from all around India. However, while professing to be a world-class education hub for students, the university has no overseas students, which is quite disappointing! 
Clubs @ IMS Ghaziabad
The following are some of the most popular clubs at IMS Ghaziabad:
Finnacle - Finance Club 
Markwiz - Marketing Club
Saksham - HR Club 
Aayam - Operations Club
Abhaar Club
Our Take:We believe that IMS Ghaziabad promotes a number of clubs and organisations that cater to its students' different interests. These groups provide students with an opportunity to explore their interests, improve their abilities, and network with like-minded people.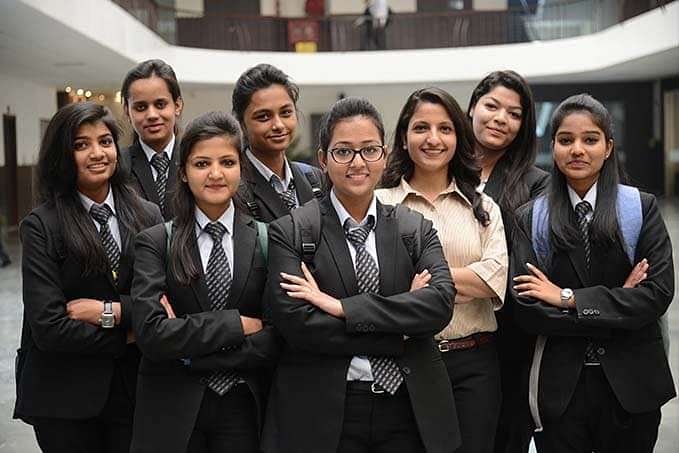 IMS Ghaziabad's Collaborations & College Administration
IMS Ghaziabad continually claims that it is a well-regarded business school with a solid track record. Collaborations with renowned organisations, as well as efficient and competent management, are two of the reasons why the institution is a popular choice for students. Let us shed some light on this!
IMS Ghaziabad Collaborations
IMS Ghaziabad has signed MoUs with a number of foreign organizations and institutes, including:
IBM
Humanistic Management Center Geneva, Switzerland
BRICS CCI School of Analysis (Brazil, Russia, India, China South Africa)
Fort Hays State University
CSC Academy
Northern Illinois University
University of Fredericton Canada 
Qualytics Consulting
Our Take:These MoUs and collaborations enable IMS Ghaziabad students to engage in student exchange programmes and other collaborative efforts. The MoUs also give IMS Ghaziabad students access to these schools' research resources and teacher experience.
IMS Ghaziabad College Administration
The college administration of IMS Ghaziabad is in charge of the institute's general management and functioning. The IMS Executive Council, Governing Council, Academic Council, and Board of Studies are part of the IMS Ghaziabad's college administration. The college administration is also supported by a number of other staff members, such as faculty, staff, and administrative personnel. But, many times, students have raised complaints against the college administration that it is too focused on academics and not enough on extracurricular activities.
Our Take: The college administration at IMS Ghaziabad is generally well-regarded by students and alumni. However, the college administration can improve in several areas, such as being more attentive to student concerns and concentrating more on extracurricular activities.
IMS Ghaziabad Location
IMS Ghaziabad is located in Ghaziabad, India, a thriving suburb of Delhi. The campus is well-connected by road, train, and air to the city centre and other important cities in India. It is additionally surrounded by several facilities such as schools, hospitals, shopping malls, and restaurants. 
The campus itself is well-kept and has a range of amenities such as classrooms, labs, libraries, computer labs, and hostels. Here are some pros and cons about the location of IMS Ghaziabad based on students' reviews:
Pros:
IMS Ghaziabad is well-connected by road, train, and air to Delhi and other important cities in India. This makes it easy for students to go back and forth during holidays.
Ghaziabad is a well-developed city with excellent infrastructure like as highways, schools, hospitals, and retail complexes. This means that students have easy access to all they require within walking distance of campus.
Ghaziabad has a lower cost of living than other major cities in Delhi-NCR, such as Gurgaon. This makes it a cost-effective solution for students on a tight budget.
Ghaziabad is a significant industrial and commercial centre in North India, providing students with several internship and job placement chances.
The city has a diverse population, which provides students with the chance to learn and grow in a multicultural setting.
Cons:
The high levels of pollution are a big bummer for students coming from outside Delhi or UP regions, and during the winter months, air pollution may be a severe issue.
Ghaziabad's traffic is a severe issue, especially during peak hours. Students should plan their trips appropriately, leaving additional time for traffic delays.
Sadky, Ghaziabad has comparatively high crime rates. Students should be aware of their surroundings and adopt the required safety precautions.
Our Take:Overall, IMS Ghaziabad's location is a significant benefit to students. It is a well-connected, well-developed, and inexpensive city with a diversified population and a variety of learning and growth possibilities for students. Having said that, every rose comes up with thorns attached! We encourage students to pick a safe neighbourhood to live in and to do some research on crime statistics in various neighbourhoods before deciding where to reside. Also, be alert of your surroundings and take care when walking or utilising transportation to prevent being targeted by crooks.
IMS Ghaziabad: Expectation vs Reality CLD Verdict!
IMS Ghaziabad, created in 1990 in Ghaziabad, Uttar Pradesh, India, is affiliated with Chaudhary Charan Singh University. IMS Ghaziabad claims to be India's renowned business school, offering students a high-quality education and preparing them for successful jobs. The institute also claims to have a strong business network and a 100% placement record. While IMS Ghaziabad is a well-respected business school, there is a difference between expectations and reality in terms of several obvious and crucial variables that will influence your selection. 
IMS Ghaziabad offers an experienced faculty team and a solid academic reputation. Certain students, however, have claimed that the teaching quality can be erratic and that certain faculty members are constantly preoccupied with completing the syllabus. The institute has an institutional score of 'A' from NAAC. However, students should be aware that IMS Ghaziabad is not included in the NIRF Rankings 2023 in the Management category. The course offerings are limited and the college does not offer enough specialization options. The location is well-connected to Delhi and other major cities surrounding UP and Delhi. However, increasing crime rates is a big attention-seeking factor for students. Overall, IMS Ghaziabad is a reputable business school with a decent or average corporate network and an academic reputation. 
Final Review Checkbox! 
| Yay! | Nay!  |
| --- | --- |
| 100% placement records | Fewer course specialisations  |
| Low cost of living  | Increasing crime rates in Ghaziabad region |
| Good industrial network | No placement records for UG courses |
| NAAC accredited 'A' grade | Faculties are always in a rush to complete the syllabus |
| Good male-to-female ratio | Instances of still relying on older case studies |
| Well-maintained and decent campus with good facilities | Not a part of NIRF Rankings |
| Well built hostel infrastructure with AC rooms | Pollution in the city is a big concern |
| An alumni network of over 40,000 students | Less hangout space in the campus |
| Student clubs and societies | Less extracurricular activities |
| Hygienic mess and cafeteria  | Few international tie-ups as compared to other b-schools |