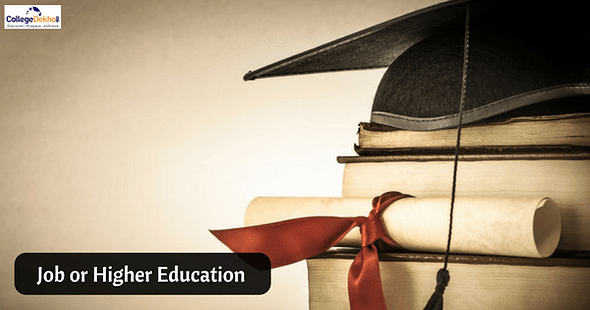 One of the biggest dilemmas that students face on the verge of their graduation is whether they should apply for jobs or higher education? The biggest deciding factor in this scenario is the return on investment. Therefore, the decision that should be taken after processing and analyzing all the aspects is taken in a haste.
Most of the students opt for jobs as an opportunity to earn and become independent is more appealing than investing another two to three years in post-graduation. Having a job has certain advantages but higher education also has its own boons that are visible with time. This article discusses the advantages of jobs and higher education and the factors that you must consider before deciding.
Also Read:Gender Disparity at IITs: Here's why more Boys qualify JEE than Girls!
Advantages of Higher Education:
Learning Process: Higher education can be an advantageous factor if you want to gain more knowledge in your field and foray into research or core sectors. Many of the experts say that a researcher is very similar to an entrepreneur as he has the flexibility to work within his own dimensions.
Return on Investment (ROI): The ROI through higher education may be a little delayed but the returns are as good as or sometimes even better than the returns you get after two years of job. Higher education – if pursued from a good institute – is valued in the market and opens up better job opportunities.
Opportunities: Higher education opens some of the opportunities that are not available after graduation. For example, most of the corporate houses don't offer management level profiles to freshers, however, pursuing an MBA can open these options for you. Also, most of the teaching profiles are available only once you have post-graduated.
Experience and Salaries: One of the most common misconceptions is that candidates with job experience are valued more than freshly passed out post-graduates. It is important to understand that higher education is also a form experience. Unlike graduation, you learn advanced concepts and problem-solving at PG levels. Therefore, salaries offered are the same or sometimes better than graduates with work experience.
Advantages of a Job:
Learning Process: The processing of learning in a job is very different. Unlike higher education, here you don't learn within a protected environment. Your achievements, as well as your mistakes, will impact your job in good and bad ways. Having said that, it is also a progressive way of understanding the organization. Only a few rare candidates who perform extraordinarily well are given managerial-level positions within their organizations.
Return of Investment (ROI): Without a doubt, job offers early ROI and you start earning almost instantly. However, salary packages depend largely on your performance in graduation and the institute you have graduated from.
Opportunities: Opportunities will depend on the companies that visit your campus and again on your performance. There are relatively limited options after graduation if your performance throughout the course has not been good. Since most of the organizations closely monitor the risk of hiring freshers, most of the candidates are offered entry-level positions in the organization.
Experience and salary: Your first job is more about understanding your skills as an employee and how you can contribute to any organization. Once you have figured it out and gained experience (1.5 to 2 years) you can apply for better positions and packages.
Also Read:Top 50 B-Schools Accepting GMAT Score
Factors to consider before arriving at a decision:
The amount of loan you had taken for your graduation and the debt you have to pay.
What is it that you want to do: stable jobs and gain experience, research, business, teaching, etc.
Does your organization have the provision basis which employees can pursue education alongside job? This will open your options for evening PG courses or correspondence course, enabling you to learn while you earn.
Does your graduation degree offer you the kind of job that you want to do or whether you need to pursue post-graduation for it?
How will a job or post-graduation help you?
Your long-term goals.
Here's all you need to decide your career path and choose between a job or higher education. Find out the best path for yourself.
All the best!