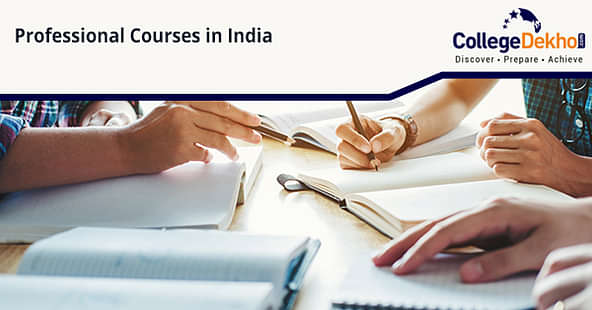 Professional courses after 12th and graduation are the most sought-after courses in India today. These courses give students the opportunity to pursue top-tier employment globally, advancing their professional careers. These professional courses can help students land the job they've been hoping for. In comparison to more traditional academic programmes like BA or BSc, professional courses after 12th have experienced enormous and unprecedented growth due to shifting economic and job market trends.

Also Read: Best Certificate Courses in India

What are Professional Courses?
Professional courses, also known as vocational graduation courses, are courses that prepare students for jobs in specific industries. These graduation courses depart sharply from the academic-oriented approach of traditional courses and frequently emphasise more practical aspects such as skill development, gaining hands-on experience, learning the latest industry methods and trends, and so on.

Professional Courses include teaching students industry-specific skills. A professional course gives students hands-on experience. After completing the course, students are job-ready. In contrast, the goal of a degree programme is to provide students with a solid academic foundation and expertise in a specific subject. The goal of these courses is skill development, career advancement, and self-improvement. This gives the students an advantage over their peers while also encouraging creativity. Professional courses instill in students the necessary soft skills required in the industry.

Even the most sought-after professional courses after 12th used to have a shortage of applicants because the typical class 10th or class 12th student was frequently encouraged by their parents, teachers, and peers to get admission into a "respected" course or college. The emphasis on career development has changed, though, and students now have more resources at their fingertips for research and exploration. Because of this, there is a focus on developing a skilled workforce for India's expanding industrial sector, and both the number of vocational colleges in India and the demand for these courses have increased. But there is one question that students must still answer, and we've covered it below.

Types of Professional Courses
There are mainly four types of professional courses: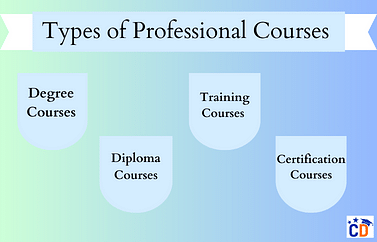 Top Professional Courses After 12th
Professional Courses imply that students will be taught industry-specific skills. Professional courses provide students with hands-on experience. Following completion of professional courses, students are job-ready. A degree programme, on the other hand, aims to provide students with a solid academic foundation and expertise in a single subject.

Here is a list of the top 10 professional courses after 12th tabulated below:
Courses
Educational requirements
Colleges
Professional courses after 12th Science
Engineering
12th Science PCM;
50-75%;
National Level entrance test- IIT-JEE Mains & Advanced, BITSAT, SRMJEE or State level entrances
IITs, BITS, VIT, NITs, DTU, etc.
Architecture
12th Science PCM;
50-75%;
National Level entrance test- NATA, IIT-JEE Main Paper-2
SPA, IIT Roorkee, IIT Kharagpur, Sir JJ College of Architecture, etc.
Commercial Pilot
12th Science PCM
Min 50%;
Written test + PAT+interview
IGRUA
Medicine
12th Science PCB;
NEET-UG
AIIMS Delhi, CMC, JIPMER, AFMC- Pune, BHU, etc
Professional courses after 12th Commerce
Chartered Accountancy
10+2 with minimum 55% aggregate;
Exam- CA Foundation after 12th or IPCC after graduation
Registration with ICAI
Cost and Management Accountant
After 10+2- Foundation course or Intermediate course after graduation
Registration with- ICMAI
Company Secretary
After 10+2- Foundation prog.
Or Exec. Prog. after graduation
Registration with- ICSI
Professional courses after 12th Arts
Law
Entrance exams like CLAT, LSAT
NLSIU, NLU, NALSAR, etc.
Design
Min 50%;
Entrance Exams- NID, NIFT, UCEED, etc.
NID Ahmedabad, IIT Bombay, NIFTs, Pearl Academy,etc.
Mass Communication & Journalism
Min 50-60% in 10+2 from a recognized board;
Entrance Exams/Merit-based
GGSIPU, VIPS, St Xavier's, etc.
If you are still undecided, you can take this psychometric test to choose the best career option for you! Career Compass is an intuitive test that will answer a very important question - can career counselling help?



Top 10 Professional Courses after Graduation
After graduation, you can pursue a variety of job-related short-term courses and degrees. However, selecting out of the best professional courses for advancing your career can be difficult. So, here is a list of top 10 professional courses / best courses after graduation:
MTech
PGPM
Project Management
PG Diploma in Digital Marketing or PGDM in Business Analytics
Business Accounting and Taxation [BAT Course]
Masters in Data Science or Machine Learning
List of Professional Diploma/Certificate Courses in India
For the student who wishes to start early, there are a lot of options of diploma courses after 12th / certificate courses at class 10 or class 12 level. These graduation courses offer excellent prospects of professional growth and can form a solid base before one pursues a degree.
Also Read: Diploma Courses After 10th

List of Professional Degree Courses in India
If you have the time and resources to pursue a professional degree course, it is highly recommended that you take admission into one of the colleges offering vocational degrees in India. A professional degree course will not only open more pathways for you to find a job but it will also keep the door open for you to pursue a master's degree. Plus, a degree course covers multiple subjects and widens the scope for the future.
How to Choose the Best Professional Course?
Not every student can feel equally comfortable pursuing the same trade. A top-tier student in a Bachelor of Technology (BTech) programme may suffer if he/she has to sit through a Bachelor of Business Administration (BBA) programme. The following steps can help you simplify things if you are confused about which course should you go for after school.
List the areas of interest that you would like to study and your priorities. Your interests may be shaped by factors such as your surroundings, family businesses/trades, city/place of growth etc. and your priorities may include pursuing higher education, research, getting a job as early as possible, building a career in a particular organisation such as Banks, Civil Services etc.
Research: The internet can be your best friend here. Use it to find courses related to your interests and note down attributes such as:

Type (Degree/Diploma/Certificate or Full-Time/Part-Time/Distance Learning etc.)
Duration
Broad Curriculum
Average Fees
Career Prospects

Match the courses that you find with your interests and priorities and shortlist the best courses for you.
Once you have shortlisted the courses, talk to a career counsellor and professionals in the field. These are experienced people who can help you find your way to your goal but for that, you will have to realise what your goals are.
Include other factors. Entry requirements, availability of seats, cost of education (and return on investment) are all valid concerns that may also shape your choice but these should not be the defining factors in your decision.

Top Professional Courses 2023
Here is the list of Top Professional Courses in 2023:
Engineering
Medicine
Law
Chartered Accountancy (CA)
Company Secretary (CS)
Cost and Management Accountant (CMA)
Architecture
Mass Communication and Journalism
Hotel Management
Fashion Designing
Graphic Designing
Animation and Multimedia
Digital Marketing
Web Design and Development
Data Science and Analytics
Also Read: Top Vocational Courses After 10th and 12th

List of Best Professional Courses in India
While programmes in the field of Engineering, Medicine, Law etc. are good professional course with an already established reputation for great career prospects and growth, here are some of the unconventional professional courses as well in India. There are numerous top professional courses in India that can be pursued by people from various backgrounds. Students with diverse interests can select their preferred course from the professional courses list given below.
Management Stream: MBA/BBA
Engineering Stream: BTech and BArch, MTech, ME, BE
Arts Stream: Psychology, History, Sociology
Computer Application Stream: BCA/MCA
Fine Arts Stream: BFA
Education Stream: B Ed, M Ed
Designing Stream: Fashion/Interior/Web
Communication Stream: Mass-communication/Journalism BJMC
Pharmacy Stream: BPharma, MPharm
Hospitality Stream: Hotel Management
Medical Stream: BDS and MBBS
Nursing Stream: BSc and MSc
Dental: BDS
Finance Stream: BCom/CA/CFA/ CS
Architecture Stream: BArch
Professional Courses Admission 2023
Typically, colleges accept admission to professional courses based on merit calculated from qualifying examination marks. Some colleges may also set minimum percentage criteria for graduation course admissions (usually between 40% and 50% aggregate marks). For the complete admission process and eligibility criteria for the professional course, consult the admission brochure of the course/college to which you are applying.

In conclusion, professional courses are the gateway to some of the most lucrative careers in India. Many industries stay on the lookout for skilled candidates that have knowledge of the course and although the salary after a vocational course might seem low to many, the low course fee of these courses and good chances of growth in the future help overlook these shortcomings. However, care must be taken while choosing which professional course to take admission into as it might limit your options for choosing a higher education course.
Also Read: Diploma Courses that you can Pursue after Class 12 Arts Stream
Why Pursue Professional Courses?
After the 12th grade or graduation, professional courses place a greater emphasis on the acquisition of workplace-relevant skills and practises. Professional courses, in other words, bridge the gap between an employee's current skill set and what is actually required on the job. Professional courses after 12th grade or after graduation are now the clear choice among today's youth because employees are rewarded with extraordinarily generous packages in exchange for meeting industry demands.
High Salary Professional Courses After Graduation
The following are some of the profession courses that pay well after graduation:
Course Name
Duration
General
Eligibility Criteria
Average Salary
(per year)
MBA
2 years
Graduation in any of the subjects
INR 8 lakh to INR 18 lakh
MTech
2 years
BE/BTech degree
with a valid GATE score
INR 6 lakh to INR 12 lakh
MCom
2 years
BCom or BCom (H)
from a recognized university or institution
INR 5 lakh to INR 12 lakh
PGDM
2 years
Bachelor's degree in any stream or subject
INR 5 lakh to INR 20 lakh
LLB (Hons)
3 years
10+2 or equivalent qualification from a recognized board or institution
INR 5 lakh to INR 10 lakh
MA/MSc Economics
2 years
Bachelor's degree in any stream or subject
INR 8 lakh to INR 14 lakh
MA/MSc Statistics/Mathematics
2 years
BSc degree in Statistics/Mathematics or any equivalent
degree
INR 8 lakh to INR 14 lakh
MCA/MSc Computer Science
2 years
BCA/BSc/BCom or BA degree
INR 7 lakh to INR 20 lakh
PGP-BAT
3-4 months to 1 year
Bachelor's degree in
a Commerce-related specialisation or equivalent
INR 5 lakh to INR 12 lakh
PGD Hotel Management
1 to 2 years
10+2+3 or 10+2+4 is required
INR 6 lakh to INR 14 lakh
Note: The figures mentioned above are subject to change.
Related Links

For more updates on Top Professional Courses in India, stay tuned to Collegedekho!